World Cup 2014: Cameroon 'must change mentality'
Last updated on .From the section World Cup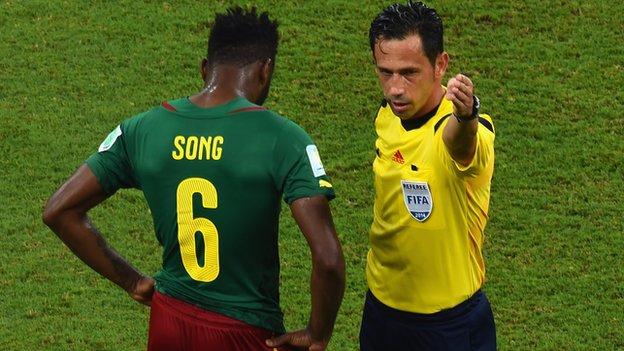 Former Cameroon international Patrick Suffo believes his country's abject performances at the World Cup in Brazil are a repeat of past failures and will continue unless there are radical changes in way the country's football is run.
The central Africans self-destructed in a 4-0 thrashing by Croatia on Wednesday that leaves them unable to qualify from their group.
Cameroon's preparations for the tournament were overshadowed by a row over players' fees, which delayed their arrival in Brazil for almost 24 hours as they initially refused to board a plane.
And their campaign is in tatters after the opening 1-0 defeat by Mexico and their capitulation against Croatia in a match where Alex Song was sent off for hitting Mario Mandzukic, and Benoit Assou-Ekotto headbutted team-mate Benjamin Moukandjo.
"I was very disappointed by all that happened before they got to Brazil and as a Cameroonian I feel very, very sad seeing what happened against Croatia on Wednesday," Suffo told BBC Sport.
"You can lose games but there are ways of losing that you don't want to see. As a former player, I could see there was no togetherness in the team - they were playing individually.
"You have to ask why Cameroon are having the same problems for the third consecutive World Cup. Cameroon have to make proper changes if they are to avoid the same problems in the future."
The Indomitable Lions have a rich history; they have appeared at seven World Cup finals - an African record - and they were the first African side to reach the quarter-finals, in Italy 1990.
But they have not gone beyond the group stage in their past four appearances at the tournament and have won only one match.
And now they are on course to lose all three group games in Brazil - with the hosts their remaining opponents - just as they did in South African four years ago.
Suffo, who won 29 caps and scored four times for Cameroon, believes there "must be a change in mentality if Cameroon want to compete with other nations".
"In Cameroon, there is always this sense we expect a miracle. But when you do things at the very last minute the players get exposed - as we have seen," Suffo said.
"We can't have this attitude 'the World Cup is happening next month, so let's have a training camp next month'. We need to start preparing for the next World Cup straight after the our final 2014 group game against Brazil.
"But the sad thing is it is likely that people will forget about what happened in Brazil and we will be in the same mess next time, stuck at the same level."
Unfortunately, few observers will have been surprised by anther show of mediocrity from a side riddled with player friction, both among themselves and the Cameroon Football Federation, which was briefly suspended by Fifa last July because of government interference.
Suffo wants to see an end to the disharmony and has called for a change in the way football is run in his home country, from grass roots to the top level.
"It is always the same people running football for such a long time," he said. "We are always saying the same thing, that from now on we are going to change everything, but it always the same.
"Changing personnel on the football administration side would be very helpful.
"We have to start thinking long-term. For example, there is no official league for Under-20s. There is no league for young players, nothing like that. I think that is a mistake by the football authorities. We need to start looking at it.
"And at the top, players are fighting for bonuses but that money should be used for infrastructure, to build new stadiums and give the young ones somewhere to play.
"Since we reached the World Cup quarter-finals in 1990 there has been no new stadiums in Cameroon.
"Maybe some countries have less talented players, but they run football well. It all reflects on the football on the pitch. You can have the best players in the world but if you don't prepare well you cannot achieve."