World Cup 2014: England boss Roy Hodgson 'not resigning'

By Phil McNulty
Chief football writer at Arena de Sao Paulo
Last updated on .From the section 2014 Fifa World Cup
England manager Roy Hodgson insists he will not resign, despite his side facing World Cup elimination.
If Italy fail to beat Costa Rica on Friday, then England are out.
"I don't have any intention to resign," said Hodgson, 66. "I've been really happy with the way the players have responded to the work we've done."
The Football Association appointed Hodgson shortly before Euro 2012, following Fabio Capello's shock decision to quit.
England reached the quarter-finals at the European Championship in Poland and Ukraine, losing on penalties to Italy, but they were unbeaten as they qualified for the 2014 World Cup in Brazil.
The only way England can stay in the World Cup
England need Italy to win their remaining group games against Costa Rica and Uruguay to stay in the tournament.
Roy Hodgson's side then need to beat Costa Rica in their final group game.
England, Uruguay and Costa Rica would then each be on three points and qualification would be decided on goal difference.
But the statistics are not on England's side as no team has ever lost their opening two games at a World Cup and progressed from the group.
"I'm bitterly disappointed, of course, but I don't feel I need to resign, no," added Hodgson. "On the other hand, if the FA think I'm not the right man to do the job, that will be their decision not mine."
QPR boss Harry Redknapp, who was strongly tipped to take over from Capello at one stage, said Hodgson should remain in charge.
"Roy couldn't have done any more," he told Radio 4's Today programme. "He's prepared the team well, worked hard, you can see they've got a good camp. At the end of the day, we've come up short."
However, Redknapp said he felt the "future of English football" lay with Liverpool manager Brendan Rodgers and Everton boss Roberto Martinez.
"I think there's two young managers on Merseyside who are absolutely fantastic," he said. "When Roy does call it a day, I'd like to see England play the way Liverpool played this year under Rodgers or the way that Everton have played under Martinez."
Former England striker and BBC pundit Alan Shearer backed Hodgson to take England to Euro 2016.
"Everyone wanted to see the kids given a chance and he went and tried to win the game against Italy," Shearer said. "He should be given the chance to finish what he started."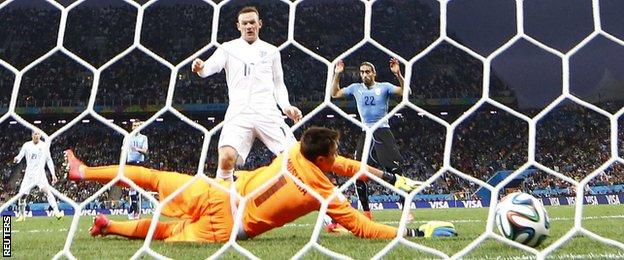 Graham Taylor, who managed England between 1990 and 1993, also said the FA should "stick with" Hodgson.
"It's a process of building and it takes time," Taylor told the Today programme. "Roy has only been in the job for two years and it takes longer than that to put a team together in international football."
Former England striker Dion Dublin said: "We need to stick with somebody. Give him some time to try and recover and take forward the nation. If we keep changing we'll just become like any other Premier League football club."
England captain Steven Gerrard insisted Hodgson was a "fantastic manager".
"He gave us a good game plan and we haven't delivered so we have to take responsibility," said the Liverpool midfielder.
"It's very raw at the moment and everyone is hurting but, hopefully, if Italy win we still have a bit of hope."
If Italy beat Costa Rica and then Uruguay next Tuesday, England could qualify for the next stage if they beat Costa Rica in their final group game.
"Our chances of going through are unbelievably slim," said Hodgson.
"We depend on Italy winning their next two matches and us beating Costa Rica by the requisite number of goals."
Gerrard added: "Italy are a fantastic team and capable of winning both of their remaining games, but we're clutching at straws. We need to be professional and pray for that scoreline to go for us."
England went behind to a Suarez header but equalised when Wayne Rooney tapped in a Glen Johnson cross for his first World Cup goal.
Hodgson's side appeared to have the upper hand only for a long goal-kick to find its way to Suarez, who powered home the winner.
"Luis Suarez is deadly in front of goal," said club-mate Gerrard. "He is very clever and cute. He nearly scored off two corners and he hasn't played for five weeks but everyone was very aware of his ability."
Suarez described the victory as "retribution" against his critics in England.
"I'm really bitterly disappointed," said Hodgson. "We came with such high hopes and have not been able to deliver. It is a major sadness for me."
He added: "I'm numb really, numb with disappointment and sadness that so many hopes and dreams and so much work has been blown away.
"Had we drawn, I would even have been tempted to say to you the chances were good. Now we need Italy to win both their games."
Hodgson bemoaned the physicality of a contest that was decided by Suarez's 84th-minute winner.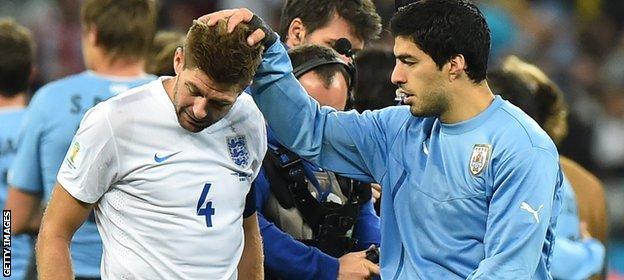 "There were a few challenges that went unpunished," he said. "The referee allowed the game to flow but sometimes to our detriment.
"Although I don't think anyone could question the players' desire, we haven't been good enough to win the two games.
"We thought, after the equaliser, if anyone would get a winner it would be us. Unfortunately, one kick down the field and a flick on came through to Luis Suarez. He doesn't miss those chances."
England central defender Phil Jagielka added: "We are very disappointed. As defenders, that is the last thing you want to see from a punt down the field. Everyone is absolutely devastated."
Former England captain Gary Lineker said: "England had chances but their final ball was not good enough and the finishing was not good enough - again.
"But the big concern was defensively. We looked weak at times and it proved the case in both matches against Italy and Uruguay.
"What was really exasperating in the Uruguay game was we got ourselves back in it after going behind.
"Everything seemed to be going great, then to make a schoolboy error like that for Suarez's winner beggars belief.
"Now it is out of England's hands. We don't need a miracle, but it's a big outside chance of qualifying."
England striker Daniel Sturridge tweeted: "I feel sick right now. Heartbroken. Sorry to the fans and everyone back home."
But he insisted: "It ain't over till it's over."