World Cup 2014: BBC pundits on England's Uruguay defeat
By Chris Bevan
BBC Sport in Rio de Janeiro
Last updated on .From the section 2014 Fifa World Cup
England's defending in the 2-1 defeat by Group D rivals Uruguay was "schoolboyish" and something you see in Sunday league football, according to former England captains Rio Ferdinand and Alan Shearer.
Liverpool striker Luis Suarez made the most of England's slack play to score both goals in his side's victory and leave Roy Hodgson's side on the brink of an early World Cup exit.
Former Netherlands midfielder Clarence Seedorf, a World Cup semi-finalist in 1998, felt England's defenders were at fault, claiming they were "in the wrong position" and blaming "a lack of communication".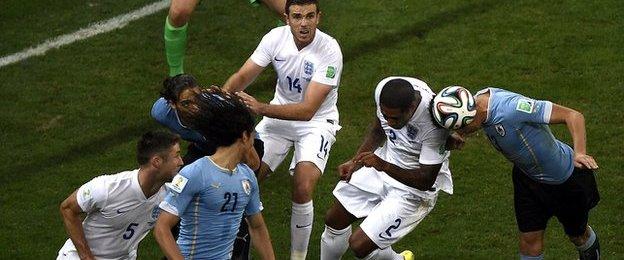 Former England full-back Danny Mills felt the team's defending was "naive" in both group games, while former England winger Chris Waddle said Hodgson's team now need "a miracle" to avoid an early exit.
BBC Sport's World Cup pundits give their verdict on England's performance and what went wrong for Hodgson's side this time.
Rio Ferdinand - former England defender
The defending was nightmarish, especially for Uruguay's second goal. It came from just a straight ball up the pitch from the goalkeeper and it was schoolboyish from England's point of view. You cannot let that happen.
In that situation, I am either dropping off and making sure there are no opposition players between me and the goalkeeper, or I am going to attack the ball and win it.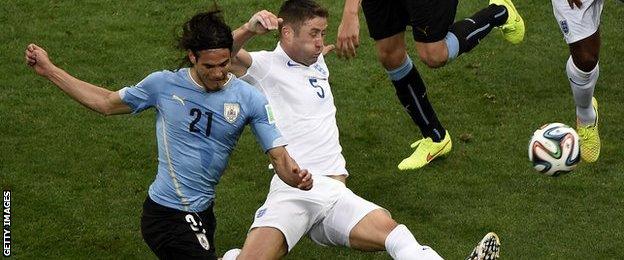 Phil Jagielka is left in no-man's land because he does neither when the ball flicks off Steven Gerrard's head and Suarez runs on to it. If you are caught in the middle, there is no chance of recovery.
The most disappointing thing was that it felt like a step backwards after the Italy game. This time, England were a little bit subdued.
Chris Waddle - former England winger
Nothing has changed since England went out of the World Cup four years ago. I don't think we are good enough, it is as simple as that.
Our defending was atrocious for the Uruguay goals, but, when they pressed us for an hour, we were awful because, when our players were under pressure, they did not want the ball in any area.
Yes, England showed commitment and effort and there will always be the odd moment where they are on top for a while, like in the second half, but I don't think we can have any complaints about being beaten again. Uruguay totally deserved to win.
England have come to this tournament with a young, inexperienced side and it has showed because, against Italy and Uruguay, we have been beaten by two teams who know how to win a football match. It means that, barring a miracle, we are going home.
Key Facts
England have lost their opening two games at a World Cup for the first time in their history.
England have conceded eight goals in their last three World Cup games, as many as the previous 14 games combined.
Uruguay had two shots on target in this match, and scored with both.
Danny Murphy - former England midfielder
Maybe it is time for a new England midfield. I wouldn't be surprised if Steven Gerrard calls it a day after this World Cup, but I can't blame him for Uruguay's second goal.
Yes, maybe he could have done better with the header, but anyone who plays at that level will know that your two centre-backs should always be expecting you to miss the ball anyway.
I'm also not sure if we have got enough leaders in this squad. I'm sure if we had gone to former England captain John Terry and asked him to play, the players wouldn't have minded because he has been the best defender in the Premier League for Chelsea this season.
When things are going well, like they were at 1-1 against Uruguay, you need some calm heads, but nobody seemed to be commanding players and saying "you sit there and you sit there".
Alan Shearer - former England striker
I did not see many positives in that performance, apart from maybe Wayne Rooney's first goal at a World Cup finals.
The huge concern was the way we defended. For the first goal, Glen Johnson has got to stop Edinson Cavani's cross, but Luis Suarez was also free and running straight down the middle to meet it.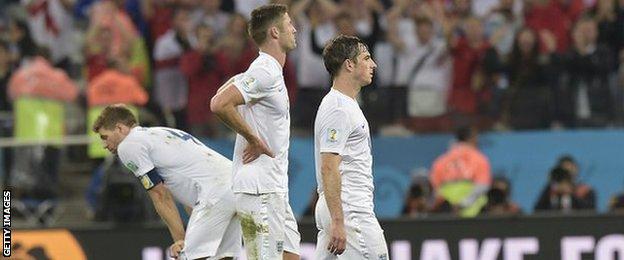 Once Suarez can see Phil Jagielka's back and his shirt number, then the England defender is in trouble because he cannot see him.
For the second goal, if that happened on a Sunday morning in the park then the manager on the sidelines would be disappointed. It was some finish by Suarez. He put his head down and hit it as hard as he could.
Clarence Seedorf - World Cup semi-finalist
Suarez is a killer in front of goal, but, for Uruguay's first, Leighton Baines should have been there to cover. In that situation, Jagielka needed his left-back to back him up and that was what was missing.
England's defenders were in the wrong position and there was also a lack of communication. It was the same for the second goal.
As experienced players, I could not believe what they were doing. They have to expect that the ball would be flicked on, Also, with Suarez on the pitch, they knew they had to be alert for the whole match.