World Cup 2014: What next for England after loss to Uruguay?

By Phil McNulty
Chief football writer at the Estadio do Maracana
Last updated on .From the section 2014 Fifa World Cup1879
From Sao Paulo
England manager Roy Hodgson was not even in the mood to clutch at the straws being offered at the Arena de Sao Paulo. He carried the air of a man who knew the game was up.
Hodgson needs a succession of cards to fall in England's favour over the remainder of Group D to stay in this World Cup - but after the 2-1 defeat by Uruguay, or more precisely Luis Suarez, the odds are stacked high.
The equation is this. If Italy and Costa Rica draw on Friday then England can book the early flight home. If Italy beat Costa Rica and Uruguay then England survive if they beat Costa Rica and rack up the required goal difference.
So even if they think it is all over, and every member of England's camp acted as if it was in the procession of misery out of Sao Paulo on Thursday, it is not quite. It may well be soon, however, and any team that loses its first two games will need to call in every favour to survive to reach the last 16.
The only way England can stay in the World Cup
England need Italy to win their remaining group games against Costa Rica and Uruguay to stay in the tournament.
Roy Hodgson's side then need to beat Costa Rica in their final group game.
England, Uruguay and Costa Rica would then each be on three points and qualification would be decided on goal difference.
But the statistics are not on England's side as no team has ever lost their opening two games at a World Cup and progressed from the group.
After the promise, even in defeat, of the performance against Italy in Manaus, this was a loss that revived the bad old memories, laced with a grim inevitability once the name of Suarez appeared on Uruguay's team sheet.
This was a striker who was being pushed around in a wheelchair just over a month ago after knee surgery. Here in Sao Paulo, in climatic conditions perfect for England, he rose to inflict a punishment he later ludicrously claimed was a form of retribution for supposedly harsh criticism of his behaviour at Liverpool.
For all England's emerging attacking potential, there was always a nagging doubt about whether Hodgson's defence could cope with strikers of the highest class. Finding out the answer - namely that they cannot - has proved a painful voyage of discovery.
Suarez's two goals drove at the heart of England's problems. His first was the conclusion of a catalogue of errors from captain Steven Gerrard, who had a harrowing night, Glen Johnson and Phil Jagielka, while his second was a thunderous finish from a glancing header off his Liverpool captain.
The final credits cannot start rolling as England may yet survive. Stranger things have happened in football but Hodgson and his players were struggling to think of them as they drove off into the night and the traffic of the Southern Hemisphere's largest city.
England's fans were outnumbered but made themselves heard in the steepling stands at this modern arena, especially after Wayne Rooney's equaliser offered brief hope, but ultimately this was something they had seen before all too often.
It seemed like England's energy had been left behind in the steamy heat of the Amazonian rainforest and Manaus. The attacking flair which prompted such positivity despite going down 2-1 was gone. Daniel Sturridge and Raheem Sterling, moved wide to accommodate Rooney in the middle, could not make an impact.
In Manaus there was enough good work to offer optimism. This was the opposite - poor, disjointed and lacking the ambition that occasionally threatened Italy.
England were laboured while Suarez had a guile and menace that unnerved them. It was as if he had got inside their heads. If he had, it was clearly beyond England's travelling psychiatrist Dr Steve Peters to get him out again.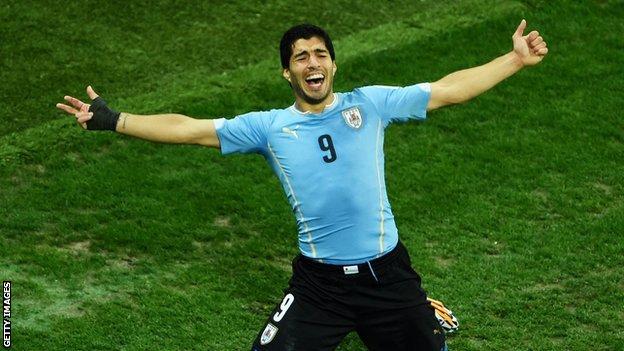 Perhaps Gerrard was hinting at private concerns when he kept returning to the subject of the importance of defending when he spoke to the media on Wednesday. If he had fears they were realised, and realised by the player he will have feared most.
Rooney's move to the centre was a success. He was easily England's most dangerous player and at least scored his first goal at a World Cup. The argument is now over. He either plays centrally for England or not at all.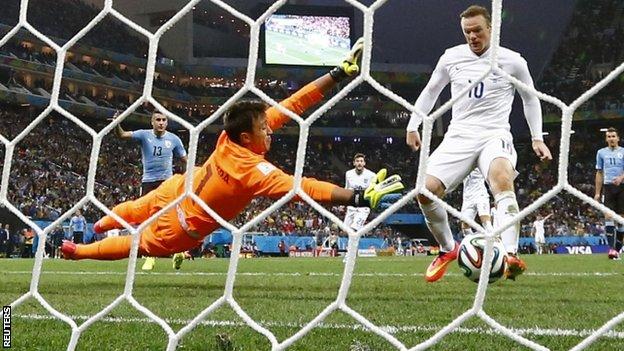 England will be back at their Rio base watching Italy and Costa Rica on Friday - and if their demise is confirmed the more definitive inquest can begin into a World Cup campaign that has been an unusual mixture of emotions.
So much positivity came after defeat against Italy but here old flaws were exposed and the need for a changing of the older guard made more urgent ahead of the Euro 2016 qualifying campaign.
Even if England somehow pull off survival - and it will need to be by someone else's hand as well as their own - the end of this tournament will be the day to usher in a new generation.
England were not run ragged. It was not a night of shame, they rarely are with England when they lose, but once again they came up short when faced with either elite opposition or serviceable opposition containing an elite player, as was the case here with Suarez.
Suarez may be a familiar figure to England's defenders - but knowing him and stopping him proved to be two entirely different things, especially when he was offered a helping hand.
If Hodgson stays on, and there seems no appetite for change - although defeat by Costa Rica may make the mood music much more sombre - then he faces tough choices.
Everton pair Jagielka and Leighton Baines are fine Premier League performers but fall short of true international class, while it is hard to make any case for Glen Johnson as England's long-term right-back.
And there is now the conundrum surrounding Gerrard, who had a miserable night with an unwitting hand in both goals. At 34, it is questionable whether he will be around at England level in two years' time.
Gerrard has led England with great pride and adapted his role as he is no longer the midfield barnstormer of old. He deserves respect rather than scapegoating but it would be no surprise if he feels this is time to leave the stage and focus on his beloved Liverpool.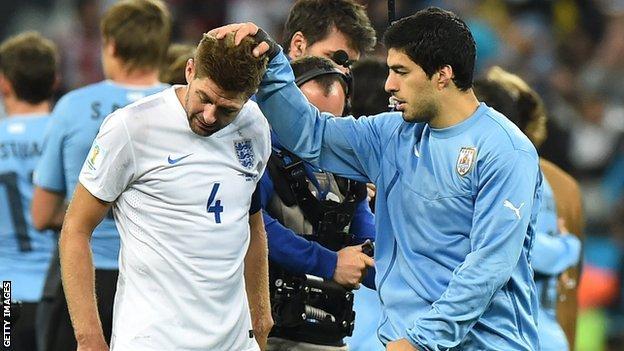 If England do have the anti-climax of a dead rubber against Costa Rica in Belo Horizonte, Hodgson should use it as the first stage of renewal.
He should start Everton's Ross Barkley, Southampton left-back Luke Shaw and persist with Sterling, Sturridge and maybe even draft in Adam Lallana and a fit-again Alex Oxlade-Chamberlain. Why put off until tomorrow what he could do today in Brazil?
Football Association chairman Greg Dyke drew ridicule with his infamous cut-throat gesture when the World Cup draw was made in December. As England sit in their Rio hotel on Friday awaiting their fate, it now seems he called it correctly.