World Cup 2014: Familiar foe Luis Suarez leaves England in tatters
By Ben Smith
BBC Sport in Brazil
Last updated on .From the section 2014 Fifa World Cup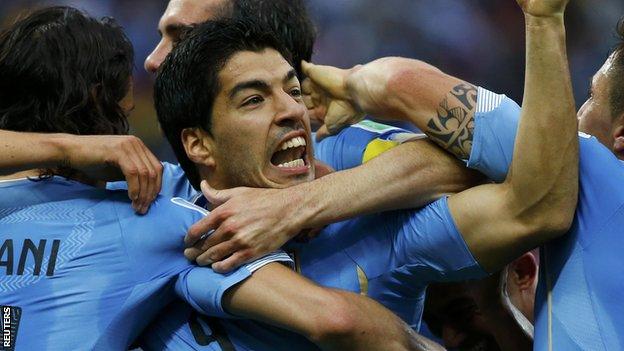 At the final whistle, Luis Suarez was held aloft by his victorious Uruguay team-mates. A few yards away, England captain Steven Gerrard stood hands on hips, wearing a look of disbelief.
The Liverpool team-mates embraced, spoke briefly and then moved away, their emotions at either end of the spectrum. Suarez held back tears of joy as Gerrard began to digest a defeat that leaves England's Word Cup hopes on the brink.
As the England captain left the field he would have been forgiven for asking himself if it had really been Suarez's first football match since Sunday, 11 May. Painfully for him, it had. For the second time in a week England had been undone by the most familiar of foes.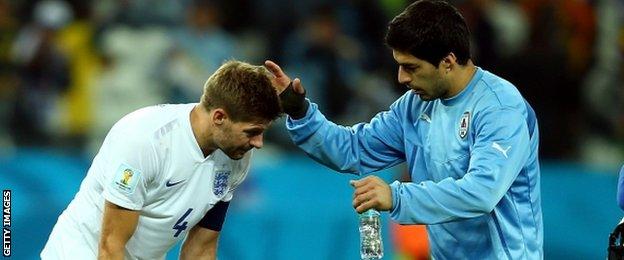 Mario Balotelli, the former Manchester City striker, had been England's tormentor against Italy. Now it was Suarez's turn and Uruguay's match-winner turned in a scarcely believable performance in Sao Paulo.
There were two breathtaking finishes in a performance that made a mockery of the knee injury that had kept him on the sidelines for the past five weeks. England were all too aware of the Liverpool striker's ability. Roy Hodgson had even been confident of containing it. "We'd like to think that as a team, we can keep Luis quiet," was how the England boss put it on the eve of the match. Suarez, however, is not a player that likes to go quietly.
England had lined up with five Liverpool players in their starting XI. Uruguay one. England knew their enemy and for much of the opening period, Suarez had looked reluctant to run at England defenders with that familiar vigour. It was clear that while he was fit enough, he was some way short of the match fitness that had made him, at times, unplayable for Liverpool last season.
For the past five weeks the 27-year-old's World Cup dream had hung by a thread. On 21 May, he reported feeling "an intense pain" in his left knee as the Uruguay squad met up for their pre-World Cup training camp. He underwent a significant operation at Medica Uruguaya hospital in Montevideo the following day, where part of his meniscus cartilage was repaired.
At the time, the Uruguayan federation could say only that his "participation in the World Cup could not be ruled out". Suarez never doubted it for a second. Within 24 hours of his operation, the striker had begun his recovery. He underwent specialist physiotherapy in swimming pools and poured his heart and soul into his rehabilitation with one date in mind - 19 June, England v Uruguay.
After the match he thanked his doctor Walter Ferreira. "If it wasn't for him I wouldn't be here," he said.
Key facts
Suarez had four goal attempts during the match, and both Uruguay's attempts on target, both leading to goals
It was Uruguay's first win in their last 16 World Cup games against European opponents
Suarez has scored five times in seven World Cup appearances for Uruguay and 41 goals in 78 caps overall
Suarez had not scored for five games for his country before the 2-1 win over England
Against Costa Rica, Suarez had looked a sorry sight, kicking his heels on the bench, watching a humiliating 3-1 defeat. This time, he had pleaded with Uruguay manager Oscar Tabarez to include him, to trust him. Trust him, he did. In Sao Paulo, there was passion in his play, ice in his veins.
When Nicolas Lodeiro found Edinson Cavani, moving into the inside-left channel, Suarez had already begun his run. Cavani checked back on to his right foot and delivered a precise cross into the danger area. By the time Phil Jagielka had looked to see where Suarez had gone, the Uruguay striker had headed the ball into the net. The celebrations were all too familiar. A kiss of his wrist, where the names of his children, Delfina and Benjamin, are tattooed, a punch of the air.
Wayne Rooney equalised but when Uruguay goalkeeper Fernando Muslera aimed a harmless-looking punt upfield, Suarez gambled. Gerrard's header accidentally sent the ball into the path of his Liverpool team-mate, who had once again ghosted in behind Jagielka.
Suarez took a touch and struck a fierce rising shot past Joe Hart. The celebrations were as explosive as the finish as the man from Montevideo was buried under a crowd of his team-mates. Suarez left the field soon afterwards to a hero's reception, he had done his bit.
On the bench, he wore a smile as wide as the river Mersey as team-mates high-fived him and the magnitude of what he had just done began to dawn. Two attempts on target. Two goals. Clinical.
It is hard to overestimate how much the World Cup means to the former Ajax striker. Four years ago he scored the goals that propelled Uruguay to the quarter-finals. It was there, against Ghana, that he became the villain for neutrals, using his hand to block Dominic Adiyiah's goalbound shot in the 120th minute. Suarez was sent off, Asamoah Gyan missed the resulting penalty. Uruguay won the shoot-out and stopped an African side from reaching a semi-final for the first time.
Until Sao Paulo that was the last time Suarez had appeared in a World Cup match. He had so much to prove, there was a determination to put a perceived wrong right, to change those perceptions.
"I've been thinking about this," Suarez said after the game. "It was something I dreamed about. When I saw the ball [for his winning goal] I closed my eyes and kicked it for all the things I went through, for the people that supported me. It went in. Nobody could have imagined a match like this."
In May, Suarez was voted Footballer of the Year by the Football Writers' Association, having already been named Player of the Year by the Professional Footballers' Association.
It marked redemption of some kind for a man who missed the first six games of the season serving the remainder of a 10-match ban for biting Chelsea defender Branislav Ivanovic last April. That followed another infamous incident in October 2011, nine months after arriving at Anfield. Suarez was banned for eight matches for racially abusing Manchester United full-back Patrice Evra.
"Before the game too many people in England laughed about my attitude over the last few years," Suarez reflected. "This is a very good time for me. I want to see what they think now."
The question now is how far he can go. A few weeks ago, Hodgson was asked how close Suarez was to the elite category of Cristiano Ronaldo and Lionel Messi. "I think he will only be at that level when he shows it on this particular stage," was the England manager's response.
"This is the stage you have to do it on. Being a great player in your league will get you plaudits, but for the world to recognise you as an all-time great you have to do it at the World Cup."
In Sao Paulo, Suarez provided the most eloquent of answers to leave England's dreams in tatters.