World Cup 2014: Carlos Queiroz to leave job as Iran coach
Last updated on .From the section 2014 Fifa World Cup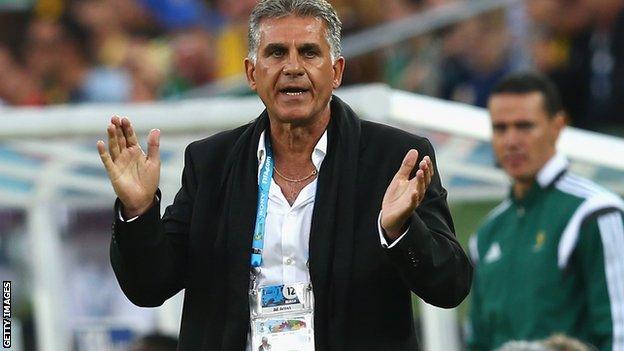 Iran coach Carlos Queiroz will step down after the World Cup because of a lack of government financial backing.
The former Manchester United assistant manager has long bemoaned a lack of cash for the team, mainly caused by political restrictions placed on Iran.
"Yes my connection will finish here at the World Cup," confirmed Queiroz, 61.
"There was not support from the government - there has stopped being a genuine interest because of the financial situation."
The Mozambique-born coach has been Iran boss since 2011, but will not lead them at the 2015 Asian Cup in Australia.
"The dialogue has been cut off and I have already decided not to stay," added the former Real Madrid manager.
Iran has faced economic sanctions by world powers for a number of years because of concerns about their development of nuclear technology and what it might be used for.
With money in short supply Queiroz struggled to arrange warm-up matches for the team after leading them to their fourth finals by topping their qualifying group last year, with only Guinea venturing to Tehran in March and earning a 2-1 win.
The Iranians held African champions Nigeria to a 0-0 draw in their World Cup Group F opener on Monday.
They face Argentina on Saturday before playing their last group game against Bosnia.
However, Queiroz says he has no plans to retire and has set his sights on becoming the first manager to guide four teams to the World Cup, having led South Africa to the 2002 finals and Portugal to the 2010 tournament.
Queiroz, who was Manchester United assistant manager under Sir Alex Ferguson, said: "I've had an offer to stay in Brazil and in England but because of circumstance in my private life it is difficult for me to accept a position at a club.
For the best of BBC Sport's in-depth content and analysis, go to our features and video page.