World Cup 2014: Fifa urged to change rules over concussion
Last updated on .From the section 2014 Fifa World Cup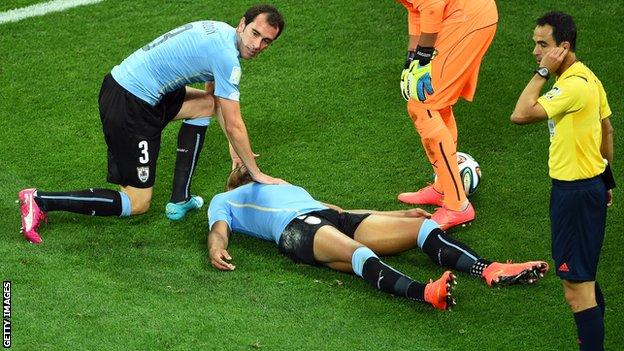 Football's world governing body Fifa has been urged to change its rules over concussion by players' union FIFPro.
It comes after Uruguay's Alvaro Pereira continued playing after he was knocked unconscious in the win over England.
FIFpro wants players suspected of being concussed to be temporarily substituted so they can be assessed by doctors.
The players' union has accused Fifa of failing to protect the 28-year-old midfielder and wants its own medical team at games to make assessments.
Pereira was knocked out during England's 2-1 defeat by Uruguay in Group D of the 2014 Fifa World Cup on Thursday and the result leaves Roy Hodgson's men on the brink of an early exit.
Pereira admitted he was briefly unconscious but insisted he had wanted to continue after arguing with his team doctor.
"I said sorry a thousand times to the doctor because I was dizzy," the Sao Paulo player said. "It was that moment with your adrenaline flowing in your body, maybe without thinking what I really wanted to do was to help get the result.
"What really matters is that everything is okay. Nothing happened. It was just a scare."