Aston Villa: No new owner in sight as Randy Lerner waits for sale
Last updated on .From the section Football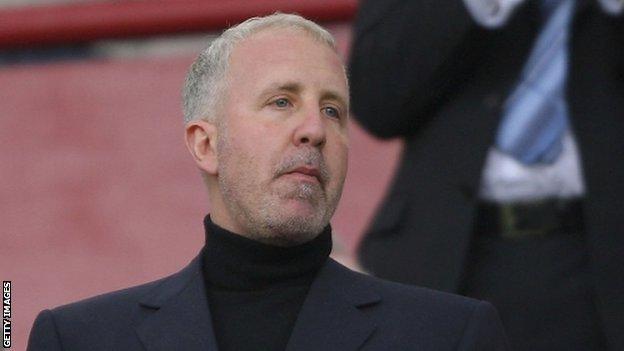 No credible buyer for Aston Villa has yet come forward as American owner Randy Lerner looks to sell the club.
Lerner put the Premier League outfit up for sale last month, stating he felt he could "no longer do the job".
Villa, who ended last season 15th, are valued at between £150m and £200m.
Football finance expert Peter Knowles said: "A sale won't happen overnight. Once a genuine buyer comes forward, you are looking at a period of at least three months to complete a sale."
Lerner, who bought the club from Doug Ellis for £62.6m in 2006, has made it clear he wants it to go to a "good custodian" and has appointed Bank of America Merrill Lynch to conduct the sale.
Despite battling relegation for the past two seasons, Villa remain an attractive proposition for a would-be buyer, according to Knowles.
"Aston Villa is a big Premier League club, with great tradition," he said.
"It will sell, but you are talking about somebody who would want it as a plaything rather than somebody looking to make serious money from it.
"Of course, there is the fit and proper persons test, but that doesn't seem to be the most stringent thing ever."
While a buyer is found, Paul Lambert remains as manager, with Paul Faulkner continuing in his role as chief executive.
Villa have begun to rebuild for the new campaign by signing Switzerland international defender Philippe Senderos and former England midfielder Joe Cole on free transfers.
Villa are due to begin the new season at Stoke City on 16 August.