Northern Ireland's women are in a world of their own

Last updated on .From the section Football
There are 5913 miles between Belfast and Sao Paulo. When it comes World Cup football, it might as well be a million.
Both World Cup matches but in every other aspect they were worlds apart.
The venue for the women's European Group Four qualifier was the home of the Northern Ireland champions Cliftonville. An odd-looking ground with two modern stands behind the goals, but with an antiquated and rarely-used structure along one side. Across from that lies, a grassy bank and the city's waterworks.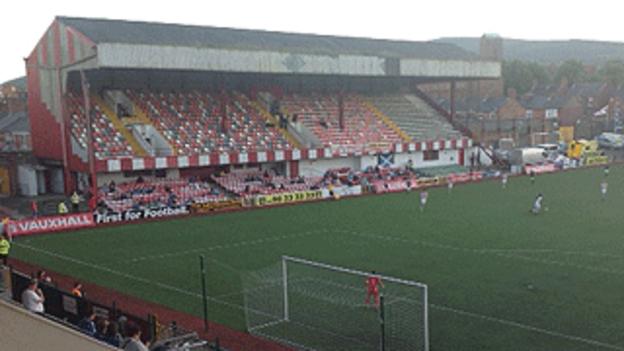 A few hundred people turned up, many of them young kids more interested in playing than watching.
When Northern Ireland and Scotland took to the 3G synthetic pitch, Belfast was bathed in warm sunshine. The weather was better than Sao Paulo and, aptly, the heat was on both teams.
The Scots were battling with Sweden for top spot in Group Four and automatic qualification for the 2015 finals in Canada. Their hosts, in stark contrast, were simply trying to score a goal, something they had not managed in their seven previous qualifiers.
Unsurprisingly perhaps, there was an air of resignation in the Northern Irish camp ahead of the game. The previous weekend they lost 1-0 to Bosnia and Hercegovina.
"We are under pressure to score," admitted captain Ashley Hutton, a 26-year-old central defender from Bangor in County Down. "Bosnia only had two shots against us and one, from about 35 yards, went in."
Northern Ireland are accustomed to facing uphill battles and Thursday night was the latest 'against-the-odds' challenge. Many of Scotland's players are full-time but, for their hosts, simply getting time to play can be difficult.
"A lot of our girls have trouble getting time off work or are in full-time education," Hutton explained. "We have used 31 players in eight matches which shows how many changes we have been forced to make."
Scotland's 2-0 win was no big surprise, then. Seattle Reign's former Arsenal midfielder Kim Little put them into the lead with a direct free-kick just before half-time and Jane Ross - who plays for Swedish club Vittsjo GIK - tucked away a second goal 15 minutes from the end.
Northern Ireland's wait for that elusive goal goes on.
"It is disappointing not to score, but anyone who was here tonight will have seen how hard the girls are working," said Alfie Wylie, the Irish FA's national women's coach. "Scotland were able to bring on people who are playing in Europe, while we were bringing on 15-year-olds."
Northern Ireland have two World Cup qualifiers left in September - away to Poland and at home against the Faroe Islands. But, for now, as they trudged away from Solitude, it was back to the daily routine of domestic life.
A million miles from the glitz and glamour of the men's football festival in Brazil.