World Cup 2014: Gerrard faces reality that England dream is over

By Phil McNulty
Chief football writer at the Estadio do Maracana
Last updated on .From the section 2014 Fifa World Cup1143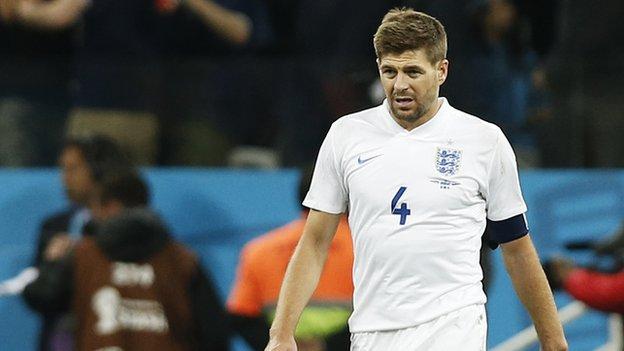 England captain Steven Gerrard sat in front of players and management at their Rio base on Sunday night and outlined the price of World Cup failure in simple terms.
It was done on the invitation of manager Roy Hodgson and delivered in typical Gerrard fashion - no tub-thumping or rabble-rousing. It was part-warning and part call to arms after defeat by Italy.
As Hodgson, poking fun at himself, said: "Steven Gerrard is very good at this. He can say in two or three sentences what it takes me 10 minutes to talk through."
Gerrard warned of the long, miserable summer facing the entire England entourage should they end up watching the World Cup knockout phase from the safe distance of a belated summer holiday.
A second World Cup loss to Uruguay, and Costa Rica's victory over Italy, means that warning has become a reality.
And no-one will feel the pain more than Gerrard. Tuesday's game against Costa Rica will, in all likelihood, be his last in an England shirt.
It is hard to see Gerrard wanting to carry on into England's Euro 2016 campaign in France on the back of this World Cup.
He slumped into the arms of Liverpool team-mate Luis Suarez at the final whistle, the man who was in a wheelchair after knee surgery five weeks ago but returned to fitness to torment England on Thursday.
It was an image that hinted at finality for a player who had just won his 113th cap in a 14-year international career.
To make matters worse, Gerrard had played an unwitting part in both of Suarez's goals, with a concession of possession that started a chain of events that led to his first and a glancing header that instigated his second.
And for a player of such distinction, he has had little impact in the anchor midfield role he has adopted for both club and country out here in Brazil as the passage of time inevitably removed his ability to be the barnstorming inspiration of old.
This will be Gerrard's last World Cup. He has led England with pride here in South America, revelling in the responsibility of being Hodgson's favoured choice as captain and not by default, as he was under his predecessor Fabio Capello.
He is revered by his England colleagues. When he spoke in that room in Rio last Sunday, rest assured his team-mates will have listened to every word intently. Gerrard is an eloquent spokesman for a squad that is not exactly packed with big voices.
This is a player who deserves respect not scapegoating but he will know this has not been his tournament.
Sadly, his part in England's loss here cannot be glossed over. After his slip against Chelsea that led to a defining defeat as Liverpool came up just short in their quest for a first title in 24 years, Sao Paulo was another harrowing moment in his career.
Gerrard is a leader by example rather than fist-pumping. He has dragged Liverpool from the abyss time and again but in Sao Paulo, even in a climate that would have been at the top of England's wish list, his deeper role virtually removed his ability to do this, the odd set-piece apart.
It would take the hardest heart not to feel sympathy for Gerrard but reality also dictates that we are reaching the end of his international era.
Gerrard may never have touched the heights for England that he has for Liverpool but he has still been the finest midfielder of that generation, over and above the old arguments about whether he could play with Frank Lampard or the current debate about whether he should call it a day.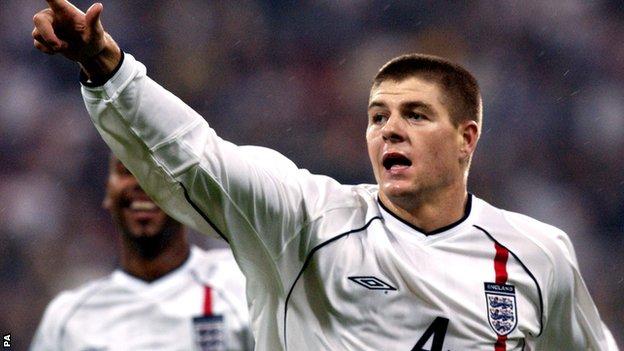 Those who have, on occasion, championed his exclusion never came up with any convincing answer as to who might take his place in England's team. England would never have been a better team for his absence over the last decade and more.
Time and tide, sadly, wait for no man in international football and we are seeing the finishing touches to his time with England. It would now actually make sense for him to conserve his energies for Liverpool.
If England decide they still want Gerrard - and he wanted to continue - then he would be a certainty for the next squad that the manager names.
The smart money, however, will be on Gerrard studying his performances out here in Brazil and deciding the time is right for him to give this part of his career away once England's World Cup is over.
Gerrard is fiercely self-critical, sets his standards on the top floor and usually meets them. No-one is more brutally honest about their own contribution and events in Sao Paulo clearly left him devastated at the final whistle.
He would not expect to be spared criticism and he will not be. Gerrard will know better than anyone he has been a marginal figure at the World Cup so far.
For all his efforts since his debut against Ukraine on 31 May 2000, Gerrard deserves a better finale than the one he is likely to be afforded in Brazil.
Football, especially the World Cup, does not deal in too many fairytales. As the disconsolate figure of England's captain drooped into the arms of his club team-mate who has probably destroyed his international dreams, Gerrard was dealing with cold, hard, brutal reality.