Impressive Scots making major progress under Signeul
By Cheri Burns
BBC Scotland
Last updated on .From the section Football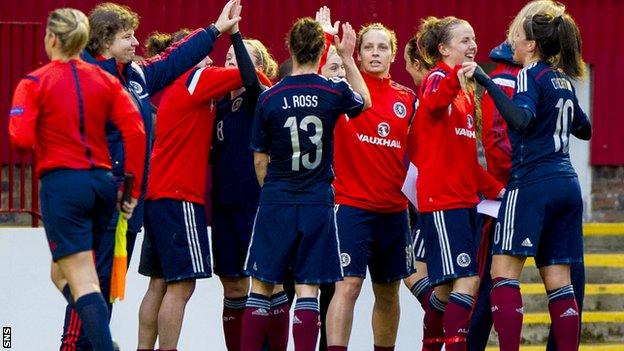 Scotland's women have never reached a major finals.
But, after bouncing back from a qualifying defeat by Sweden to beat Northern Ireland in this week's crucial double header, they have taken a big step towards making their bow at the 2015 World Cup.
There is a real sense that the Canada showpiece is within their grasp, and could be where they finally have the chance to prove what they can do on the grandest of stages.
The Scots' qualifying campaign to date - particularly the 2-0 victory at home to Poland and the 7-2 dispatching of the Faroe Islands - has shown this is a team at their peak. Sharp and clinical, they have given every inch to the cause.
The plaudits, though, have to extend beyond the players. Since her appointment in 2005, head coach Anna Signeul has revolutionised the national side, with her boundless enthusiasm and tactical prowess.
Guiding them to their highest ever world ranking of 19, the Swede has assembled a group who compete with confidence, work for each other and, with a blend of youth and more seasoned names, are a genuinely exciting prospect.
While Scotland have courted a mentality that has seen them operating effectively as a unit, the campaign has, undoubtedly, also been the backdrop for some individual talents to truly come to the fore, none more so than Kim Little.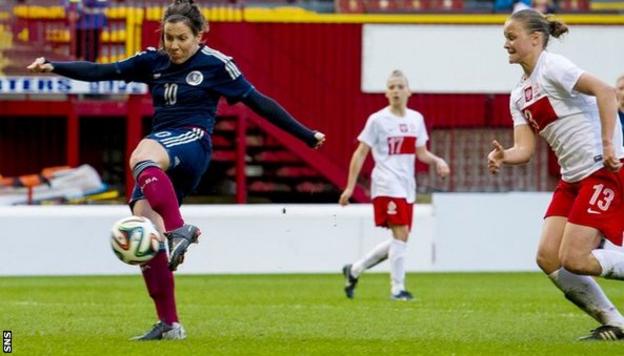 Since signing for Seattle Reign, the attacking midfielder has shown her star quality in the US - scoring 11 goals in 11 games - and it is not just at domestic level that she has consistently impressed.
A weapon in the Scottish armoury throughout, her class is there for all to see. The driving force behind much of their creativity, she has proven to be a stand-out performer.
Team-mate Jane Ross - plying her trade with Swedish club Vittsjo GIK - has also been instrumental in ensuring they are still in contention to exit their group as winners.
The Scots' top scorer, Ross' goals helped send Signeul's charges into the recent pivotal matches boasting a 100% record.
She hit two outstanding hat-tricks - against Poland and Bosnia and Herzegovina - and offers her side a huge goal threat whenever she is on the pitch.
And it is not just the Scottish frontline that has provided a spark - goalkeeper Gemma Fay has epitomised the strength that has now become synonymous with this crop.
A commanding and confident figure, Fay has put in a series of convincing displays, helping instil faith that anything is possible.
And, her side carried this optimism into the most important period of their qualifying campaign to date.
Sitting top of Group 4, along with Sweden - who albeit have a game in hand - confidence in the camp was high.
Captain Fay called reaching the World Cup "an absolutely attainable goal," and with the assured, attacking showings of late, within which they had notched 25 goals, who could argue?
There was, though, no denying how momentous the next round of fixtures would be, or that the toughest test was yet to come.
Pia Sundhage's Swedes are the outfit to beat.
Fifth in the world rankings, and under the stewardship of a coach who won two Olympic gold medals while in charge of USA, there could be no shying away from the fact that the Scottish outfit would be up against it.
And, despite going down 3-1, the match did not play out quite as the scoreline suggests.
From the off Scotland gave a valiant effort and - with Little again at the heart of any threat - they never looked overawed by the occasion or the calibre of the opposition.
Showing good forward promise and taking the game to the Swedes, rather than sitting back absorbing pressure, it was, in the end, lapses in defensive concentration that cost the hosts dear.
But, having proved they are capable of going toe-to-toe with one of the top teams in the game, they could go forward with their heads held high.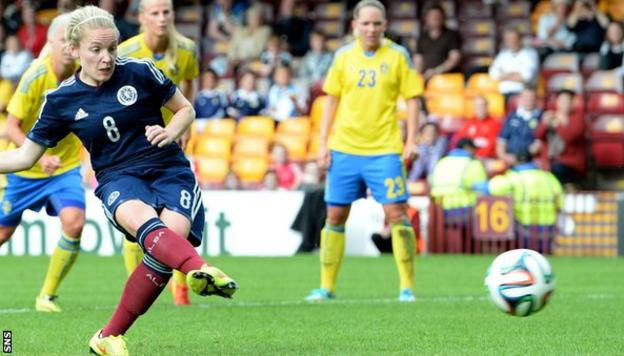 And move forward they did. Five days after that defeat at Fir Park, Signeul's squad showed their worth and character, recording a 2-0 win in Belfast.
With goals from the in-form Ross and Little proving the difference, they were firmly back on track.
So, what next?
Scotland remain at the summit of the table, with just two match days remaining, and it is a straight fight between themselves and Sundhage's Sweden for the automatic qualification place.
With their rivals having that extra game to play, and Scotland still to travel to their stomping ground, staying on top may prove to be just out of reach.
But, they are within touching distance of clinching a place in the play-offs as one of the best runners-up.
And if they can continue to show the same fire-power in front of goal, while eradicating the defensive uncertainty that Notts County's Rachel Corsie admits is, at times, creeping back into their performances, the sky really is the limit - starting with next summer's spectacle.