World Cup 2014: Argentina to use Lionel Messi's chosen formation
Last updated on .From the section 2014 Fifa World Cup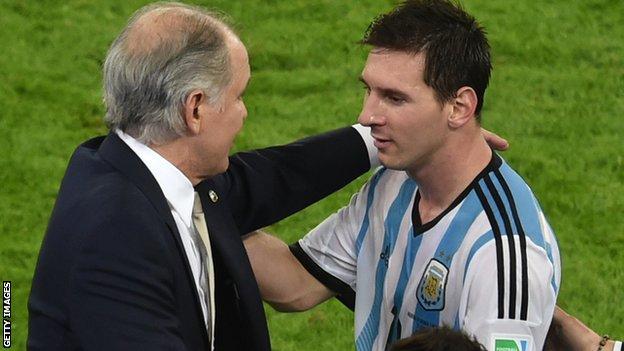 Argentina will adopt Lionel Messi's preferred formation after the striker complained about their system in the 2-1 win over Bosnia-Hercegovina.
Alejandro Sabella's side used five defenders in the victory and Messi said the approach made them "suffer a bit".
"I was not hurt by Leo's comment and he has said that before," said Sabella, whose side face Iran on Saturday.
"We can all make mistakes. We will start with a 4-3-3 formation and we will take it from there."
Despite scoring early through an own goal against Bosnia, Argentina were unable to build on their advantage until captain Messi scored a sublime individual goal on 65 minutes after a switch to 4-3-3.
His side managed 11 attempts on target - three below the tournament average - and the three-time Fifa Ballon d'Or winner was open in his criticism of how the coach had chosen to deploy his players initially.
"He was asked how he likes to play and he answered what he thinks in a respectful way. We respect each other, we have a very strong team spirit," added Sabella, 59.
"It is good to have an open dialogue with my players. If you don't let them say what they want to say then you won't get the best out of them."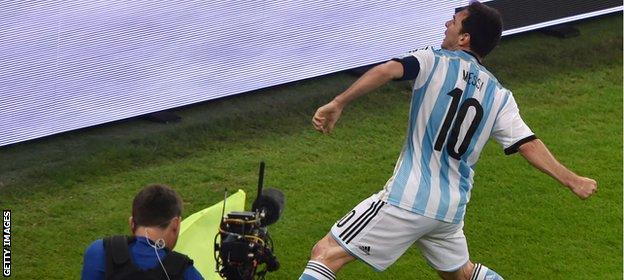 Messi, 26, is expected to carry his country's hopes in the 2014 World Cup and has 21 goals in his last 21 international appearances.
He has played in a 4-3-3 formation throughout his club career at Barcelona and scored a first goal in nine World Cup matches when Argentina adopted the same approach against Bosnia.
"We, as strikers, favour that line-up," said Messi. "In the first half I was often on my own and so was Kun Aguero."
Messi and Aguero will likely be joined by either Angel Di Maria or Gonzalo Higuain in the forward line as Argentina take on an Iran side which defended resolutely in their opening 0-0 draw with Nigeria.
Argentina, who last won the tournament in 1986, can reach round two with a game to spare if they beat Iran in Belo Horizonte.