World Cup 2014: How Costa Rica's 'bulls' shocked the world
By Ben Smith
BBC Sport at Arena Pernambuco, Recife
Last updated on .From the section 2014 Fifa World Cup
The world may have doubted Costa Rica, but Costa Rica never doubted themselves.
As their players embraced, danced in front of their fans and grabbed banners thrown from the stands, it was hard not to reflect on something manager Jorge Luis Pinto had said about being drawn in a group with three previous World Cup winners.
"We love the group. The braver the bull, the better the bullfight."
True to his word, there has been a fearlessness about Costa Rica - a belief that anything is possible and reputations mean nothing.
And now, the team who were seen as the 'whipping boys' are in the last 16 - and two former world champions will be out.
That no-one questions Pinto's side are thoroughly deserving of their place there is testament to the vibrancy of their performances.
While England's exit will dominate the agenda, this was a World Cup fairytale in the making at Arena Pernambuco.
The faces of the players after the deserved 1-0 victory over Italy told a story. There was pure joy, total disbelief and, above all, excitement at what they had achieved and what lies ahead.
Pinto lifted his players into the air one after the other. Then he stood still with his arms wide open, taking it all in, capturing a moment he will never forget.
It was a scene of total joy for the players - and for thousands of Costa Rica fans who had travelled to Recife. For much of the second half, great swathes of the stadium, decked in red, blue and white shirts, chanted "si, se puede", Spanish for "yes, we can".
By the time Italy manager Cesare Prandelli arrived for his post-match news conference, they could still be heard. If Prandelli was asking himself how Costa Rica had done it, he was not alone.

Before the tournament, there had been a confidence within Costa Rican football this was the most talented squad they had assembled for a World Cup.
In 2002 and 2006, only three players in the squad played outside Costa Rica. This time 14 players are based overseas, 11 in Europe. But that optimism was undermined by injuries to Everton left-back Bryan Oviedo and Real Salt Lake striker Alvaro Saborio, who scored eight goals in qualifying.
Pinto, however, always believed he had a squad that could be more than the sum of their parts. This was his second spell as manager; the first ended in a sacking in 2005 with the side's hopes of qualifying for the 2006 World Cup in the balance.
Prior to his dismissal, Costa Rica had recorded a disappointing draw with Trinidad and Tobago leaving them on four points and in fourth place in the final round of Concacaf qualifying; with three certain to qualify.
"How could it not be painful?" Pinto said at the time. "I had World Cup dreams; I dedicated myself to making them come true. I couldn't."
Alexandre Guimaraes was rehired by Costa Rica and guided the side to Germany 2006.
This World Cup was Pinto's last chance.
In April, his fortunes took a turn for the worse. His car was broken into while he was in a restaurant. Among the items taken was a contacts book it had taken him 20 years to gather, an iPad he was using to write a book and memories from his career.
He is making new ones in Brazil.
Pinto chose his staff carefully. Paulo Wanchope - once of Derby, West Ham and Manchester City, and who scored 45 goals in 73 matches for Costa Rica - is there.
So too is Luis Marin, capped 130 times, while the goalkeeping coach is Luis Gabelo Conejo, who won 40 caps for the Central American country which has a population of just over 4.5 million.
It is a group whose experience takes in the nation's previous World Cups - a sense of history.
Conejo made a string of crucial saves as Costa Rica beat Scotland en route to the knockout stages at Italia 90 - but the connections with the past do not stop there.
Midfielder Celso Borges's father, Alexandre Borges Guimaraes, was also in the side that stunned the Scots. Like father, like son.

Not all of the squad have such glamorous pedigree. A glance at the clubs they play for reads like the first-round draw for the Europa League.
Many had to struggle. Forward Randall Brenes was born in the province of Cartago. When he began playing football, he had to earn the money to travel by bus to the stadium by working as a photocopier operator. Fame has come late; recognition is something new and unusual.
Three of the squad, including Arsenal striker Joel Campbell, bought boxes of Panini World Cup stickers just to see themselves. But this is a team who shine, not shrink, on international duty.
They finished second behind the USA in the final round of Concacaf World Cup qualifying, winning all of their home matches and finishing above Mexico. Costa Rica are far more tactically aware than ever before.
Pinto has modelled himself on Chelsea boss Jose Mourinho, basing his side on strong defensive foundations and a swift counter attack. Bryan Ruiz provides the flair, Campbell the power and pace.
They have shown they can be flexible, adapting the way they set up against Uruguay to transform the game, having trailed 1-0 at half-time. They pass well and defend well.
Who has qualified for the last 16?
Netherlands (Group B)
Chile (Group B)
Colombia (Group C)
Costa Rica (Group D)
Mourinho himself doubted they were capable of following that shock win over Uruguay with another over Italy, much to the disappointment of Pinto.
"I am really surprised he said something like that," said Pinto. "We know that Italy is a very difficult opponent but we are confident that we will be able play even better than we did against Uruguay."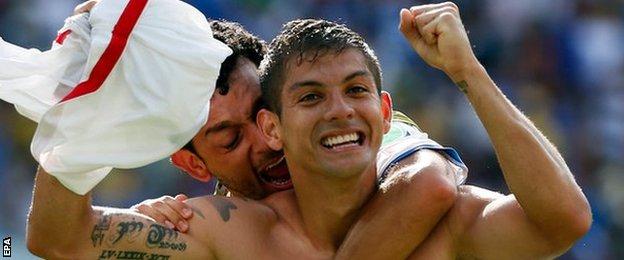 Few believed they could. Now the naysayers have been sent home to think again. Pinto's players have proved every bit as defiant as him.
Costa Rica have achieved what no-one outside the squad thought was possible, and their presence in the last 16 must count as one of the most remarkable feats in recent World Cup history.
Few will underestimate them again.
For the best of BBC Sport's in-depth content and analysis, go to our features and video page.