World Cup 2014: Brazil bemused by interview with 'fake Scolari'
By Ruth Costas
BBC Brasil, Sao Paulo
Last updated on .From the section 2014 Fifa World Cup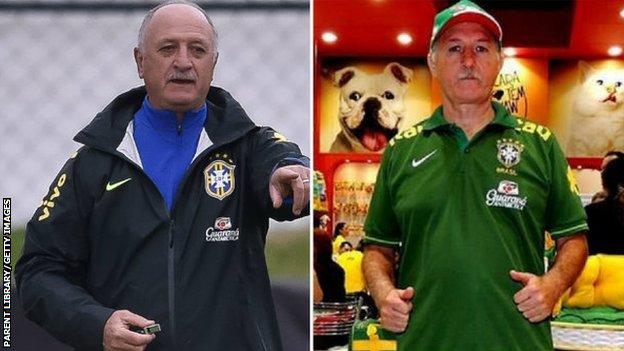 In the middle of a World Cup in Brazil, an exclusive interview with the coach of the country's national team is probably one of the greatest scoops a Brazilian journalist could hope for.
So experienced columnist and TV presenter Mario Sergio Conti thought his luck was in last Wednesday, when he boarded a flight from Rio to Sao Paulo only to discover that Luiz Felipe Scolari, widely known in Brazil as Felipao, was sitting next to him.
The man answered some of his questions and an interview was published on the website of two of the leading newspapers in Brazil - Folha de S. Paulo and O Globo - where Conti writes occasional columns.
The problem was that the passenger at Conti's side was not the real Scolari, but a look-a-like called Wladimir Palomo, who had gone to Rio to take part in a TV comedy programme - where naturally, he plays Scolari.
"Everything was a huge misunderstanding," Palomo told the BBC on Friday.
He was travelling with a look-a-like of Brazil's star forward Neymar - who was on the same flight - and whom the journalist also mistook for the real player.
After it emerged that the real Felipao had not left Fortaleza - where Brazil played against Mexico on Tuesday - the two newspapers had to apologise for the mistake.
The story created a sensation on Brazilian social media and a piece explaining the error was among the five most-read stories on Folha's website on Thursday.
The look-a-like said he had not presented himself as Scolari so he thought Conti knew that he was not talking to the Brazilian coach.
"It was a mistake: I really thought he was Felipao. But there was no bad faith involved. At least this mistake has not harmed anyone, it has not influenced the elections or hit the stock markets," Conti told a reporter from Folha.
According to Palomo, he did not know he was being interviewed and the journalist only identified himself as such when they arrived at Sao Paulo.
In the 'interview' he praised Neymar's performance and expressed surprise that world champions Spain had been eliminated. He also said Brazil's draw against Mexico was useful to ward off the idea that winning a World Cup could be easy.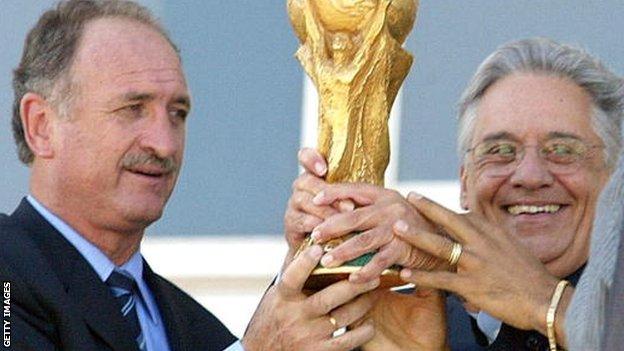 "For me, we were just chatting and I gave him my personal opinion about the tournament and the national team, as anyone would. Everyone is a coach in Brazil during the World Cup."
Palomo said he felt overwhelmed - "even scared" - about the impact of the misunderstanding and had received at least 10 interview requests after the incident.
"Since yesterday my phone hasn't stopped ringing. I will probably have to arrange a news conference to respond to everyone," he joked.
One of the most curious aspects of the misunderstanding is that, in his piece, Conti mentions that, after the interview, Scolari gave him a card which read: "Wladimir Palomo - Scolari look-a-like".
According to the columnist, he thought the real coach was joking. Sadly for such a well-regarded journalist, he was not.