Danny Coles: Exeter skipper says he has embarrassed the club
Last updated on .From the section Football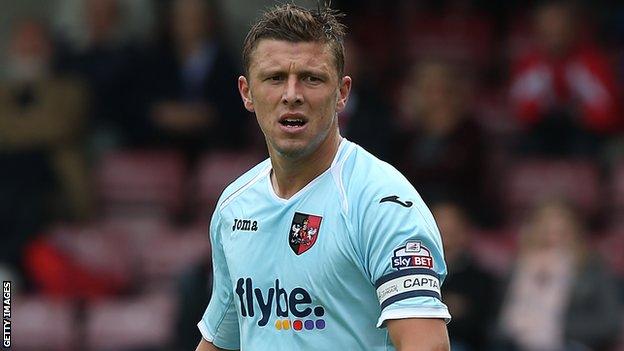 Exeter City captain Danny Coles says his abusive message to a fan on Twitter has embarrassed himself and the club and he has apologised.
His statement on the club website said: "I would like to apologise unreservedly for my comments on Twitter.
"My behaviour was completely inappropriate and I am totally ashamed of my actions."
Coles has played 123 games for the League Two club in three years and signed a new contract in October 2012.
"I am not going to make any excuses, nor plead any mitigating circumstances," continued Coles.
"As the captain of Exeter City FC, I know I should set a good example to the supporters, the players and the wider football community.
"In breaching the club's social media guidelines I have let everyone down and embarrassed myself and the club, which prides itself on its family values.
"I have deleted my Twitter account and will be making sure that I impress upon the rest of the squad the importance of realising what damage ill-judged remarks on social media can do.
"Most importantly, as a family man, I would be disgusted if someone spoke to one of my children in the manner I addressed a fan.
"I will be contacting the young lad directly in order to apologise personally."