World Cup 2014: 'England endure painful, long goodbye to Brazil'

By Phil McNulty
Chief football writer
Last updated on .From the section 2014 Fifa World Cup128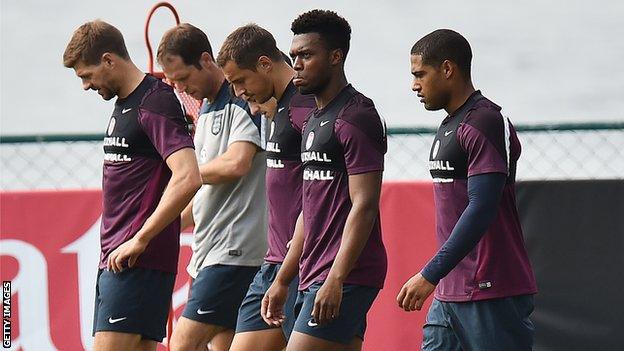 From Rio de Janeiro
The last time England played a World Cup game in Belo Horizonte, at least they were only embarrassed after they had arrived.
It was on 29 June 1950, and a 1-0 defeat by the United States - a result many back home assumed was a misprint when they first read it in the newspapers.
As England manager Roy Hodgson and his players prepare to return to the capital of the state of Minais Gerais 64 years on, they will land humbled and beaten even before they step off the plane.
If that loss to the USA - courtesy of Joe Gaetjens's infamous goal - was the darkest day in England's World Cup history, Tuesday's game against Costa Rica may be the most pointless. Apart from the symbolism of observing a team already out of the tournament before most of the travelling party have completed a short course of anti-malaria tablets.
England: Knocked out at the group stage
World Cup 1950:
Even second spot in the group was not enough for England to make it through the group in Brazil
World Cup 1958:
England managed three draws in the group before losing a play-off with the USSR
Euro 1980:
After a draw with Belgium, England were defeated by Italy and finished third in the group after managing a 2-1 victory over Spain
Euro 1988:
After failing to secure a win over Republic of Ireland, Netherlands or Soviet Union, England finished last in their group
Euro 1992:
England finish fourth in the group, with a draw against both Denmark and France and defeat by hosts Sweden in the last match
Euro 2000:
England manage to avoid finishing last, with a victory over Germany seeing them take third place
At England's lavish Urca military base training headquarters in Rio, a monument to the Football Association's determination to leave no stone unturned, the atmosphere of optimism that has pervaded all their preparations was replaced by one of misery and regret on Saturday.
The positivity produced by England's display in defeat by Italy was replaced by soul-searching as Hodgson and his squad examined an exit strategy they would not have contemplated in their worst nightmares.
Word is the mood among England's players is one of stunned disbelief at the turn of events here in Brazil that leaves them facing a dead rubber against the supposed weak link in Group D on Tuesday.
And that was reflected in the appearance of goalkeeper Joe Hart and striker Wayne Rooney in front of the media.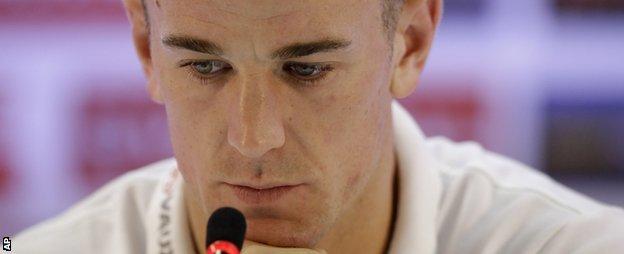 Hart, in particular, looked shattered and his emotions appeared to be bubbling very close to the surface as he said: "It is a strange, empty feeling. We have put everything we have into this tournament but ultimately it is really cruel. It is gutting for me."
Rooney added: "We're hurting. You can imagine it is quite tough. It is a long few days for us now but we have to try and pick ourselves up for the game against Costa Rica."
Away from this spotlight, there was no mistaking a more sombre feel to training. Hodgson got the open part of the session under way with a swift clap of the hands and an arm around Raheem Sterling before a piece of by-play with Sir Trevor Brooking as he walked laps of the training pitch.
Coach Ray Lewington was the main voice heard as England went through some sharp drills, with the work of Everton's Ross Barkley and Arsenal midfielder Jack Wilshere - who both may get their chance against Costa Rica - drawing praise.
But there was no escaping an almost academic ambience, a sense that many of England's players may feel like heading home now rather than making the journey from Belo Horizonte via Rio after the grim formalities are completed against Costa Rica on Tuesday.
| England next six fixtures | |
| --- | --- |
| Tue, 24 Jun v Costa Rica | World Cup Group D |
| Wed, 3 Sep v Norway (H) | Friendly |
| Mon, 8 Sep v Switzerland (A) | Euro 2016 Qualifying Group E |
| Thu, 9 Oct v San Marino (H) | Euro 2016 Qualifying Group E |
| Sun, 12 Oct v Estonia (A) | Euro 2016 Qualifying Group E |
| Sat, 15 Nov v Slovenia (H) | Euro 2016 Qualifying Group E |
It was not meant to be like this when England's squad left Luton Airport en route to Miami before moving on to what they hoped would be a landmark month in Brazil.
In the current desperate circumstances, the well-chronicled cut-throat gesture made by FA chairman Greg Dyke when the draw was made in December now almost looks like the act of a blind optimist.
And, even in a nation that thrives on the drug of World Cup football, the meaningless meeting with the in-form Costa Ricans may prove to be a hard sell, with the decisive game between Italy and Uruguay, taking place at the same time, looking a much more enticing proposition.
There was a feeling around Urca of a circus leaving town. The foreign media that ensured this pristinely appointed place was well populated before England's first two games have moved on. As far as they are concerned, there is nothing more to see here.

The British media remain, even the most pessimistic of us having failed to factor in the rise of Costa Rica and an England World Cup campaign that effectively did not even last as long as their pre-tournament preparations in Miami.
There is still plenty to play for as the younger members of the squad - who must surely get their chance against Costa Rica - look to make a late impression before the start of the Euro 2016 qualifying campaign.
Only seven days ago, however, the mood was one of anticipation as England prepared to face Italy in the Amazonian rainforest at Manaus.
It was meant to be the start of a journey, a journey that has now been cut short in the most abrupt fashion.
Anticipation has been replaced by deflation and failure.
The inquest will start in earnest once the wheels of England's plane leave the tarmac in Belo Horizonte - but Urca, buoyant just days ago, was draped in a cloak of anti-climax and disappointment.