World Cup exit can be watershed for England - Danny Mills
Last updated on .From the section 2014 Fifa World Cup
England are out of the World Cup after just two games, so what went wrong, and how can it be put right?
Former England defender Danny Mills, part of the Football Association commission that has a four-point plan to improve the fortunes of the national team, gives his view on what needs to happen next.
We need more quality
The FA commission got slaughtered when we gave our ideas to help the national team but, unless things change, England are not going to get any better.
What we have found at this World Cup is that England have too few quality players to choose from, and the ones we have got are not comfortable on the ball under pressure.
To solve both those problems we need to develop the right sort of players - and more of them. You have to have what is best for the England team and, for that to happen, we need people to stop being precious.
Too often we halt the progress of the elite to pacify the average and the ordinary - if we want elite, we have to think elite. If we want a great England team, we cannot be thinking about everybody.
There is no quick fix - the changes need to happen at grassroots level as well as at the top, and it could be more than 10 years before we start to see the benefits. But this is what has to happen.
The FA commission highlighted these problems:
Inadequate and insufficient playing opportunities for 18-20-year-old elite players at top clubs.
Regulation of the player market in England is not effective in preserving the desired balance of British, EU and non-EU players in clubs.
Coaching and coach development, especially at grassroots level, have not yet reached a satisfactory standard.
England lags behind in the quantity and quality of affordable grassroots facilities, particularly in the provision of all-weather pitches.
Provide experience
We have to accept the England manager now has no depth to his squad.
Roy Hodgson's options in Brazil were very limited because even some of the players in his squad are not first choice for their clubs.
The FA commission's plan seeks to change that by trying to get as many young English players playing at the top level as possible.
By that, I mean more English players playing for Premier League teams, including the top six clubs, so they get experience in European football and the step-up to major international tournaments like the World Cup is not so big.

Give English players game-time
Part of our plan to give English players more game-time is to reduce the number of non-home-grown players in a Premier League squad.
But by doing that, we are saying the Premier League's own Elite Player Performance Plan (EPPP) will work.
That is the youth development scheme the Premier League has put in place to develop young players. The clubs have bought into it, the Premier League says it will work, and we believe it will. If it does, it will naturally produce more quality home-grown players, so why would the clubs not want to use them?
Eventually we might see a rule requiring 12 or 13 home-grown players in a 25-man squad, rather than the eight at present. If the clubs do not want that increase, they are basically saying EPPP does not work.
True, those players might not all qualify for England, but most of them will and that will help increase the number of top-flight players eligible for the national team.
The bigger the pool of Premier League players to choose from, the better.
Who is on the FA commission?
Greg Dyke - FA chairman
Roger Burden - FA vice-chairman
Roy Hodgson - England manager
Glenn Hoddle - Former England manager
Danny Mills - Former England defender
Rio Ferdinand - Former England defender
Howard Wilkinson - League Managers' Association chairman
Greg Clarke - Football League chairman
Ritchie Humphreys - Professional Footballers' Association chairman
Dario Gradi - Crewe Alex director of football
Choose a style - and teach it
When we are talking about rebuilding the England team, we always seem to pin our hopes on one player. Forget that idea because it is absolute nonsense.
Two years ago, Jack Wilshere was our saviour. Six months ago it was Andros Townsend. Now it is Ross Barkley.
But England should not pin their hopes on anybody - instead the way forward has to be based on a philosophy or style of play.
Belgium and Germany are two nations who have done exactly that by choosing a footballing identity and building their future around it.
Once we work out what our philosophy is going to be, we can drop it into our youth football and start to teach children how to play that way from the age of five or six upwards.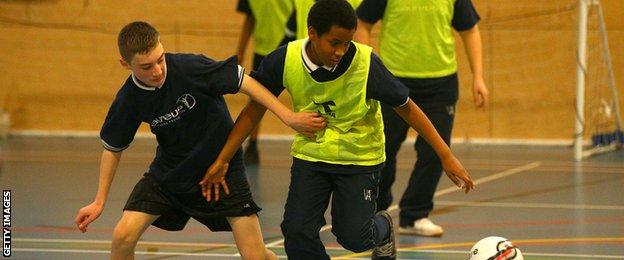 Be warned - there is no quick fix
FA chairman Greg Dyke has set a target for England to reach the semi-finals of Euro 2020 and win the 2022 World Cup.
It is that kind of time-frame we are looking at because even if we were to introduce the changes at grassroots level that we are proposing now, it is still going to be several years before players start to emerge through the system.
So nothing is going to change overnight. What we need to do is to choose a basic blueprint to improve the national team and stick with it.
It is going to take time. Early elimination has led to people talking about why England have had such a disastrous World Cup - but maybe this is the watershed moment we need in the long term.
Danny Mills was talking to BBC Sport's Chris Bevan.