World Cup 2014: Wayne Rooney still sees bright England future

By Phil McNulty
Chief football writer in Rio de Janeiro
Last updated on .From the section 2014 Fifa World Cup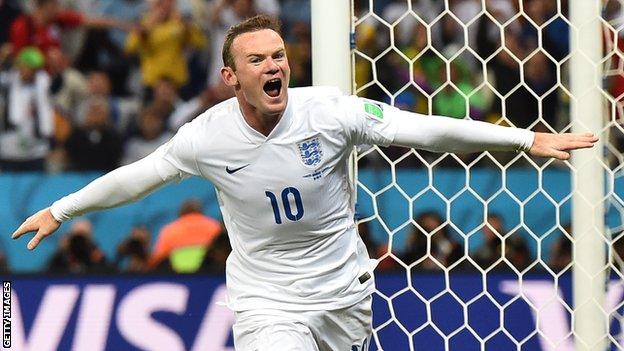 Wayne Rooney still believes England can be a success despite their World Cup failure - and insists he will be around long enough to be a part of it.
England are left with a dead rubber against Costa Rica in Belo Horizonte on Tuesday having been eliminated after defeats by Italy and Uruguay in Brazil.
"We want to make history and make this country winners again," Rooney said.
"That is what we worked hard to do, but it didn't happen. You never know - in the next few years it could do."
The Manchester United striker added: "In terms of this summer, it's tough. Wherever we will be, the World Cup will be on the television and there will be fans coming up to you.
"We have to try to move on. It's difficult for us but more for the fans. It's been 48 years. It's tough because we've let them down. We want to give them something to cheer about for the future."
Rooney's goal in the 2-1 loss to Uruguay, his first at a World Cup, was his 40th for England and put him only nine behind record-holder Sir Bobby Charlton.
"It's within touching distance," said the 28-year-old. "I'll be disappointed if I don't do it. I feel I have many years left. If I don't get the 10 goals required to beat the record I'll have no-one to blame but myself.
"It would be a great achievement but this is about the team. Collectively we're disappointed. I don't really want to be talking about my chances of breaking records when we're all hurting."
Rooney's impressive fitness levels have been a feature of England's performances and he said: "I believe I've got many years left in me. I feel good. We get stats daily from training and games, and I'm always in the top two or three.
"Sometimes it affects decision-making inside the box, being tired from doing too much, but when you're playing for your country you want to do well and work for the team, whether that's up front, behind the forward or wide."
Another veteran of multiple major tournaments with England, midfielder Frank Lampard, also offered an optimistic take on the future of the national side, despite the "brutality" of their early elimination in Brazil.
"We have been desperate for young players to come through and I think they've come through," the 36-year-old told BBC Radio 5 live.
"There's quite a few inexperienced players who have five or 10 caps, so they have to keep developing. They must use this and go back to club football and improve again and learn, because international football is different.
"I think there is a lot of quality there. Hopefully they'll improve and that will leave England with a better chance in France [at the European Championship] in two years."
And Lampard, whose 13-year stay at Chelsea came to an end this summer, refused to rule out continuing his 105-cap international career.
"It's not the time or the place to decide. Hopefully I will be part of the Costa Rica game and then see when we get home," he said.
"I'm going to make a decision at that point because I have my [club] future to sort out as well."
For the best of BBC Sport's in-depth content and analysis, go to our features and video page.