World Cup 2014: Players tried to skip England duty - Redknapp
Last updated on .From the section 2014 Fifa World Cup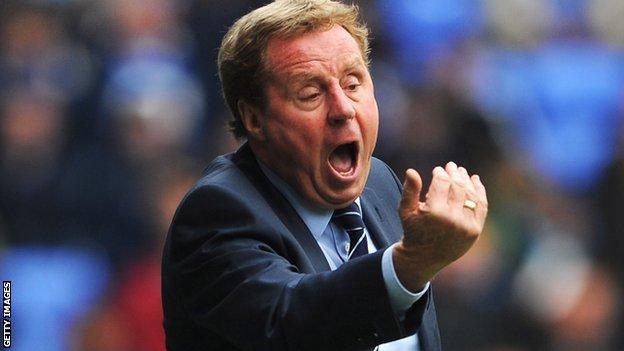 Harry Redknapp says he dealt with players at Tottenham who tried to avoid England duty.
"When full internationals came around, two or three players didn't want to go and play for England," Redknapp said.
"They'd come to me 10 days before the game and say: 'Gaffer, get me out of the game. I don't want to play in it.'"
Redknapp, who managed Tottenham between 2008 and 2012, declined to name the players he was referring to.
"I said to them: 'It's your country. You should want to play,' he said.
"And it's only going to get worse. They see the stick that the England players get. They're earning fantastic money at their clubs, they're all playing in the Champions League and they think: 'Do we need that aggro?'"
Former Southampton and England forward Matthew Le Tissier, who won eight caps for his country, said that he was upset to hear Redknapp's comments.
Le Tissier told 5 live: "It's horrible to listen to. I was desperate to get more caps. It's not great to hear that coming from a manager with the experience that Harry's had. It sticks a knife through your heart."
Redknapp added that he believes England have no chance of achieving Football Association chairman Greg Dyke's target of winning the 2022 World Cup.
Defeats by Italy and Uruguay have seen England knocked out of the 2014 World Cup in Brazil in the group stages.
Redknapp, said: "Will we win the World Cup in Doha? Not a prayer."
Dyke set England the target of reaching the Euro 2020 semi-finals and winning the 2022 World Cup in a speech made last September, shortly after taking up the FA chairmanship.
But Redknapp argued that an influx of foreign players at youth level was damaging the progress of homegrown talent.
He said: "It's a problem at youth level. I'm sure the best youth teams in the country have plenty of foreign lads in them.
"At one time, the youth team was probably more about local kids. Not just English kids, but local kids. I grew up at West Ham, and all the kids came from that area. We didn't even have kids from the north of England.
"Now when you look at Chelsea and Manchester City, certainly in the last few years, they've got an awful lot of foreign lads in their teams. That is a problem as well."
England have not gone beyond a World Cup quarter-final since they reached the last four in 1990 and have only won it once, in 1966. Their best performances in the European Championship came when they reached the semi-finals in 1968 and 1996.
Roy Hodgson's England side have one more Group D match to play in Brazil, against Costa Rica in Belo Horizonte on Tuesday.