World Cup 2014: Experts have their say on England's failure
Last updated on .From the section 2014 Fifa World Cup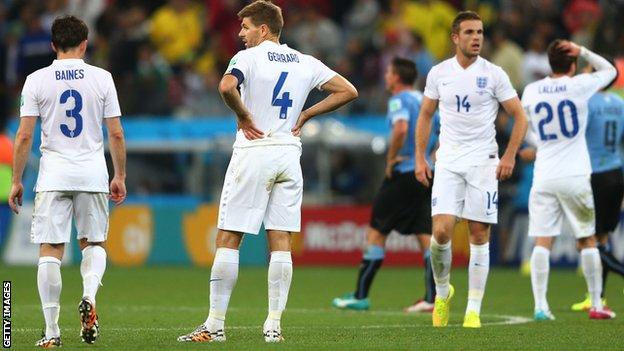 England are out of the World Cup at the group stage for the first time in 56 years and the fallout continues.
QPR manager Harry Redknapp, former Football Association technical director Howard Wilkinson and former England players Sol Campbell, Peter Shilton and Matt Le Tissier discussed England's performance and how they can move forward.
Here's what they had to say about players pulling out, giving youngsters experience in the Premier League and how to marry flair and hard work in the England side.
Some players do not see England as a priority
Harry Redknapp: "When I was at Tottenham and full internationals came around, two or three players didn't want to play.
"They did not want to go and play for England. They'd come to me 10 days before the game and say: 'Gaffer get me out of the game because I don't want to play in that game'.
"I think it's only going to get worse because they see the stick the England players get.
"They're earning fantastic money at their clubs and playing Champions League and thinking: 'Do we need that aggro?'"
Peter Shilton: "It's ridiculous that players can't be bothered to go and play for their country but maybe that's at the root of why we're not doing quite as well at the moment.
"Perhaps it's just one or two players. Generally, the players have worked really hard and I don't think you can knock their commitment or fitness or attitude."
Matt Le Tissier: "I would have been desperate to win more caps so it's not great to hear that. It sticks a knife through your heart."
Young players are not getting right experience
Redknapp: "Premier League managers get judged on results and, let's be honest, the fans don't care what part of the world they come from if their team's winning.
"It's a problem at youth level. The best youth teams this year in the country, I'm sure have plenty of foreign lads in them.
"At one time, the youth team was more local kids not just English kids. Now if you look at the Chelseas and Man Citys in the last few years, they've got an awful lot of foreign lads in their team.
"So there is a problem as well giving the kids a chance to develop. I still think we got to tournaments for under-17s and under-19s and too many pull out."

Howard Wilkinson: "There are plenty of youngsters there who should benefit from playing in this World Cup but look at the back four. Who is going to emerge in the next two years, with experience and can go into the next tournament with the benefit of knowing what it's all about? That cycle will continue.
"There's a lot wrong in English football as far as international football is concerned, but until we get more English youngsters playing in the Premier League, the situation we are in now will continue or get worse."
Shilton: "We've got some promising youngsters who will come back from the World Cup and only be better for it. Roy Hodgson has been bold and has been looking to the future. It will be interesting to see what team he puts out against Costa Rica."
Hodgson has few options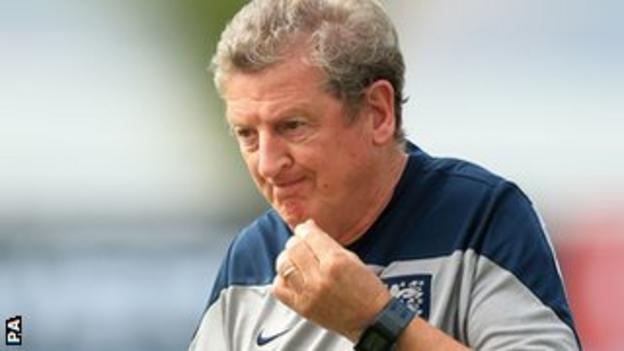 Redknapp: "Roy worked his socks off with the group. The atmosphere seemed good and he picked the same group of players that we would all have picked. We keep going through good managers but for some reason at England we don't get results."
Wilkinson: "The manager doesn't have enough players to pick from. The best countries in the World Cup and the best countries in the European Championships, have got a minimum of 50 players in the top league."
Le Tissier: "You have to look around and see what else is available if we want an English manager. I like Roy Hodgson as a bloke but I think he could have been a bit braver with some of his selections."
Roy Hodgson's England record

Played

Won

Drawn

Lost

30

15

10

5
Sol Campbell: "I think Roy needs to look at his team and look around him for someone who could give him something different. He could have a look to bring someone else in who can add a bit of knowledge or something different. You can't always have the same team of coaches around you."
Flair players should get their chance
Le Tissier: "Until we start picking talented footballers ahead of athletes then we probably won't progress too much further. There are players like Ross Barkley, Adam Lallana and Jack Wilshere with a lot of talent but it's believing in them and giving them the chance.
"You don't get as many chances to prove yourself when you're looked upon as a bit of a maverick or someone who doesn't run around like a headless chicken for 90 minutes."
People are scared of change
Wilkinson: "Greg Dyke's introduced all sorts of ideas and they've all been poo-pooed. Why? Because people are scared of change. If we keep doing what we've done, we'll keep getting what we've got and it will get worse."
For the best of BBC Sport's in-depth content and analysis, go to our features and video page.