World Cup 2014: Van Gaal gets Dutch dazzling again - Seedorf

By Clarence Seedorf
World Cup semi-finalist with the Netherlands in 1998
Last updated on .From the section 2014 Fifa World Cup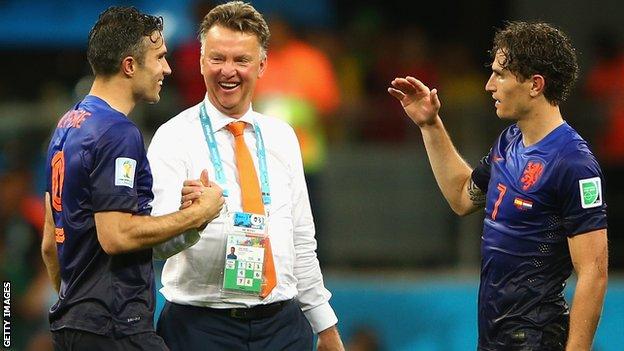 The thing that has impressed me most about the way the Netherlands have started this World Cup is not their skills or their goals, but their mentality.
The man who holds the key to that is the manager, Louis van Gaal - somebody I know very well. He gave me my debut at Ajax when I was 16.
Next season, when he is in charge of Manchester United, their fans can expect to see more of what they have seen from the Dutch in Brazil - which is good football, with a vision of going for the win.
Of course, the quality the Netherlands have up front has made a difference in their victories over Spain and Australia so far, but we have seen more talented Oranje teams than this one fail to last the distance at major tournaments before.
Talent alone is not going to stop that happening again - it is the players' mentality and how the squad works as a group that will see them through.
Under Van Gaal, this group seem to be tight and working for each other. Add in his strengths tactically, and that is a good basis for them to continue their good form in Brazil.
Versatility added to quality
The four most famous players in the Dutch team have all impressed at this World Cup.
Robin van Persie and Arjen Robben have been fantastic so far, both scoring three times in two matches, Wesley Sneijder is also back in good shape and Nigel de Jong has been solid.
But the younger guys, the ones who are not so well known outside of the Netherlands, are performing well too. Against Spain, they played above their level.
Netherlands' recent record at major tournaments
Euro 1988 West Germany - beat Russia 2-0 in final to earn first ever major tournament win
Italy 1990 World Cup - lost 2-1 against Germany in last 16
Euro 1992 Sweden - Reached the semi-finals but were beaten 5-4 on penalties by Denmark
USA 1994 World Cup - Lost 3-2 to eventual World Cup winners Brazil in the quarter-finals
Euro 96 England - Eliminated 5-4 on penalties by France in the quarter-finals
France 1998 World Cup - Lost to Brazil on penalties in the semi-finals
Euro 2000 Belgium & Netherlands - Co-hosts lost to Italy on penalties in the semi-finals
Korea/Japan 2002 World Cup - Failed to qualify after crucial losses to Portugal and the Republic of Ireland
Euro 2004 Portugal - Lost 2-1 to host Portugal in the semi-finals in Lisbon
World Cup 2006 Germany - Eliminated in the second round, beaten 1-0 by Portugal
Euro 2008 Austria & Switzerland - Lost in the quarter-final, beaten 3-1 by Russia
World Cup 2010 South Africa - Lost to Spain 1-0 in the final
Euro 2012 Poland & Ukraine - Eliminated after three defeats in the group stages
I had already heard a lot about Bruno Martins Indi, 22, in defence but Ajax's Daley Blind showed his quality with that pass for Van Persie's brilliant diving header.
It was not a total surprise to see that, though, because I know that Van Gaal can build a team.
Those two, just like their team-mate Stefan de Vrij, are all versatile enough to play in different positions, which is what Van Gaal likes.
And he has always been great at working with young players. Yes, Van Gaal has a strong personality - an explosive one even! But his track record speaks for itself and he is a great coach to play under. I have a very good relationship with him.
He is very passionate about football and he has great technical and tactical knowledge. His biggest strength is to put down his vision and make sure his players know exactly what he wants.
Everybody asks whether he will be successful at United and I am sure he will work well there, but his first step will be to create a competitive team.
Getting the game-plan right
The Netherlands are not a club side, of course, so in Brazil Van Gaal must base his strategies on the 20 outfield players he has to pick from.
But one of his strengths is that he is flexible. He can play different formations to suit the players he has available.
We saw that when he switched from a 4-3-3 shape before the tournament after key midfielder Kevin Strootman was injured.
The important thing was that the players were happy to adapt to that change because they wanted to get results, not just to play pretty football which has almost always been the Dutch outlook.
I always think football should be about the results, but to get them you need the right game-plan. It has to fit your players, not the other way round.
Van Gaal has got that exactly right so far and we have seen a big message from the players, which is "we are not going to play that normal Dutch way".
Instead, everyone adapts and plays how they are asked to, because they know that is the way they will get better results.
So far it is working on both levels - they are getting the results and playing the good football as well.
The next target - avoid Brazil
The Dutch performances so far have really surprised me, in a positive way.
They passed their first test, against the world champions Spain, and followed that up by passing a mental hurdle against Australia in a game where everybody expected them to win but it really was not that easy.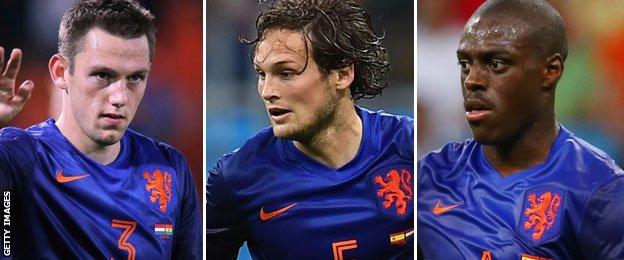 Now their final game against Chile in Group B on Monday will be decisive because the winner will top the group and avoid Brazil.
The hosts have made a slower start to the tournament but nobody can really imagine the pressure their players are under, which is what has affected them so far.
I lived here until the start of the year when I was playing for Botafogo, a club in Rio de Janeiro, so I know Brazil well - they will definitely grow into this World Cup, and they will definitely be dangerous opponents in the knockout stages.
The Dutch beat them in the quarter-finals four years ago but they will not want to play them this early this time, because they will now be thinking about how far they can go in this tournament.
Back home, expectations before the tournament were a little bit low because of what happened at Euro 2012, when Bert van Marwijk's side lost all three games in their group.
But the Dutch Football Association has targeted a place in the semi-finals this time and if they have done that, it must be realistic.
I don't know whether they will get that far but you have to aim high and by that I mean aim for the final. They reached it last time, after all.
Clarence Seedorf was speaking to BBC Sport's Chris Bevan in Rio de Janeiro