World Cup 2014: Frank Lampard named England skipper
Last updated on .From the section 2014 Fifa World Cup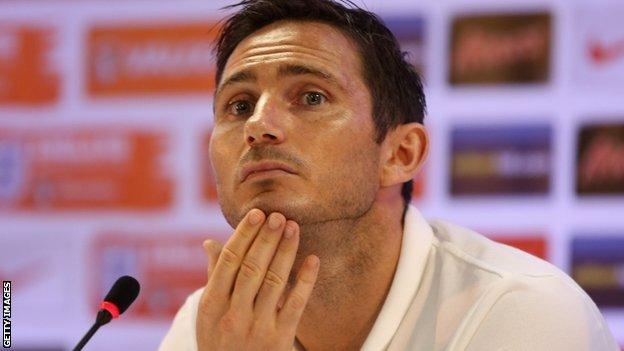 Steven Gerrard will be on the bench for England's final World Cup game against Costa Rica - allowing Frank Lampard to captain the side on what is likely to be his final international appearance.
Gerrard is thinking about his future after England's shock group stage exit.
Lampard has opted to leave Chelsea and the 36-year-old is not expected to play for England again after Tuesday's game.
Luke Shaw and Ross Barkley will start the game but Leighton Baines and Alex Oxlade-Chamberlain are out injured.
Lampard captained his country in the pre-tournament friendly against Ecuador on 4 June.
The midfielder has won 105 caps in an England career dating back to October 1999, when he made his debut against Belgium.
Lampard became the eighth England player to reach 100 caps when he played against Ukraine in September last year.
A veteran of five major tournaments, including this summer's disappointing effort, Lampard stands joint ninth on the all-time list of England goalscorers with 29.
He last found the net against Republic of Ireland in May 2013.
"I don't know whether I will carry on," said Lampard.
"I will get home and make a decision at that point because I have my future at home to sort out as well.
"This is not the time or the place. Sitting in your room for a month, you don't always come up with the right judgement."
With Gerrard's England career still in the balance, it creates the possibility of the present captain not leading his country on what could be his final appearance.

However, Hodgson has not given up hope of Gerrard continuing, even though the Liverpool midfielder has admitted to being "broken" by events of the past 10 days.
Baines' absence with a hamstring injury means 18-year-old left-back Shaw will be handed his first competitive start, becoming the second youngest player to play for England at a World Cup, behind former Liverpool and Real Madrid striker Michael Owen.
Arsenal midfielder Oxlade-Chamberlain has suffered a setback in his recovery from the knee injury he sustained in the pre-World Cup friendly draw against Ecuador.
Hodgson said: "Alex had a slight recurrence of the knee problem and will be out. The hamstring injury to Leighton Baines has ruled him out, too."
England at the World Cup
v Italy:
Hart, Johnson, Jagielka, Cahill, Baines, Gerrard, Henderson (Wilshere 73), Sterling, Rooney, Welbeck (Barkley 61), Sturridge (Lallana 80)
v Uruguay:
Hart, Johnson, Jagielka, Cahill, Baines, Gerrard, Henderson (Lambert 87), Sterling (Barkley 64), Rooney, Welbeck (Lallana 71), Sturridge
Yet to play:
Foster, Forster, Jones, Shaw, Smalling, Lampard, Milner, Oxlade-Chamberlain
England fielded the same starting XI in the Group D defeats by Italy and Uruguay but changes will be made against opponents who have already secured a place in the knockout stages.
"If you interpret that as planning for the future I would understand but basically it's not planning the future and it's certainly not sentiment," said Hodgson, who said Gerrard will play some part.
"I'm making certain a group of players I personally believe have done everything they possibly could to give us some success on the field, coming home far too early and bitterly disappointed, get a chance at least to say 'that I wasn't just there for the ride'."
Fifteen players in the 23-man squad have featured in Brazil so far.
For the best of BBC Sport's in-depth content and analysis, go to our features and video page.