World Cup 2014: Steven Gerrard says Harry Redknapp should talk

By Phil McNulty
Chief football writer in Rio de Janeiro
Last updated on .From the section 2014 Fifa World Cup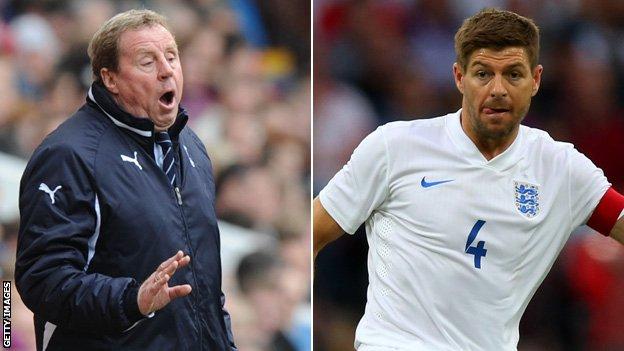 England captain Steven Gerrard has called on Harry Redknapp to name names after he claimed players tried to avoid international duty when he was in charge at Tottenham.
Gerrard, speaking as England prepare to play their final World Cup game against Costa Rica in Belo Horizonte, said: "I'll tell you what - I'd be interested to find out who those players are.
"If Harry is making a comment like that he should name them and embarrass them. No-one in this group wants to go home - no-one."
Redknapp was giving his thoughts on the national team following England's elimination from the 2014 Fifa World Cup after just two group games.
Gerrard, who stressed he had spoken to Jermain Defoe and said that the former Spurs striker was "devastated" not to be at the World Cup, said: "Should Harry not name them? If he's not naming them I can't answer. If it's the case it's disgusting.
"For me, if a player doesn't want to be here, he doesn't deserve to be here at a World Cup.
"Who? Name them. I don't know who he means. Five years ago? Ten years ago?"
Redknapp, who managed Tottenham between 2008 and 2012, insists he told the players they should want to represent England. But Gerrard was clearly infuriated by suggestions some had actively tried to avoid England duty.
The 34-year-old Liverpool midfielder, who won his 113th cap in Thursday's 2-1 defeat by Uruguay, said: "I can understand why you have asked the question with Harry Redknapp being a big coach in the game but we need names.
"I can guarantee you that it's not the case here in this squad.
"When you go down into the younger age groups, they're younger lads and might not want to be away from their families. But when you're picked at this level and find any excuse not to be here, you don't deserve to be here."
England manager Roy Hodgson said: "In the two years I've been here, I've seen a greater interest in playing for England, so Harry's comments come as a bit of a surprise to me.
"If you make comments like that, you have to name them."
Earlier Gerrard had said he was "hurting and broken" following England's exit. He said he needed time to consider whether to continue his international career.