World Cup 2014: Fifa unfair over fixtures - Louis van Gaal
Last updated on .From the section 2014 Fifa World Cup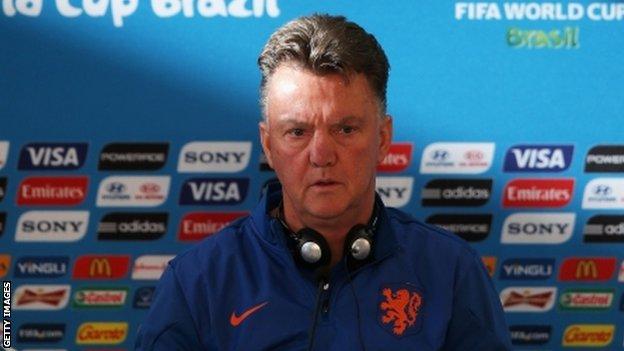 Netherlands coach Louis van Gaal has accused Fifa of "playing tricks" with the fixture schedule at the World Cup.
Hosts Brazil played before the Dutch in the first two games but are in action after them in the final group round, which Van Gaal claims is unfair.
"Fifa plays these tricks. It's not a good thing," said Van Gaal whose team could face Brazil in the last 16.
"It's not fair play. I think at a World Cup the host country always has an advantage."
The winners of Brazil's Group A play the runners-up in Group B on Saturday, while the second-placed team in Group A meet the Group B winners the following day.
Brazil lead Group A and need a draw against Cameroon - who are already out having lost to Croatia and Mexico - to reach the last 16.
If the hosts win Monday's late game at 21:00 BST, they will top the group while a draw or defeat will leave them waiting on the result of Croatia and Mexico, who play at the same time, with the former needing a win and the latter only a draw to progress.
The Group B games kick off at 17:00 BST and the situation is a little less complicated in Sao Paulo. Both the Netherlands and Chile are already through but a draw is enough for the Dutch to top the group, which could please Van Gaal who admits he wants to avoid Brazil in the first knockout round of the tournament.
"If I were allowed to choose, I'd rather not play against Brazil, although Croatia or Mexico aren't bad opponents either," he said.
However, Brazil manager Luiz Felipe Scolari insisted: "We have to play to qualify, not pick and choose our opponents. It was Fifa who chose the kick-off time.
"Some people expressed a view that we were going to choose who we were going to play. Those sorts of comments are either stupid or ill-intentioned."
Incoming Manchester United manager Van Gaal also criticised the referees at the competition, who he said had awarded two "unjustified" penalties against his side in the opening two victories against Spain and Australia. On both occasions the opposition scored, forcing the Netherlands to come from behind to win.
"We have seen at this World Cup that we conceded a penalty on two occasions that was unjustified, that was incorrect - at least in my opinion," he said.
"On two occasions we get a penalty. There is no country that has experienced something like that, so perhaps this referee [Bakary Gassama of Gambia] will do a better job. I'm just hoping that Fifa has carried out a good selection procedure."