Salisbury City: 'Banned' chairman plans demotion appeal
Last updated on .From the section Football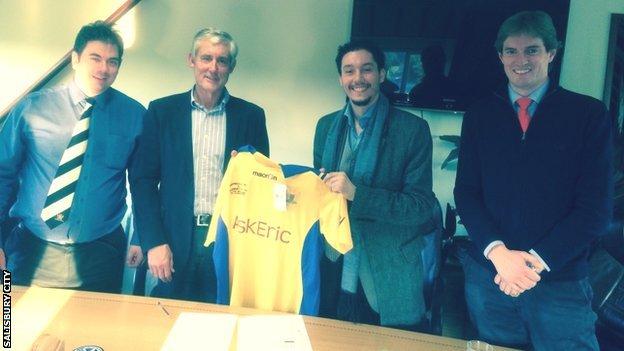 Exiled chairman Outail Touzar has claimed that Salisbury City will appeal against their demotion.
The Whites were relegated from Conference Premier to the South division on 13 June after failing to pay creditors by a set deadline.
Touzar released a statement on Sunday saying he is appealing to the Football Association to overturn the decision.
However, the Moroccan businessman is currently banned by the club and is being taken to court by the co-owner.
Mark Winter and Touzar took over the Whites last month, with the pair becoming responsible for the club's debts.
It is thought Winter had paid £75,000 to try to save the club while Moroccan businessman Touzar, who owns a 98% stake, had not provided any investment.
Winter is now attempting to overturn Touzar's ownership after information surfaced questioning the legitimacy of his takeover, and the club's official Twitter account read on Monday: "We hope to finally have confirmation tomorrow that Mr Touzar is no longer connected to the club."
In Sunday's statement, Touzar has also claimed that two businessman, Rachid Agenai and Hassan Albaqali, had joined the club as shareholders and that he had signed United Arab Emirates international Faisal Khalil for next season.
However, the club have been under a transfer embargo since April after failing to pay players and the deal for Touzar's first signing, Saudi Arabian prince Khalid Bin Bader Alsaud, has not yet been ratified.
Salisbury have been given until 4 July to pay a financial bond of £50,000 and all outstanding debts owed to football creditors.
If they fail to meet the deadline, they will be expelled from the Football Conference altogether.