World Cup 2014: Your guide to the beautiful, the terrible & the funny
Last updated on .From the section 2014 Fifa World Cup
The action on the field has been stunning, but the four-yearly global spectacle that is the World Cup is about much more than what happens on the field. This is your guide to all the weird and wonderful moments at the World Cup in video and pictures.
Lineker and Maradona are actually Brazilian
Have you named a pet or even a child after a footballer? The practice seems rife in Brazil, where the football-crazed population often turn to their heroes for ideas when naming offspring.
It is not just Brazilian names though. England's Gary Lineker has also been inspiration for some, as has Diego Maradona. An Argentina hero infiltrates Brazil - well I never.
Not quite Garry Monk
They say football grips everyone in Brazil and it seems a ball can be found in even the most unlikely of households. Perhaps the sport is a religion in the country. A group of monks in Sao Paulo certainly seem able to make time for a kick-about.
Eighty days and 14 countries but Dutch make it to Brazil
If catching a supporters' bus to the stadium is not quite grand enough for you, a contingent of Netherlands supporters may have an adequate solution. Their convoy of buses, camper vans and cars started the journey to the World Cup in New York and the trip south has seen their bright orange gathering experience an array of cultures.
Anyone for a king selfie?
When a normal selfie is just not enough to cut the mustard, why not try and rope in some royal help to make it that bit more memorable. Following their win over Algeria, Belgium's players including Adnan Januzaj and Dries Mertens treated their meeting with the country's King Phillippe as a chance to get snap happy.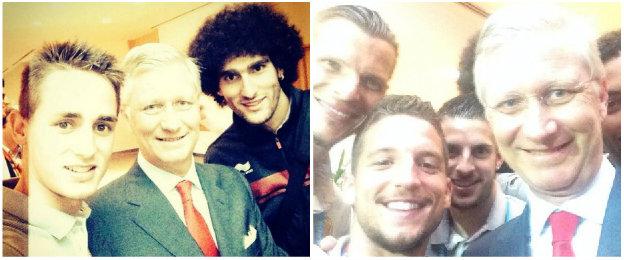 And Belgium's Divock Origi received warm congratulations from team-mate Eden Hazard after his first senior international goal earned a late win over Russia. "Congrats little bro," says Hazard.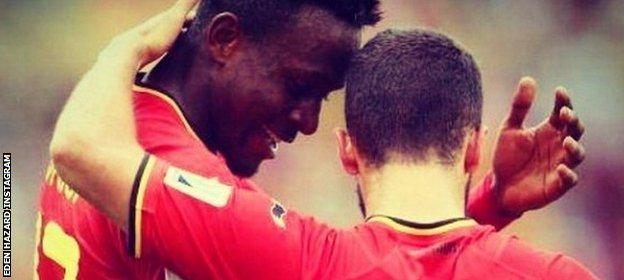 Delight in Kolo's sweaty shirt
Liverpool defender Kolo Toure has been working up a sweat ahead of Ivory Coast's pivotal Group C fixture with Greece but that does not stop one fan from wanting a unique keepsake.
A win will take Toure's side into the last 16 and a draw may well prove enough for them to progress.
Mascherano joins the 100 club
Argentina presented Javier Mascherano with a token century shirt after the midfielder won his 100th cap in the win over Iran. Only three men have played more times in the famous stripes than the 30-year-old - Javier Zanetti (145), Roberto Ayala (115) and Diego Simeone (106).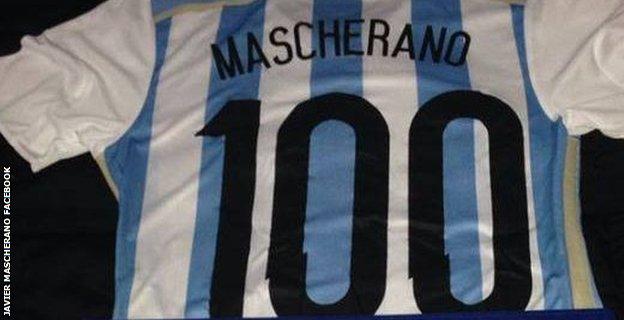 USA support from another galaxy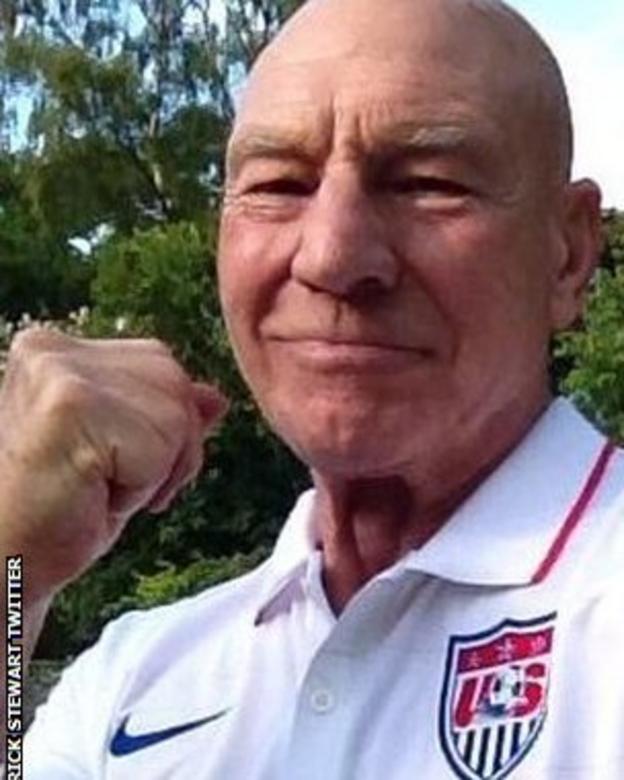 If you have the long-serving captain of the Starship Enterprise on your side, surely you have a chance at the 2014 World Cup?
The British-born actor Sir Patrick Stewart has nailed his colours to the mast after tweeting "USA, USA, USA" along with this picture of him boasting team colours.
The USA drew 2-2 with Portugal in a match which was a topic of conversation for 10 million people in 20 million posts on Facebook with Stewart's image proving hugely popular on social media.
Clint Dempsey, who got the Americans' second goal, was man of the match in gathering the most mentions for USA, while Cristiano Ronaldo took the same honour for Portugal.
Dempsey's bundled goal was the subject of 304,000 tweets per minute - the second-highest figure of the 2014 World Cup so far.
And finally...
Australia's Tim Cahill announced he would not play for his country at the next World Cup in four years time after picking up a suspension for their final game of the 2014 tournament. So with his World Cup experience over, the New York Red Bulls attacker marked the end with a nostalgic Flipagram.