Women's World Cup: FA will not bid for 2019 event in England
Last updated on .From the section Football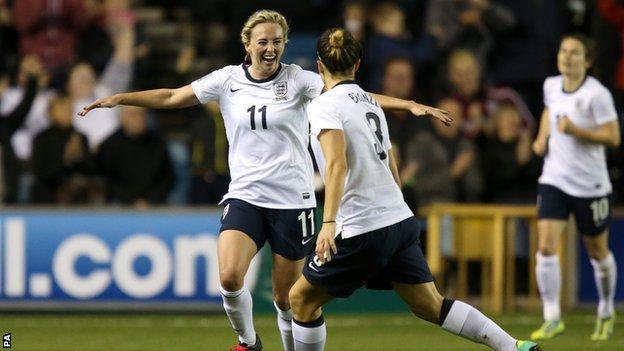 There will be no bid to stage the 2019 Women's World Cup in England, the Football Association has announced.
It is understood their decision has been prompted by a belief that France are strong favourites to win the bid.
Fifa, football's world governing body, has set a deadline of October for bids.
An FA spokesman said: "The FA can confirm that it will not be progressing its initial interest in hosting either the Fifa Women's World Cup in 2019, or the U20 Women's World Cup in 2018.
"Expressions of interest were lodged to gain a wider understanding of the bidding process, the benefits associated with the tournaments and the wider competition to host the tournaments.
England's 2015 World Cup qualifying fixtures
Belarus (h) - W 6-0
Turkey (h) - W 8-0
Wales (h) - W 2-0
Turkey (a) - W 4-0
Montenegro (h) - W 9-0
Ukraine (h) - W 4-0
Belarus (a) - W 3-0
Ukraine (a) - W 2-1
Wales (a) - 21 August 2014
Montenegro (a) - 17 September 2014
"Having assessed all of these factors The FA will not be furthering it's interest in these competitions at this time.
"The FA remains committed to growing women's football and continues to invest in the game domestically both at the elite and grassroots level."
England lost out to Russia to host the men's World Cup in 2018, with Qatar chosen by Fifa to host the tournament in 2022.
Earlier this month the FA's independent chairman, Greg Dyke, spoke at a meeting between Fifa president Sepp Blatter and European football chiefs.
In that meeting he criticised the Fifa president for saying allegations relating to how Qatar won the right to stage the World Cup were motivated by racism.
Another member of the FA board, David Gill, also backed calls at the meeting for Mr Blatter to reconsider his intention to stand for re-election.
Speaking after the meeting, Mr Blatter reflected that he felt "insulted" by the comments that were made to him.
Meanwhile, England women moved to within a point of reaching the 2015 World Cup finals with a 2-1 win against Ukraine on 19 June.
Wales are the now only team who can pip England to top spot in Group Six.
The two home nations face each other at the Cardiff City Stadium in August before England conclude their campaign against Montenegro.