World Cup 2014: England have no scapegoat - Phil Neville

By Phil Neville
Former England defender
Last updated on .From the section 2014 Fifa World Cup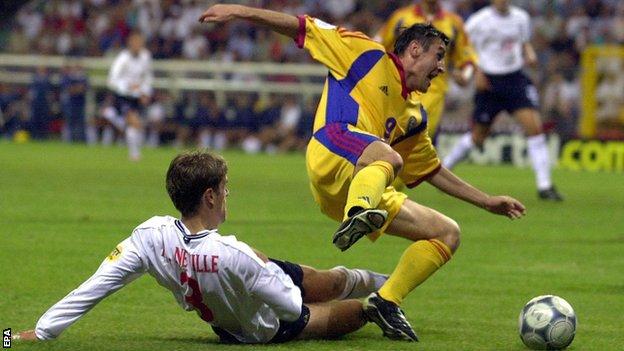 Being knocked out of a major international tournament is probably the worst feeling I have had in football, but England's early exit from this World Cup will not scar our young players.
In the past there has always been a scapegoat when England have gone out. I have been one myself, when I gave away a penalty against Romania that meant we were eliminated from Euro 2000.
But there is no individual to blame this time and that is a good thing. England have fallen short as a team and it is devastating that we are out, but we need to take the positives away from Brazil.
What failure feels like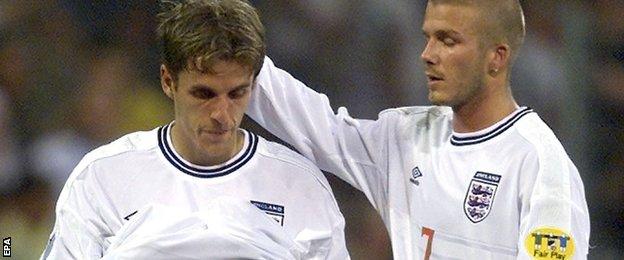 After being in the England squad for the 1996, 2000 and 2004 European Championships, I know that failing at an international tournament is the emptiest feeling in the world.
It ruins your summer and the feeling lingers a lot longer than that - into the start of the following season when all the other players who were at the tournament come back to your club and ask what happened to England.
At Euro 2000 it was worse because I had to take the weight of the blame from the nation too. It was difficult to handle and I am really glad it has not happened to anybody in this tournament.
I went to New York to try to avoid seeing any more football, but, after switching off for two or three days, I wanted to get back into it, and started watching games again.
This time, I don't think any of the England players will feel like they need to escape after a disastrous World Cup, because nobody has had one.
Our players should learn and watch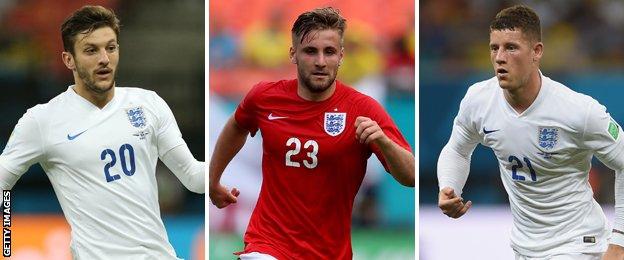 There will be no mental scarring and nobody is getting the blame. The nearest we have had was with the scrutiny Wayne Rooney was under at the start of the tournament and after the Italy game, but I thought he was our best player against Uruguay.
The players will probably still have an initial spell when they get home where they don't want to talk about football, or watch any of it. I always did.
But once I got back to my family and had a chance to relax, I always had one eye on the tournament we had just been knocked out of.
Wherever they go in the world, I don't think any of the England squad will be able to get away from this World Cup completely anyway.
I actually hope they keep watching, especially the younger players.
They should be looking at the other teams and seeing the concentration levels required, and learning about the quality needed to succeed at this level - but I don't think they are far away.
Nobody cares if we beat Costa Rica
England at the World Cup
v Italy:
Hart, Johnson, Jagielka, Cahill, Baines, Gerrard, Henderson (Wilshere 73), Sterling, Rooney, Welbeck (Barkley 61), Sturridge (Lallana 80)
v Uruguay:
Hart, Johnson, Jagielka, Cahill, Baines, Gerrard, Henderson (Lambert 87), Sterling (Barkley 64), Rooney, Welbeck (Lallana 71), Sturridge
Yet to play:
Foster, Forster, Jones, Shaw, Smalling, Lampard, Milner, Oxlade-Chamberlain
There is still one game left to play but the result against Costa Rica is irrelevant.
If we lose it will be disappointing but we are already out. This game is about giving people experience of playing in a major tournament, as well as being at one.
There is nothing riding on the game for England but it will still be a decent test.
I had Costa Rica as the whipping boys of Group D but they are in form and play with unbelievable intensity. Italy could not live with the tempo they set in their second game.
It will be valuable experience for the younger players, and the others who have not had any game time at this World Cup.
Roy Hodgson obviously sees it the same way and I would pick exactly the same team as the one he has named.
England team to face Costa Rica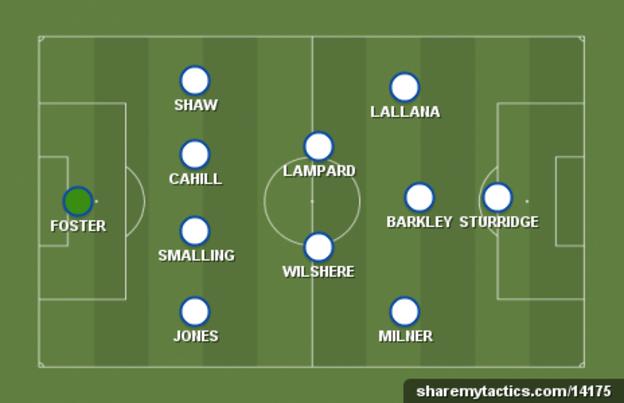 Playing the younger players is the right thing to do. Four weeks ago, the aim was to build for the future with this exciting young side and, despite failing to get out of Group D, England need to keep doing that.
England have gone further in major tournaments before, like the last 16 of the 2010 World Cup, but still come out of them wondering which direction to take next.
This time, though, they are going to leave this World Cup with a plan in place - and they have got to stick to it. I am glad the Football Association have backed Roy Hodgson because he is the man to take England forward.
The future: Euro 2016 qualifying
Group E
England, Switzerland, Slovenia, Estonia, Lithuania, San Marino
With what looks like a simple qualifying group for the 2016 European Championship, England have the perfect opportunity to persevere with the philosophy seen in Brazil.
What has been a disappointing World Cup could turn out to be the start of something really good.
Phil Neville was talking to BBC Sport's Chris Bevan in Rio de Janeiro