World Cup 2014: What Hodgson must do for England to prosper

By Phil McNulty
Chief football writer
Last updated on .From the section 2014 Fifa World Cup911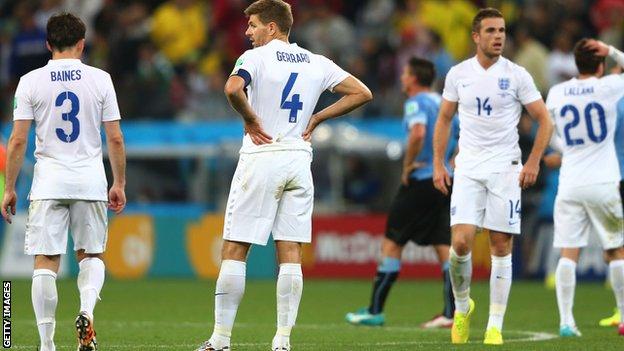 In Brazil
England manager Roy Hodgson has no doubts he is the right man to take the country forward - despite a dismal World Cup campaign in Brazil that gleaned just two goals and a single point.
With Tuesday's drab 0-0 draw against Costa Rica failing to provide a farewell flurry for the Three Lions, the England coach was left with plenty to dwell on during the overnight flight back to England.
The Football Association's chairman, Greg Dyke, has already given his unequivocal backing to the 66-year-old, insisting Hodgson will lead England into the Euro 2016 qualifiers.
England's rapid decline in Brazil, however, has increased pressure on Hodgson to make sure there are no mistakes in those qualifiers. The public mood could alter swiftly.
So what should Hodgson do to ensure this does not happen after a World Cup campaign that was consigned to the dustbin even before the stalemate against surprise group winners Costa Rica?
Hodgson must stay positive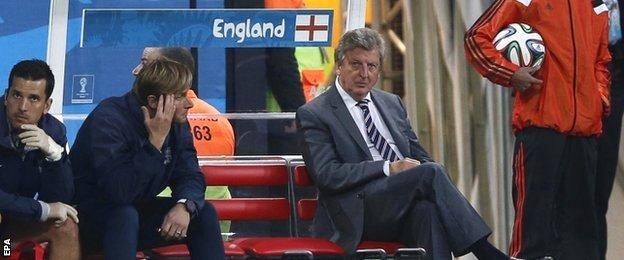 Hodgson's reputation as a coach has always been regarded as one based around tactical conservatism, organisation and well-drilled team shape. Nothing wrong with this, but it is a label he rails against as there is the sense he believes it is code for accusing him of natural negativity.
Perhaps because of the players he has been given, there has been a shift in emphasis in the closing World Cup qualifiers against Montenegro and Poland - and out here against Italy.
There remains the feeling that this goes against Hodgson's natural instincts, although he deserves praise for the bold selection of Liverpool's Raheem Sterling against the Italians.
What was not so wise, though, was his instant message of caution to Everton's Ross Barkley after the friendly with Ecuador in Miami. Barkley's biggest asset is his fearlessness and willingness to take risks - it would be understandable if he now thinks twice after Hodgson's heavy-handed warning against this.
It is to be hoped this losing World Cup campaign does not persuade Hodgson to revert to more cautious instincts because the young players he has at his disposal lend themselves to a very positive approach going into the Euro 2016 qualifiers. He tries to change that at his peril.
Rebuild England's fragile defence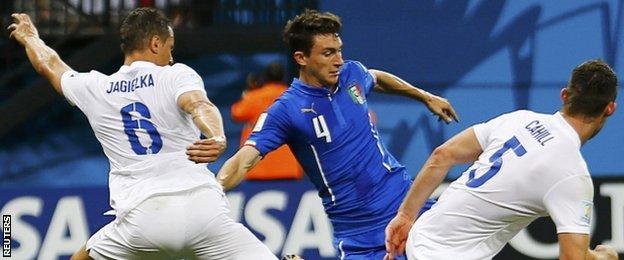 England's defence was earmarked as a potential weak link even before they travelled to Brazil - although it should be remembered it was Chelsea captain John Terry's decision to retire from international football and it was not up to Hodgson to plead with him.
Hodgson's exclusion of Ashley Cole in preference to Southampton's Luke Shaw was open to more debate as Everton's Leighton Baines struggled. Easy to be wise after the event but was Hodgson's reluctance to have Cole even playing the role of deputy at a World Cup the one major fault in his squad selection?
All those defensive fears, seemingly subconsciously expressed by captain Steven Gerrard before Luis Suarez did all that damage in Sao Paulo, have been brutally exposed.
This is an area of the side Hodgson must now revisit while avoiding the dangers of a complete reconstruction in an area of a team that depend so much on partnerships, communication and a mutual understanding.
Joe Hart remains England's undisputed first-choice goalkeeper but he must learn to keep his emotions in check. His fist-pumping and rabble-rousing of England's fans before kick-off against Uruguay showed someone almost over-hyped and it was reflected in a frenetic performance, particularly early on.
Hodgson must also decide on the long-term England futures of Liverpool right-back Glen Johnson and the Everton pair Phil Jagielka and Baines.
Johnson contributes in attack but is not a defender of international class. Jagielka and Baines are top-class Premier League players but fall short at this elite level - although Everton captain Jagielka played well against Italy.
England defenders at the 2014 World Cup

Name
Age
Club

Glen Johnson

29

Liverpool

Leighton Baines

29

Everton

Gary Cahill

28

Chelsea

Phil Jagielka

31

Everton

Chris Smalling

24

Manchester United

Phil Jones

22

Manchester United

Luke Shaw

18

Southampton
Chelsea's Gary Cahill will survive but Hodgson's problem is that he needs Manchester United's Phil Jones and Chris Smalling to deliver on their promise and they have not kicked on.
Hodgson must decide whether to keep Baines at left-back and ease Shaw in, while the same applies with Jagielka's Everton colleague John Stones, who will be an England player for years.
Stones produced some outstanding performances at Everton last season in the absence of Jagielka and won his first England caps in the end-of-season friendlies, as well as impressing Hodgson in the pre-World Cup Miami training camp.
The 20-year-old was David Moyes' final Everton signing in a £2m deal from Barnsley in January 2013. He is an elegant ball-playing defender in the modern mould, has pace and is adept at bringing the ball out of defence. He has all the assets for international football.
Stones, however, is still a work in progress and prone (inevitably at such a young age) to moments of defensive naivety. He will need careful handing at international level but has the potential to have a long England career. How soon that starts in earnest remains to be seen.
Liverpool's Jon Flanagan is a contender at right-back but first he needs to displace Johnson at club level. Flanagan was outstanding at left-back last term but right-back is his natural home and he may get his chance this season with Johnson's form mixed as he enters the final year of his Anfield contract without any agreement of an extension as yet.
Hodgson must strike a delicate balance but he must also do it successfully because England's defence is patently not good enough at the highest level.
Hodgson must have faith in youngsters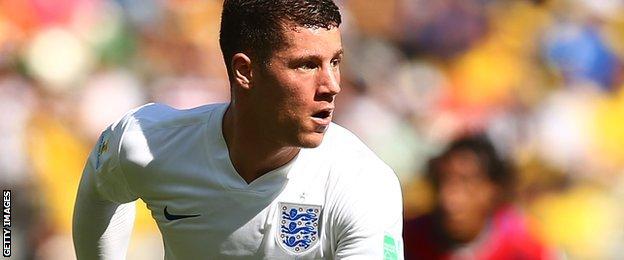 This is inextricably linked to the first two points here - but it is clear Hodgson has inherited a very talented group of young England players. He must develop with them and ensure he is relevant to them.
Hodgson was right to make nine changes against Costa Rica to ensure as many players as possible tasted the World Cup at first hand - but the uninspiring performance probably left him with more unanswered questions.
What Hodgson said about Ross Barkley, occasionally careless in possession and immature in his decision-making, had merit, but would it not have been better to encourage this outstanding young talent? It made Hodgson sound curmudgeonly and somewhat impatient with the impetuosity of youth.
It is something he will have to get used to because Barkley will be central to his plans for Euro 2016, as will Raheem Sterling, Alex Oxlade-Chamberlain, Shaw and Stones. Arsenal's Jack Wilshere and Liverpool pair Jordan Henderson and Daniel Sturridge are also the future.
It will be one of Hodgson's most crucial tasks to harness these emerging players around the experience of Cahill and Wayne Rooney - and may also be part of the reason why he is so keen for Steven Gerrard to continue as captain.
England's next captain
Recent England captains
2012-present:
Steven Gerrard
2011-2012:
John Terry
2010-2011:
Rio Ferdinand
2006-2010:
John Terry
2000-2006:
David Beckham
1996-2000:
Alan Shearer
Hodgson has made it clear he wants Gerrard, 34, to continue both as an England player and England captain but there must be serious questions about whether he will carry on after he has taken stock of events in Brazil.
Gerrard's impact with England has been reduced and he will have the extra demands of Liverpool's return to the Champions League next season to balance against commitment to England's Euro 2016 campaign. He is unlikely to be in France in two years so it may be time to go.
This will leave Hodgson with the task of choosing a new captain - and candidates are not exactly lining up outside his door.
The very obvious candidate will be Rooney, who is 28, influential as a player and closing in on Sir Bobby Charlton's record of 49 England goals.
And when he has faced the media in Brazil, Rooney has been mature and is considered a spokesman for the squad. He occasionally bristled at questions about his place in the team but otherwise he has been impressive off the field and one of England's best performers on it.
This means he should be the next captain if Gerrard decides to retire.
Joe Hart has been touted as the other candidate but would it be wise to have him as England captain? He is also a very emotional personality and it is better to leave him to concentrate solely on his own game.
Hodgson must keep Rooney central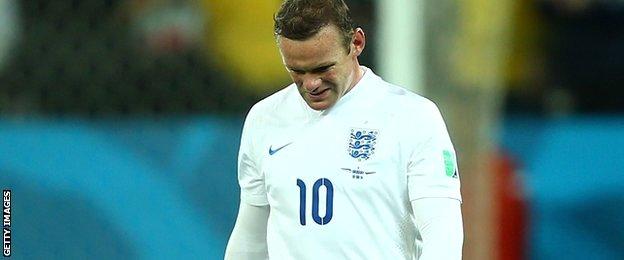 As ever at a major tournament, Rooney was a central figure in the England narrative. This time it was not only his position in the team that was discussed, but also his actual place.
One certainty that has emerged from England's World Cup - and backed by former international greats such as Alan Shearer - is that Rooney plays centrally or not at all.
Rooney, a team man despite any suggestions to the contrary, was willing to take on the left flank beat against Italy despite it clearly not being his best position.
He set up a goal perfectly for Daniel Sturridge and performed well, but the downside was seen in his inability to naturally offer protection to left-back Leighton Baines when he was specifically targeted by the Italians.
It was unfortunate for Sterling that he was moved wide to allow Rooney back in the centre - and Hodgson must now consider various formations to ensure he gets the best out of the Liverpool teenager, Barkley and Rooney - but it only emphasised that this must be Rooney's role.
The Manchester United man was England's biggest threat against Uruguay. He struck a free-kick inches wide, hit the bar with a header, had a shot saved, then finally scored his first goal at a World Cup.
For all this, Rooney has fallen short of the world-class standard illustrated in this World Cup by Uruguay striker Luis Suarez, bite controversy aside, and Argentina star Lionel Messi. He has also failed to touch the heights achieved at club level by former Manchester United colleague Cristiano Ronaldo.
Rooney has been an outstanding player but his performances at major tournaments may see him ultimately judged as just short of true world-class, something that was unthinkable when he first burst on to the scene as a 16-year-old at Everton.
He had two clear-cut chances apart from his goal against Uruguay that he failed to convert, but it should also be noted that he was England's most dangerous player.
For all the noise that always surrounds him, Rooney remains important to England. And he should remain important in a central role.
Hodgson cannot afford a Euro 2016 qualifier failure
Roy Hodgson's position as England manager is secure - at least for now.
In Brazil there appeared to be no great appetite among England fans for change, perhaps because of a lack of an immediate alternative, and there was some positivity despite the opening 2-1 defeat against Italy.
What could change the public mood, though, is if Hodgson is not seen to be fully embracing the new generation or - more significantly - England suffer any setbacks in their Euro 2016 qualifiers.
Should this happen the reservoir of goodwill that still has some supply left over for Hodgson could start to run dry.
England's campaign starts in Switzerland on 8 September and Hodgson has been handed a very favourable group that also includes Slovenia, Estonia, Lithuania and San Marino.
There can be no excuses for failure but Hodgson has been around long enough to know one bad slip will have the black mark of this World Cup being swiftly revisited.
Euro 2016 qualifying, Group E
England
Switzerland
Slovenia
Estonia
Lithuania
San Marino