World Cup 2014: Lamouchi remains silent on Drogba
Last updated on .From the section World Cup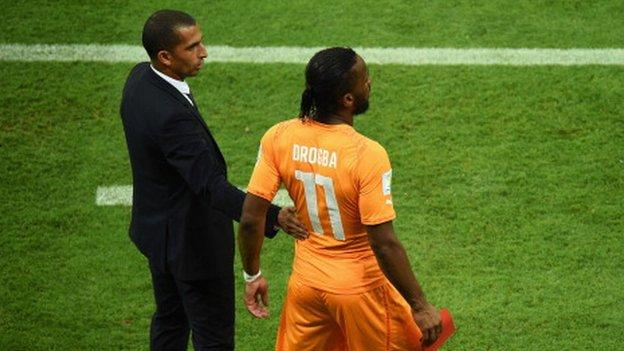 Ivory Coast boss Sabri Lamouchi is refusing to reveal his plans for top striker Didier Drogba for Tuesday's crunch World Cup match against Greece.
Drogba, so far a used substitute, is desperate to start against Greece as the Elephants seek the win that will put them in the knockout phase.
When asked about Drogba, Lamouchi said: "The difference between you and me is that I know what I will do.
"I have 23 players and they all want to make history."
Ivory Coast are second behind Colombia in Group C, with one victory and one defeat, and have a chance to qualify for the send round for the first time in their history.
Lamouchi stressed the importance of adopting a patient and disciplined approach to the match with Greece, suggesting his side will rein in their attacking tendencies.
"We're one of the teams that tries to score. We have to reach a certain balance, so we have a very compact team, but Greece is very good," Lamouchi said.
"This is a decisive match. We have to be very cautious. We have to attack and keep our rearguard."
Drogba has a great influence on the rest of the team, midfielder Max Gradel made it clear how much respect the other players have for Ivory Coast's record goalscorer.
"You know how he is as a player and a man, he brings a lot of things, experience," Gradel said.
"Even if he's not in the match, his importance is very great for us. When he fields it, he does his best and I think he shows the way for us and we will try to be as good as he is."
Lamouchi said he would keep close tabs on the other Group C match between Japan and Colombia, but will remain focused on his own players.
"We will follow it obviously," he said. "I think the best thing would be not to make any plans. If things go well, if we start well and win this match, we will be in the match of 16."
"We've come here not just to participate in this World Cup, but to make it to the knockout phase," Lamouchi said.
"It will be hard. It's very rare for Greece to lose two matches in a row and for us it will be decisive."