World Cup 2014: Steven Gerrard worried for England future
Last updated on .From the section 2014 Fifa World Cup1175
The number of young players with the hunger and desire to play for England is diminishing because of the money in the game, says captain Steven Gerrard.
England were knocked out of the World Cup in Brazil in the group stages.
And when asked if football was guilty of turning teenagers into millionaires too soon, Gerrard told BBC Sport: "It has an impact on certain individuals.
"For those who want money, fame and everything that comes with football, of course it will have an effect."
He added: "If you have the right mentality and the right character, you do things right and work as hard as you can to become the best player you can, but we need more of those players."
The average weekly wage of a Premier League player in 2012-13 was in the region of £31,000, according to Deloitte's Annual Review of Football Finance.
Gerrard, who led England to their worst World Cup performance since 1958, maintained that the 23 players selected to play in Brazil had the necessary "hunger and desire" to succeed.
However, he pointed out: "Sitting here now, we are not in a position of strength. The England manager and players need some help because this pool of players we pick from can't get any smaller and if anything it's got to grow.
"We have to get the balance right of still having the best league in the world but expanding the pool of players for this England manager and the England managers in the future."
A State of the Game study for BBC Sport last October found that English footballers accounted for less than a third of all the minutes played in the first two months of the 2013-14 Premier League season.
The figure - 32.26% - was down from 35.43% in 2007-08 and significantly lower than all other major European leagues, according to football statisticians Opta.
In La Liga, Spaniards accounted for 59% of all minutes played. In the Bundesliga, Germans made up 50%.
Gerrard, who says he will decide his international future in the coming weeks, also said he has been asking himself "hundreds and hundreds of questions" but "can't find the answers" to explain England's World Cup exit.
The 34-year-old admitted the past two months had been the worst of his career and he was still in a grieving process.
"I'm still full of hurt and emotionally drained since the game," he said.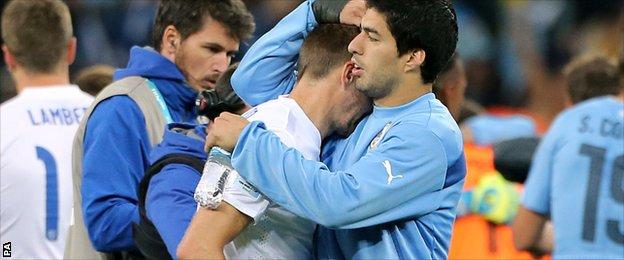 England exited the World Cup after just two games, losing to Italy and Uruguay, and he added: "I haven't slept much and I keep asking myself why it's gone wrong so soon. It's a very difficult position to be in as a player.
"I'm captain of this team and I have to take responsibility. I've never been a player to shy away from blame or responsibility."
Gerrard, whose misplaced header played in Liverpool team-mate Luis Suarez for Uruguay's winning goal, saw his club's title challenge falter with three games to go after his mistake against Chelsea helped Manchester City win the Premier League.
"The past couple months from a personal point of view have probably been the most difficult of my career," he admitted.
"To come so close in the Premier League after a wonderful season, playing so well personally and the team playing well and for it then to be taken away from us with three games to go was a tough one to take.
"I felt like I was recovering from that and trying to build myself up for a World Cup only to be knocked back down after two games is very tough."