Premier League: PFA boss Gordon Taylor wants home-grown quota
Last updated on .From the section Football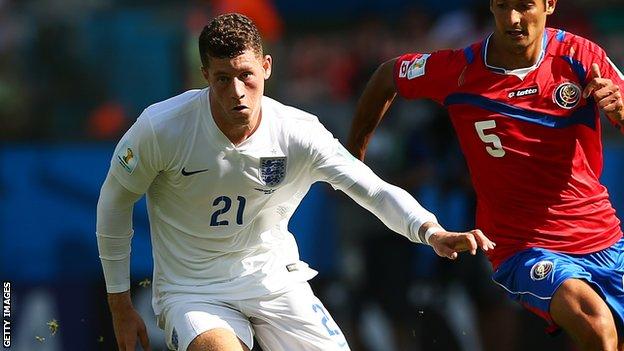 A minimum of three home-grown players per side should be required to start Premier League matches, says Professional Footballers' Association chief executive Gordon Taylor.
Taylor, 69, said the England team will not improve unless more home-grown players are given the opportunity to play Premier League football.
"The success rate has not been good enough," he told BBC Sport.
"If football had been a university, we would have been closed down."
Players union boss Taylor was speaking after England captain Steven Gerrard told the BBC that something needed to be done to expand the pool of players available for the national team.
England were knocked out of the World Cup in the group stages after failing to win a game, ending their campaign with a 0-0 draw against Costa Rica on Tuesday to finish bottom of Group D.
A State of the Game study for BBC Sport last October found that English footballers accounted for less than a third of all the minutes played in the first two months of the 2013-14 Premier League season.
Premier League sides must include at least eight home-grown players in their 25-man squads; while a similar rule applies in the Champions League and the Europa League.
Taylor wants Uefa to go further and introduce a Europe-wide quota in starting line-ups for all competitions.
"We have a duty to the next generation to give them a chance," he said.
"We should be looking at a minimum of three home-grown players in a starting line-up, irrespective of nationality.
"That sort of number is going to be essential in order to encourage all clubs to give these youngsters a chance to break through.
"The Premier League doesn't want to be at a disadvantage to other countries, so it would have to be applied throughout Europe. Clubs like Bayern and Barcelona would meet that figure."
Home-grown players do not have to be English, but must have been affiliated to the FA or the Welsh FA for three seasons, or three years, prior to their 21st birthday.
For example, new Chelsea signing Cesc Fagregas counts as a home-grown player because the Spain midfielder had been at Arsenal for five years by the time he turned 21.
Taylor wants the youngsters in the England squad to be given an opportunity to develop at domestic and international level.
"Some of them haven't had a great deal of Premier League experience," he said.
"It's a question of keeping them together and hoping they can get more experience, not just at international level but at Premier League level too."
Taylor says the demand for short-term results in the top flight makes it difficult for managers to experiment with younger players.

"Some teams are having three managers in a season," he said.
"The whole aspect of continuity and stability that you need to introduce young players is really swept away with the demand for success yesterday.
"There are conflicting forces in making sure the best of our youngsters can come through."
Taylor says it is possible to have a strong Premier League and England team, although he says change is required.
"Our World Cup history and European Championship history doesn't reflect the success we've had with our club programme," he said.
"Germany, when they hit a downward spell, really put an emphasis on a good Bundesliga, and also the Bundesliga cooperating with the international team, and they came through it.
"England has provided more players for more countries in the World Cup than any other country.
"If that process continues, it's making it more difficult because the pool of players who are available for England is shrinking.
"That's why the FA Commission is looking into it but we just hope that this time it won't be another report that's put in the bottom drawer and we carry on as we have."