Luis Suarez 'bite': Uruguay striker 'should be banned'
By Chris Bevan
BBC Sport in Rio de Janeiro
Last updated on .From the section 2014 Fifa World Cup
Uruguay striker Luis Suarez should be banned for "as long as possible" if he is found guilty of biting Italy defender Giorgio Chiellini, according to former England captain Alan Shearer.
The Italian certainly felt he was bitten, pulling his shirt down to show an apparent mark on his left shoulder.
Shearer said: "The pictures are damning and I don't see how he can get away with it."
Former Wales midfielder Robbie Savage added: "It is a disgrace. Suarez should never play international football again."
Gary Lineker said it was clear Suarez was starting to lose his composure in the build-up to the incident
"Suarez has clearly got a short fuse," said the Match of the Day presenter and former England striker.
"It was 0-0 at that stage, with not long to go and Suarez was obviously getting frustrated. He wants to bite people when he goes mad."
Suarez has been involved in similar incidents twice before.
He was banned for 10 games for biting Chelsea's Branislav Ivanovic in April 2013 and received a seven-game suspension for biting PSV Eindhoven's Otman Bakkal while at Ajax in 2010.
Here, BBC Sport's World Cup pundits react to the latest controversy surrounding the 27-year-old.
'Disgraceful and disgusting'
Suarez and Chiellini clashed in an off-the-ball incident inside the Italy area, which was not seen by Mexican referee Marco Rodriguez. Both players went to ground, with Suarez feeling his teeth. Afterwards, Chiellini pulled down his shirt to try to show the referee his left shoulder.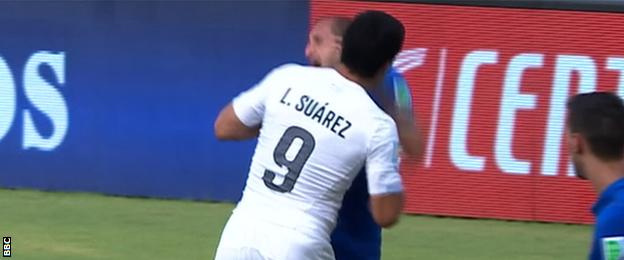 Alan Shearer: "It is staggering because it is pretty clear what happened. It is disgraceful and disgusting. There is no place for it. Suarez did exactly the same after the Ivanovic incident, too. He feigned injury and pretended he was hurt in order to distract the referee."
Former England midfielder Danny Murphy: "For no reason, Suarez sinks his teeth into Chiellini and then plays the victim. No matter what has been said or done to him beforehand, there is no excuse for that.
"There is something not quite right with him. It just shows he has a tiny trigger and a little thing sets him off."
Robbie Savage: "The Italian defenders had clattered into Suarez a few times, but for him to react like that is a disgrace. The first time I saw it, I thought Suarez had headbutted Chiellini. But, when you slow the replays down, you see him go into his shoulder."
'Lock him up for ever'
World football's governing body Fifa has opened disciplinary proceedings against Suarez. It's disciplinary code sets a maximum ban of 24 matches or two years.
Alan Shearer: "Suarez was found guilty at Ajax, he was found guilty at Liverpool and, if he is found guilty here, Fifa should give him as long a ban as they can. Three bites and you are out. They should absolutely hammer him."
Robbie Savage: "He has done it on a world stage and he should never play international football again. He knows what he has done.
"After the England game, he was celebrating so much that he was in tears. This time, he was really subdued at the final whistle, as if he had realised what had just happened."
Chris Waddle: "Suarez has to get severely punished. There will be people who will defend him, but I don't know why. I'd make him wear a gumshield."
Danny Mills: "It has to be the longest ban in football ever. A worldwide ban, not just an international ban.
"It is the third time it has happened and it is a clear bite this time, in a tournament of this magnitude, the most watched tournament in the world. They have got to throw him in jail and lock him up forever."
'Liverpool will be panicking'

Suarez asked to leave Liverpool last summer but, after returning from his ban for the Ivanovic incident, he signed a new four-and-a-half-year contract at Anfield in December. Despite that, and Liverpool's qualification for next season's Champions League, he continues to be linked with a move to Real Madrid or Barcelona.
Robbie Savage: "Liverpool are not going to sack Luis Suarez over this. But if they want to sell him, then his price tag might go up if he does get an international ban.
"If he cannot play for Uruguay in qualifiers or at major tournaments, then Real or Barca might think he is not going to be travelling around the world and he is going to be fit and healthy for every domestic game."
Danny Mills: "Liverpool manager Brendan Rodgers will be panicking, thinking we have got this player worth £60m and he could be banned for 20, 30 games or even the whole of next season."
Danny Murphy: "We don't know yet if an international ban can be transferred into club football. But, even if it can't be, it could mean he is staying at Liverpool because I don't think anybody would take a risk on him after this."
Alan Shearer: "The big-hitters, Real and Barca, would still come in for Suarez. When you look at last season, what he achieved and the ability he has, then there will always be someone prepared to gamble on him."
How the footballing world reacted on Twitter
Former England captain Rio Ferdinand: "Tell me Suarez didn't eat someone....was the hero a couple a days ago...."
Tottenham goalkeeper Brad Friedel: "Still can't believe what I've seen again from Suarez...needs an ENORMOUS ban from football. THIRD time now!"
Former England striker Michael Owen: "Tell me I'm seeing things. Surely Suarez didn't bite someone again? I'm genuinely gutted. I love watching him play more than any other player but he obviously just can't control himself."
Manchester United midfielder Michael Carrick: "Surely that wasn't a bite??? It can't have been...could it ?? #Suarez."