Cardiff City: Sam Hammam backs 'level-headed' Solskjaer
Last updated on .From the section Cardiff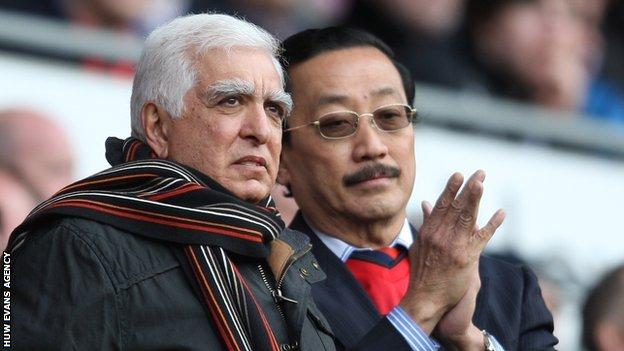 Former Cardiff City chairman Sam Hammam has backed manager Ole Gunnar Solskjaer ahead of their Championship return.
Club life president Hammam also warned Cardiff face competition from "ambitious" rivals for promotion.
Norwegian Solskjaer succeeded sacked Malky Mackay in January, but could not prevent them being relegated after one season in the Premier League.
"He's [Solskjaer] level-headed and what is more he's organised," said Hammam, who left as chairman in October, 2006.
"He's not the type to come in and say 'give me money', then 'give me more money and give me more money and give me wages'.
"I think the guy is level-headed and he's agreeing with the people who are running the club on a day-to-day basis."
In the wake of the Scotsman's departure, Hammam said Mackay had to shoulder most of the blame for the loss the club has made in the transfer market, which, it was alleged, cost the club millions.
In May Mackay apologised "without reservation" to club owner Vincent Tan over the issues that led to his December, 2013 sacking.
And while Hammam backed former Molde boss Solskjaer, he also said while the Bluebirds have a good chance of promotion at the end of the 2014-15 campaign, they will not be the only serious contenders.
"Let's face it we're not the only club with a [Premier League] parachute payment," the Lebanon-born businessman told BBC Radio Wales.
"I think there are nine clubs on different kinds of parachute payment, could be one or two less.
"But there are a lot of clubs with ambition, a lot of clubs with rich owners and a lot of clubs who would be spending money.
"In absolute terms we look at ourselves - yes I think we have a good chance of making it - it depends how many [players] stay, how many go and I do like some of the players that have come in.
"And I always liked Solskjaer. Don't forget Solskjaer came from Molde, which is the club which is owned by the Norwegian guy who bought Wimbledon from me [in 2000] and I've been to Molde 30 times.
"So I know Norwegian football and personally I have a lot of time for Solskjaer. And I wish him luck."
Cardiff's Championship campaign begins at Blackburn Rovers on Friday, 8 August.