World Cup 2014: England tournament player ratings

By Phil McNulty
Chief football writer in Brazil
Last updated on .From the section 2014 Fifa World Cup1523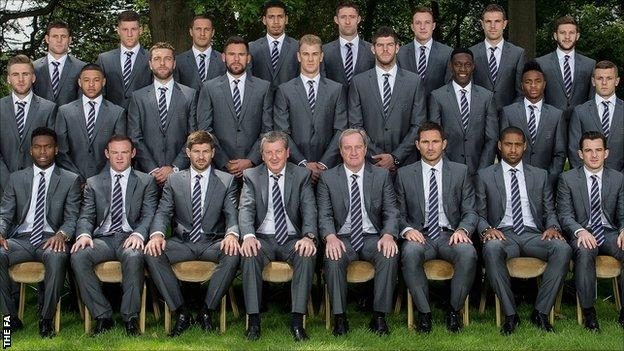 England's 23-man World Cup squad flew out of Rio leaving behind a tournament that never got off the ground as they were eliminated after only two games.
Manager Roy Hodgson and his squad were left to reflect on a tournament which passed them by. So how did the players rate?

JOE HART (GOALKEEPER) 6
Manchester City's goalkeeper was not at his best. At times he seemed too hyped up - especially when indulging in some public fist-pumping to get England's fans going before the game against Uruguay. It was reflected in a frantic performance. Still England's undisputed number one, but can do better.
Did you know? Hart conceded a goal every 45 minutes and had a 20% saves to shot ratio.
Future England prospects 8

GLEN JOHNSON (DEFENDER) 5
Carried his uncertain form towards the end of Liverpool's season into the World Cup. Poor defensively and only redeemed himself with a fine cross for Wayne Rooney's equaliser against Uruguay. Surely only retains his place because of a lack of alternatives. Would expect him to go when one, possibly Liverpool team-mate Jon Flanagan, emerges.
Did you know? Johnson created five chances in his two games (the joint-highest in the squad), and dribbled the ball twice as many times (six) as Leighton Baines on the opposite side of defence.
Future England prospects 5

LEIGHTON BAINES (DEFENDER) 5
Poor tournament for the man who took Ashley Cole's place as England's first-choice left-back. Exposed defensively, admittedly with a lack of support from Wayne Rooney, against Italy and part of a poor defensive performance against Uruguay. Will not be long before he comes under pressure from Luke Shaw.
Did you know? Only Steven Gerrard crossed the ball more than Baines, who made 12 in total.
Future England prospects 7

STEVEN GERRARD (MIDFIELDER) 5
Gerrard was a fine leader off the pitch, but this had the hallmarks of an England farewell for a man who won his 114th cap with a cameo appearance against Costa Rica. Not, perfectly understandably, the driving force of old and not able to influence matters from his midfield anchor position. Also made costly errors against Uruguay. Yet to decide England future but he may wish to focus more on Liverpool's Premier League campaign and return to the Champions League.
Did you know? As well as being England's most prolific crosser of the ball (15), Gerrard was also the joint-highest tackler along with Danny Welbeck.
Future England prospects 5

GARY CAHILL (DEFENDER) 6
Cahill lost Mario Balotelli for Italy's winner in Manaus and was part of a very suspect England defence - but did enough to keep his place for the Euro 2016 qualifiers. May come under more pressure should a quality English alternative come through. A solid performer rather than a spectacular one.
Did you know? No-one passed the ball as much as Cahill (157), who also played every minute of England's campaign. He also made more clearances than any other player (22).
Future England prospects 8

PHIL JAGIELKA (DEFENDER) 6
Performed well against Italy, with one vital goalline clearance from Balotelli, but ruthlessly exposed by the movement and lethal finishing of Luis Suarez against Uruguay. Jagielka is a fine Premier League defender but falls short of true international class. Fighting for his England future at 31.
Did you know? Jagielka made only two tackles in the two games he played in, winning only one. However, he had the highest pass completion of any England player (94.32%).
Future England prospects 5

JACK WILSHERE (MIDFIELDER) 6
Looked short of fitness in the pre-tournament friendlies in Miami after his injury at Arsenal towards the end of last season, but showed his creative side with one or two moments against Costa Rica. Needs a lengthy run of games to back up the hype and expectation that always surrounds him. Arsenal and England will be desperate for him to avoid injury. He is central to Hodgson's plans.
Did you know? Wilshere failed to muster a single shot or cross in the one game he did play, while also making only one tackle.
Future England prospects 8

FRANK LAMPARD (MIDFIELDER) 5
Made one appearance - a steady one against Costa Rica. Added experience to England's squad but not able to make any contribution on the field until it was too late. Had a fine England career but surely over now at this level, especially as he has yet to even decide his next club move. Time for England to move on.
Did you know? Lampard created one chance in the only game he played - against Costa Rica - and had no shots.
Future England prospects 3

DANIEL STURRIDGE (FORWARD) 7
Bubbly character who was an entertaining presence in front of the media. Played well against Italy but was quiet against Uruguay and missed their best chances against Costa Rica. Does get opportunities, though, and has proved he can score goals. Decent tournament and will have a big part to play in England's future.
Did you know? Sturridge had a chance conversion rate of 9.09% with more shots off target (six) than on goal (five).
Future England prospects 8

WAYNE ROONEY (FORWARD) 7
Worked hard in an unfamiliar role against Italy and was England's best player against Uruguay. Usual debate surrounded his best position and place in the team but has anyone yet produced anything to suggest England would be a better team without Rooney? Not to these eyes. A mature spokesman off the pitch and certainly never lacking in effort. Still vital to England's plans.
Did you know? Rooney created the joint-highest number of chances during England's campaign (five).
Future England prospects 8

DANNY WELBECK (FORWARD) 6
Ran himself into the ground and was excellent against Italy but faded after that. Will always be a Hodgson pick because the manager trusts him, he is tactically disciplined and can chip in with goals. Not of the highest international class but worth his place in the squad.
Did you know? Welbeck made the joint-highest number of tackles (six) in the England squad, but failed to get a single shot on target.
Future England prospects 7

CHRIS SMALLING (DEFENDER) 5
Like his Manchester United team-mate Phil Jones, Smalling got one start against Costa Rica and did not make the most of his chance. Sloppy in possession and uncertain defensively. Seems to be a Hodgson project but has done nothing yet to convince at England level.
Did you know? Smalling made the fewest passes in the opposition half of any outfield English player - 55.56%.
Future England prospects 6

BEN FOSTER (GOALKEEPER) 7
Only had one game, the dead rubber against Costa Rica, when to an extent the pressure was off. He could not have done any more in an assured display of safe handling and a couple of fine saves. A relaxed presence off the field, certainly cemented his place as Joe Hart's deputy.
Did you know? Foster had a 100% catch rate, as well as a perfect save-to-shot ratio, in his one appearance.
Future England prospects 7

JORDAN HENDERSON (MIDFIELDER) 6
Two energetic performances against Italy and Uruguay alongside Liverpool team-mate Gerrard enhanced his reputation without causing a storm at this World Cup. An unspectacular performer who is not yet the finished article at international level - but has time on his side.
Did you know? Henderson had the third-highest pass completion rate in the squad (89.09%)
Future England prospects 8

ALEX OXLADE-CHAMBERLAIN (MIDFIELDER) 0
Injury meant he did not figure in Brazil but, once fully fit again, will be an automatic selection in the squad for England's Euro 2016 qualifiers. A top-class prospect who is mature beyond his years.
Future England prospects 9

PHIL JONES (DEFENDER) 5
Got a start at right-back against Costa Rica and was poor. Clumsy and not helped by poor distribution. Not an international in that position so perhaps unfair to judge him on that showing. There may be vacancies soon in central defence so he needs to kick on at Manchester United, but still unproven at this level.
Did you know? Jones had the lowest pass completion rate in the squad (70.83%).
Future England prospects 6

JAMES MILNER (MIDFIELDER) 5
Milner also started against Costa Rica but was subdued. Hodgson will continue to include Milner because he is trusted and carries out his orders to the letter, but he is not a game-changer for England. Worthy of a squad place but in danger of becoming a marginal squad figure.
Did you know? Milner won all of his tackles (two) but failed to have a single shot, crossed the ball only twice and created one chance.
Future England prospects 6

RICKIE LAMBERT (FORWARD) 0
Unfair to give him a rating based on three minutes against Uruguay. Might have been worth a place against Costa Rica. An intelligent player and natural goalscorer but if Hodgson had big plans for him, he would surely have started in that final dead rubber.
Future England prospects 4

RAHEEM STERLING (FORWARD) 7
England's best player when played through the centre against Italy, but unable to repeat that performance when shifted wide to accommodate Wayne Rooney against Uruguay. He will be an England player for years to come. Searing pace, skill and clever movement. He will also score goals and returns home a work in progress but with his reputation enhanced.
Did you know? No-one in the England squad dribbled the ball as many times as Sterling (17).
Future England prospects 9

ADAM LALLANA (MIDFIELDER) 5
Some nice touches against Costa Rica but a mixed bag overall. May well have played himself out of contention in the warm-up games in Miami. May also be a worry he is a too one-paced for the highest international level but worth persevering with, and Hodgson will. Has promise but needs to make his mark quickly at 26.
Did you know? Lallana failed to have a single shot and did not create a chance during the 91 minutes he was on the pitch.
Future England prospects 6

ROSS BARKLEY (MIDFIELDER) 6
Everton's talented youngster showed promise as a substitute against Italy and Uruguay, and also showed his huge potential in flashes against Costa Rica. One of the players the Euro 2016 campaign will be built around. A raw talent but all the materials are there if Hodgson finds the way to use them properly.
Did you know? Barkley made the second-highest number of dribbles/runs for England (10).
Future England prospects 9

FRASER FORSTER (GOALKEEPER) 0
The only member of Hodgson's squad, apart from the injured Oxlade-Chamberlain, who saw no action in Brazil. No consolation but he at least returns home untarnished.
Future England prospects 5

LUKE SHAW (DEFENDER) 6
Only got one full game when England were already out, but the 18-year-old showed enough quality against Costa Rica to mark himself out as a regular full international of the future. Shaw has pace and defensive awareness. He looks certain to complete a move to Manchester United shortly, which will test him out even more, and will soon be a serious threat to Leighton Baines.
Did you know? Shaw won half of the tackles he made in the tournament.
Future England prospects 9

ROY HODGSON (COACH) 5
No manager who presides over a World Cup campaign without a win can emerge with any credit. Even Hodgson admitted England did not deserve the ovation they surprisingly received from their fans. Deserved praise for selecting Raheem Sterling against Italy, but all downhill from there. FA very supportive but cannot afford any slip-ups in the Euro 2016 qualifiers.
Future England prospects 6
For the best of BBC Sport's in-depth content and analysis, go to our features and video page.