Luis Suarez: Uruguay striker's 'bite' was 'highly predictable'
Last updated on .From the section 2014 Fifa World Cup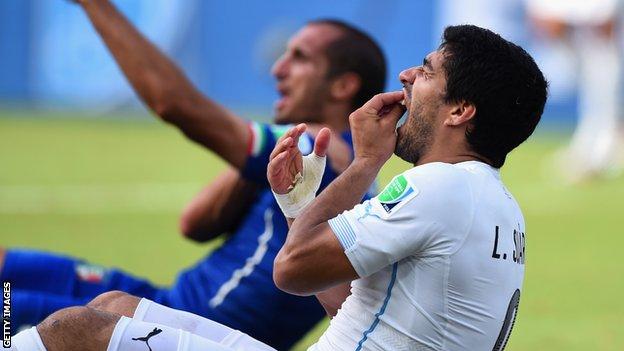 Uruguay striker Luis Suarez's alleged bite on Italy defender Giorgio Chiellini was "highly predictable", says a leading sports psychologist.
Dr Tom Fawcett, of Salford University, said Suarez's actions were "predictable because of his past history".
He told the BBC: "If it's happened before, it'll happen again. Despite all the help, he's going to do it again."
Suarez could be banned for up to 24 matches or two years if found guilty.
Suarez has twice been suspended for biting opponents.

He was given a 10-game ban for biting Chelsea defender Branislav Ivanovic's arm during a Premier League match in April 2013.
The former Ajax forward had previously served a seven-match suspension for biting PSV Eindhoven's Otman Bakkal on the shoulder in 2010.
"I would suggest he is hard-wired in this way," Fawcett told BBC Radio 5 live. "It's not something that's going to come out of his character with a few sessions with a psychologist."
Fifa, football's governing body, opened disciplinary proceedings against Suarez after referee Marco Rodriguez took no action following the 80th-minute incident and is expected to make a judgment before Uruguay play Colombia in the last 16 on Saturday.
The Uruguayan Football Association has until 21:00 BST on Wednesday to make representations.
"He's a talented footballer but very vulnerable in intense situations," said Fawcett. "Italy versus Uruguay was always going to be hot-tempered."
Fawcett told the BBC last year, in the wake of the incident with Ivanovic, that he expected Suarez to bite an opponent again.
"Suarez has shown his dark side and his vulnerable character," he said. "It was highly predictable."
Suarez scored 31 league goals last season as Liverpool finished as runners-up to Manchester City in the Premier League, winning both the Professional Footballers' Association and Football Writers' Association Player of the Year awards.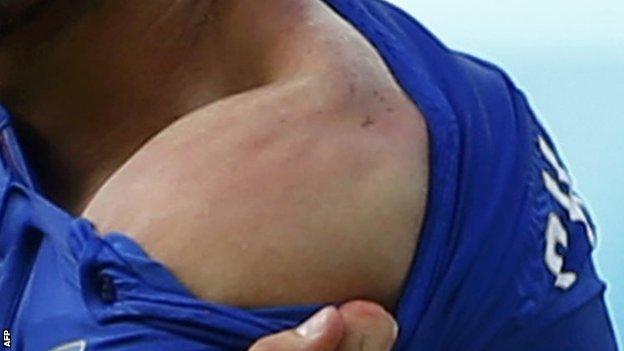 Fawcett said: "Despite working with Liverpool in fairly impressive rehab, he's relapsed and he's open to that.
"The formative years of people's development do contribute to their personality. If you look at his history, Suarez had a fairly hard upbringing, which would have been fighting for survival. He was streetwise."