Luis Suarez: global scrutiny after Giorgio Chiellini 'bite'
Last updated on .From the section 2014 Fifa World Cup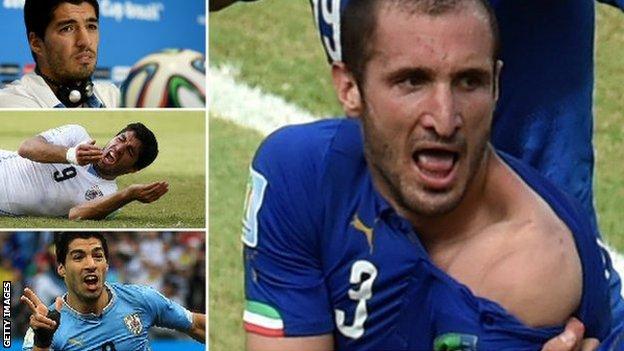 From Montevideo to Mumbai, Luis Suarez's alleged bite on Italy defender Giorgio Chiellini drew - and continues to draw - plenty of interest.
Here, BBC Sport looks at some of media and social media reaction to Tuesday's controversial incident.
The view from South America
Suarez brushed the incident off in post-match interviews and Uruguay captain Diego Lugano questioned Chiellini's integrity. It seems the country's media are in a similarly defiant mood.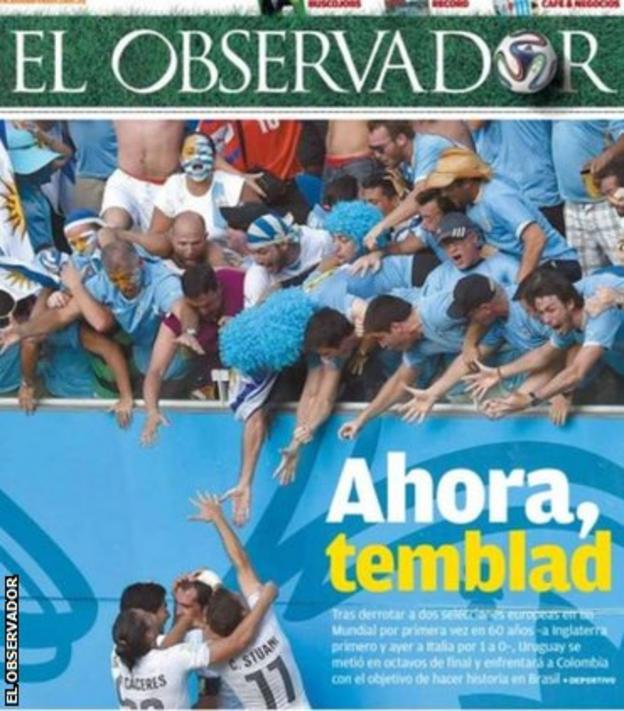 Montevideo-based newspaper El Observador says photographs of a bite mark on Chiellini's left shoulder are not conclusive and claims Suarez is being targeted unfairly.
The British media comes in for criticism for its treatment of the Liverpool striker, with Uruguayan broadcaster Tenfield opting to go back in time to take up the fight.
It wanted to know how England were able to win the 1966 World Cup with a goal that did not cross the line, in reference to Geoff Hurst's second goal in the 4-2 victory over West Germany.
Univision Noticias, a United States-based broadcaster for the Hispanic and Latino community, stopped short of defending Suarez but pointed out that the forward was left with a swollen cheekbone following his clash with Chiellini.
The generally defensive mood is summed up by Twitter user Roberto Porciuncula, who says the English, Spanish and Italian newspapers are "killing" Suarez.
News website Ovacion Digital admitted it looks bad for Suarez and tried to work out what kind of punishment he may face by analysing previous penalties handed out to players found guilty of serious offences.
And one man who has received some of the abuse aimed at the controversial player is Argentina-based Diego Suarez, who was forced to ask Twitter users to stop sending him angry messages in a case of mistaken social-media identity. "I am not Uruguayan," he tweeted.
The view from Italy
A World Cup exit, followed by the resignation of national coach Cesare Prandelli, looks to have spared Suarez major headlines in Italy for now, but numerous media outlets still discussed the incident.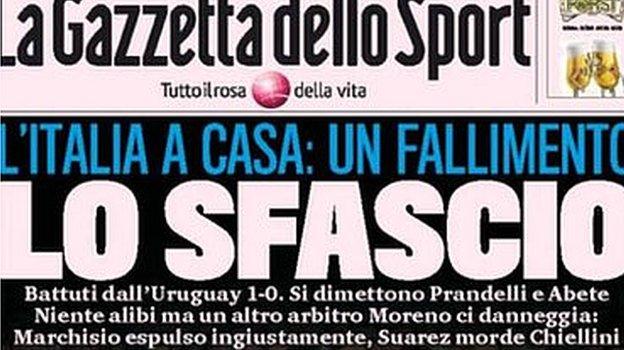 Gazzetta dello Sport branded Suarez "the lord of the bite", while the country's free Metro publication drew a comparison with "Dracula".
"This time the bite is poisonous," wrote daily newspaper La Stampa, while Corriero Dello Sport said Fifa will "lose credibility" if Suarez is not "banned for a long time".
Italians have aimed much of their anger at the referee for his dismissal of Claudio Marchisio shortly before the Suarez incident.
While the alleged bite further fuelled the criticism, Italian journalist Gabriele Marcotti accepted the clash was easy to miss but expects severe reprimand for Suarez.
"Thing about biting is that can be tough for referee to spot. But [the] Disciplinary Committee can and will come down like ton of bricks," he tweeted.
The view from England
As England's players walked off the field after their goalless draw with Costa Rica, English journalists were already turning their attention to Suarez.
The Daily Mail described him as "an angry, self-pitying delusionist", The Sun calls him the 'Gnasher of Natal', while the Daily Mirror opts for a "3 bites and you're out" headline.
On radio, former Liverpool striker Robbie Fowler said Suarez had brought more shame on the Anfield club.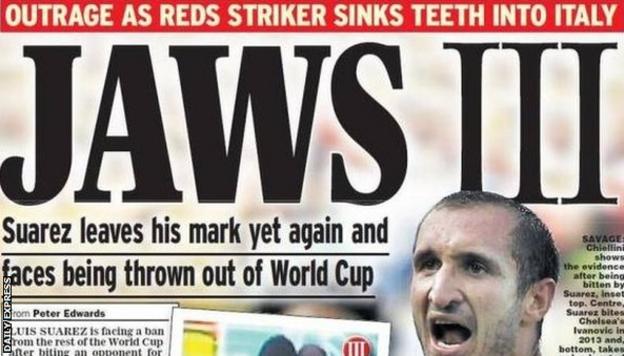 "Most Liverpool fans love him as a player, but he's continually dragged the club's name through the mud," Fowler told Talksport.
Prolific tweeter Joey Barton also joined the debate, even showing some sympathy for Suarez.
"I'd rather receive a bite than a leg-breaking challenge," wrote the QPR player. "Whilst he should be punished, it is not the end of the world. He's a winner. If that means he occasionally steps over the line between right and wrong, then that's what comes with the territory."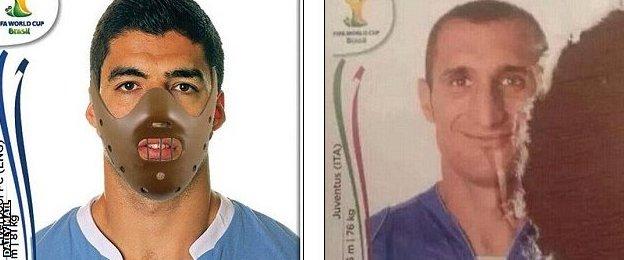 In contrast, former England rugby union player Matt Dawson - part of the 2003 World Cup-winning side - proposed a life ban, adding: "I'd love to hear anyone defend Suarez. What a despicable man!"
There has been plenty of humour, too, on social media.
Comedian John Bishop joked: "Why is everyone having a go at Suarez? We all love an Italian."
And broadcaster Piers Morgan wants Arsenal to repeat their controversial bid of 2013 for the 27-year-old: "Come on Wenger, we can probably buy Chomper for that £40m + £1 now. Isolation ward for a few months, use a muzzle in training."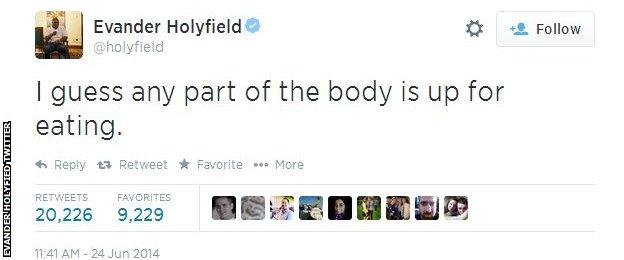 The view from around the world
Even Greenland thinks the Suarez bite is big news, while the USA's growing love for the game has resulted in numerous editorials.
The New York Times was amongst the most outspoken.
"The most ruthless soccer players often use their hands or elbows or knees to rough up opposing players," it wrote. "The most reckless - or dirtiest - might even use their cleats. Then there is Luis Suarez."
The Washington Post's Marissa Payne added that public opinion of Suarez had "sunk to what seems like an all-time low", while The Huffington Post's headline - "Chewy Luis and the Blues" - took some topping.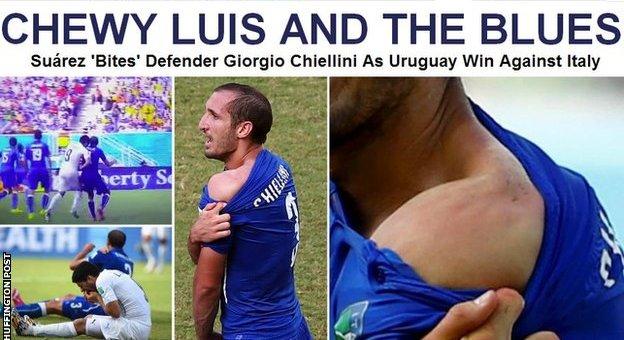 In France, L'Equipe opted for the headline "Suarez bites again" and wrote that the Uruguayan displayed his "accustomed strokes of brilliance and bad actions" during the defeat of Italy.
Spanish newspaper Marca carried an interview with Uruguay captain Diego Lugano, who claimed that the bite marks seen on Chiellini's exposed left shoulder were "old scars".
Australia's Daily Telegraph left its readers to decide what punishment Suarez should face, asking them to vote on what should happen to the striker. One option was a life ban.
Greenland's Sermitisiaq publication gave the incident prominence on their website and even some of the world's well-known sports stars had something to say.
"Did Suarez really bite again?" tweeted Olympic sprint champion Usain Bolt.
Former world heavyweight boxing champion Evander Holyfield, who had part of his ear bitten off in a fight with Mike Tyson in 1997, tweeted: "I guess any part of the body is up for eating."