World Cup: 11 controversial moments in tournament history
Last updated on .From the section 2014 Fifa World Cup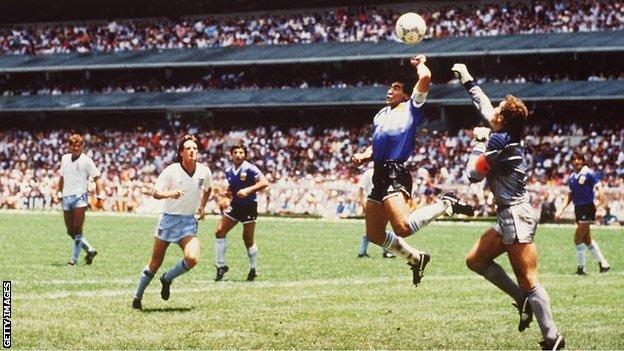 Uruguay's Luis Suarez once again finds himself in the World Cup spotlight after allegedly biting Italy defender Giorgio Chiellini.
BBC Sport picks out 11 other controversial incidents in the tournament's long history:
1. Zinedine Zidane headbutts Marco Materazzi
France captain Zinedine Zidane headbutts Italy's Marco Materazzi in the chest during the 2006 final in Berlin and is sent off after the fourth official alerts referee Horacio Elizondo. Months later, it is claimed Materazzi had insulted Zidane's sister before the headbutt.
2. Cynical Carlos fouls Bruno Bellone
France striker Bruno Bellone is fouled by Brazil goalkeeper Carlos when through on goal during the 1986 quarter-final. Referee Ioan Igna chooses not to give a free-kick, leading to BBC co-commentator Jimmy Hill calling it "an extreme mistake".
3. Antonio Rattin sent off
Referee Rudolf Kreitlein sends off Argentina captain Antonio Rattin during England's 1966 quarter-final at Wembley. Rattin is so incensed by the decision he refuses to leave the field, leading to a lengthy delay before his exit.
4. Patrick Battiston knocked out
West Germany goalkeeper Harald Schumacher fouls France's Patrick Battiston during the 1982 semi-final in Seville. The defender is knocked unconscious and has to be given oxygen on the pitch, but referee Charles Corver awards a goal-kick to Germany.
5. Frank Rijkaard spits at Rudi Voller
Netherlands midfielder Frank Rijkaard spits at West Germany's Rudi Voller after the pair are sent off after 22 minutes of a heated encounter in the last 16 in 1990.
6. The 'hand of God'
Argentina's Diego Maradona uses his hand to score when jumping for the ball against England goalkeeper Peter Shilton during the 1986 quarter-final in Mexico City. Officials fail to spot the offence and the goal is given, with Maradona later telling reporters he was aided by the 'hand of God'.
7. Luis Suarez's handball
Uruguay's Luis Suarez handles the ball on the line to deny Ghana a winner in the last minute of extra-time during their 2010 quarter-final. Suarez is sent off and Ghana given a penalty, but Asamoah Gyan hits the crossbar with his spot-kick to send the match into a penalty shoot-out, which Uruguay win 4-2.
8. The 'Battle of Nuremberg'
Four players are sent off and 16 yellow cards handed out - the most in any World Cup match - as Portugal beat the Netherlands in a stormy 2006 encounter in Germany. The match is so bad-tempered it is dubbed the 'Battle of Nuremberg'.
9. Nigel de Jong's 'karate kick'
Netherlands player Nigel de Jong is shown only a yellow card by referee Howard Webb for a chest-high kick at Spain's Xabi Alonso during the 2010 final. The tackle looks so bad that commentator Guy Mowbray calls it a "karate kick".
10. Rivaldo's 'injury'
In 2002, Brazil's Rivaldo feigns a head injury when a ball kicked by Turkey defender Hakan Unsal hits him on the leg. Unsal is sent off but TV cameras capture Rivaldo's playacting.
11. The 'Battle of Santiago'
Italy have two men sent off in a violent encounter with Chile at the 1962 World Cup, a match later dubbed the 'Battle of Santiago'.