Northern Ireland clubs to play-off for Europa League place
Last updated on .From the section Football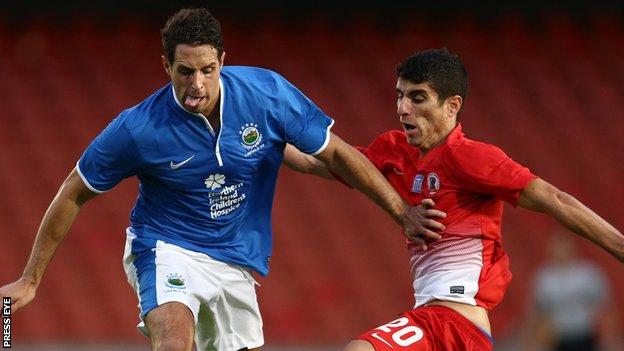 Irish League clubs will be involved in a play-off for a place in the Europa League from the 2015-16 season.
The move was one of the proposals passed by club delegates at the Northern Ireland Football League's AGM in Belfast on Wednesday night.
Other moves included making sure automatic promotion and relegation takes place between the divisions.
At the moment, it depends on whether the clubs who have earned promotion have the right facilities and licence.
By season 2016-17, the NIFL will have been reduced to 36 clubs, meaning six currently in the set-up will drop out of Championship Two over the next two seasons.
There was some opposition from clubs in Championship Two and, before the meeting, NIFL officials were expecting a close vote.
But in the end the proposals, drawn up with support from the European governing body Uefa, were passed by 32 votes to five.
"I think the clubs have taken a sensible decision in relation to the future of football in Northern Ireland," said NIFL chairman Adrian Teer.
"We needed to get the message out there, that the football family knows what is needed and can agree on it without any in-fighting."
NIFL managing director Andrew Johnston said the changes were designed to make the local game more attractive to sponsors.
"There has been criticism that, after the split, the clubs finishing seventh, eighth and ninth in the Premiership had little to play for.
"This is giving them an opportunity of competing for a possible entry into Europe.
"We believe this will be attractive to our commercial partners. We wanted to show that we are innovative and vibrant and hopefully that will come across."