World Cup 2014: The defining moment for football in the US?
By Ben Smith
BBC Sport in Brazil
Last updated on .From the section 2014 Fifa World Cup
Soccer - the sport the rest of the world calls a religion - is no longer a minority interest in the United States.
It is no longer, as one comedian put it, something mums pick their 12-year-old daughters up from.
United States soccer - or football depending on which side of the Atlantic you hail from - is on the brink of showing the world it has finally come of age.
The key World Cup Group G match against Germany on Thursday may prove to be a defining moment, not only for the fortunes of the US national team but for an increasingly engaged public.
The United States' two previous World Cup matches have broken records.
The victory over Ghana attracted the biggest US television audience for a football match - 16m people. The draw with Portugal smashed that record with an average of 24.7m viewers.
And the match against Germany in Recife is expected to surpass even that.
Soccer is finally beginning to gain genuine ground on America's three heartland sports of American football, basketball and baseball.
The concluding game of the NBA Finals last week drew an audience of 18m as the San Antonio Spurs beat the Miami Heat, while Major League Baseball's hallowed World Series averaged just short of 15m viewers.
The audience for regular-season games in the NFL in 2013 was 21m, although the Super Bowl was the most-watched programme in US history with 111.5m viewers.
This week Google searches for US Soccer outstripped NFL searches for only the second time in history, while Clint Dempsey's goal against Portugal is the second most tweeted moment of the World Cup so far with 305,000 tweets per minute.
"To have America watching these games is the 12th man for us," Dempsey said. "And in Brazil we feel like we have home field advantage.
"I remember games in the States where our opponents had more fans than us even though we were at home. Things are starting to change, that shows how far the game has come in the US."
At the heart of this surge in soccer's popularity is US head coach Jurgen Klinsmann.
As he prepares to face the country of his birth, the nation with whom he won the World Cup in 1990, he said the excitement in the US is hugely encouraging.
"We will give absolutely everything to beat Germany," he said. "You see the media attention growing, the internet and TV. That shows you where soccer is in the US."
Sunil Gulati, the president of US Soccer, agrees.
"Their response has been fantastic, whether it is viewing parties, media interest, viewing figures or the spontaneous eruptions from those walking down the street when we score a goal," he said. "It is everything that we dream about."
The American embassy in Brasilia estimates that close to 100,000 US citizens have travelled to Brazil for the tournament - three times more than any other country.
According to Fifa, US fans bought more tickets than those from every other country except the home nation.
The American Outlaws, a raucous US supporters group, chartered not one but three 737s to move fans. They sold all of the seats in the first week they were on sale.
"People are getting to know the players and being able to watch them live because of the time zones really helps," said Andy Wright, one of those US fans in Brazil.
And another, Travis Beardall, added: "Back home there is a fever growing and people are more inclined to watch games so there is something different about this year."
Grant Wahl, a senior writer for Sports Illustrated Magazine, believes it is crucial that the US capitalises on this.
"It is tremendously important they do that," Wahl said. "This really is US soccer coming of age and moving to a new level of consciousness in the United States.
United States' German connections
United States manager Jurgen Klinsmann may have been born in Germany but he is not the only member of the American squad with links to the European nation.
In total five US players were either born to American families in Germany or moved there as children.
Midfielder Jermaine Jones was born in Frankfurt and has said he will sing both anthems.
Fabian Johnson was born in Munich, Timmy Chandler in Frankfurt, John Brooks in Berlin and Julian Green moved to Germany at the age of two, having been born in Tampa.
All five come from military families and spent time on bases in Germany as children.
"It is part of what Klinsmann promised when he took over as head coach and it is a sign of how far things have come that there is a genuine feeling that the US will advance from what is the toughest group in the World Cup."
In Chicago, more than 20,000 fans flocked to Grant Park to watch the match with Portugal. The gates were closed 30 minutes before kick-off because it was full.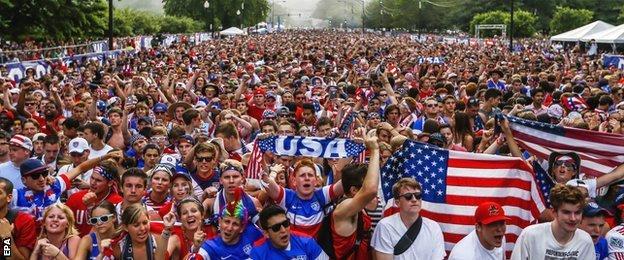 In Orlando, Florida, thousands more packed into Wall Street Plaza, which has been renamed 'Soccer Central' for US matches.
"It's growing every minute," said former US goalkeeper Brad Friedel, who is working for BBC Radio 5 live at the World Cup.
"When we get results like against Ghana and Portugal it gives the sport a real lift. Now if we can somehow get through against Germany we are going to see that [big crowds] in 20 more cities across the United States.
"Those first two results were important as far as getting the average US supporter to get into the World Cup. If we had lost those the average supporter would have said 'we are going to lose to Germany, we're going out'.
"But by making a positive start we piqued interest in parts of the US that might not have been interested. As we did in 2002."
Friedel was part of the US squad that reached the quarter-finals that year. Then, in 2010, the US reached the last 16.
"At the last World Cup in 2010, the US played pretty well," Wahl added. "But there was a real sense that it was a huge opportunity missed.
"The US got to the last 16 against Ghana, it was a very winnable game. If they had advanced to the quarter-final they would have played Uruguay, another team they would have had a chance to beat.
"From talking to the players, the feeling is that they don't want this World Cup to be viewed as another missed opportunity.
"This is an opportunity that only presents itself every four years and that is why it is so important that they take it."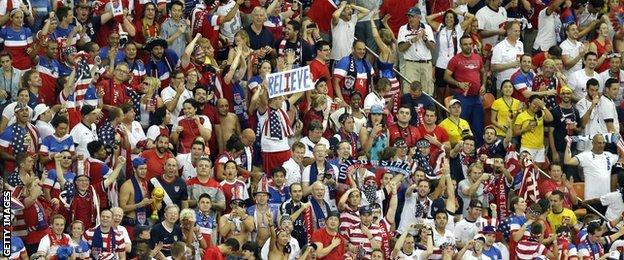 Domestic football in the US is also booming.
Major League Soccer (MLS) is going from strength to strength, attracting players such as Spain striker David Villa, who retired from international football on Monday, and former France and Arsenal forward Thierry Henry.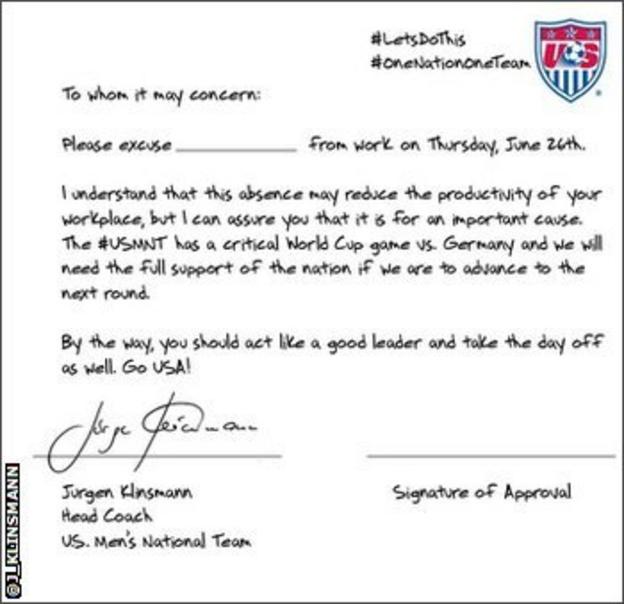 Average stadium attendances trump those of NBA basketball and crowds at the Seattle Sounders now average close to 50,000.
Much of this success can be traced back to the legacy of the 1994 World Cup, when the US hosted the event.
No tournament has had a bigger average attendance before or since. At the time, Klinsmann was one of the world's biggest football stars.
"Jurgen is a very important part of not only what is happening on the field, but the image of US soccer because of what he achieved as a player and as a coach," US Soccer president Gulati said.
"Klinsmann has changed the thought process of the players, they believe in a way they haven't before.
"Part of what we're trying to do is excite people and Jurgen Klinsmann's charm is a piece of that. He's a crossover."
The focus will be very much on him against Germany.
For the best of BBC Sport's in-depth content and analysis, go to our features and video page.