Luis Suarez: Uruguay captain Lugano dismisses 'bite' claims
Last updated on .From the section 2014 Fifa World Cup
Uruguay captain Diego Lugano has denied Luis Suarez is guilty of biting Italy defender Giorgio Chiellini.
Fifa, world football's governing body, opened disciplinary proceedings against Suarez after Uruguay's 1-0 win on Tuesday and has requested television footage of the incident.
Suarez, 27, could be banned for up to 24 matches or two years.
But Lugano told the BBC: "What incident? The pictures don't show anything. They show an approximation."
Uruguay are set to meet Colombia on Saturday in the last 16 of the 2014 Fifa World Cup in Brazil.
Martin Hong, a member of Fifa's disciplinary committee, told BBC Sport a decision on the case would come no later than Thursday.
Suarez's lawyer, Alejandro Balbi, believes the player is a victim of a European-based campaign against him.
"We don't have any doubts that this has happened because it's Suarez and secondly because Italy was eliminated," Balbi, also a Uruguayan Football Association board member, said.
"There's a lot of pressure from England and Italy. We're polishing off a defence argument."
Read a transcript of Lugano's exchange with BBC sports news reporter Ben Smith at Uruguay's news conference below.
Diego Lugano to the BBC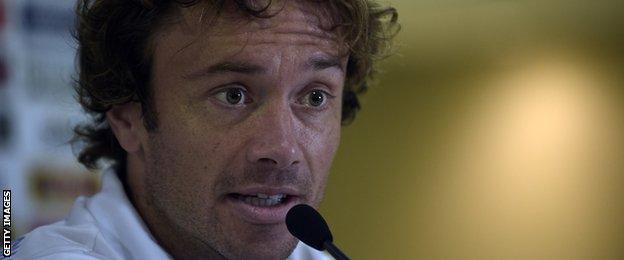 BBC:"Can you comment on the incident with Luis Suarez? Can you comment on what the world saw yesterday?"
Diego Lugano: "What incident? I don't know what incident you're talking about. I don't know what incident you're talking about. Are you talking about the Premier League or the national team? Have you got something against Luis?"
BBC: "Chiellini? Are you saying nothing happened?"
Lugano: "No. The pictures don't show anything. They show an approximation but nothing important."
BBC: "Why is Fifa investigating Suarez then?"
Lugano: "I don't know. As far as I know."
BBC: "Are British media to blame?"
Lugano: "No. Everybody knows the British media have an issue with Suarez. It must sell newspapers in England. Otherwise you wouldn't be here. Yesterday Uruguay played against Italy and Saturday it will play Colombia. I don't know what a British journalist is doing talking about Suarez. It must be popular with the British media. I don't see another explanation.
"But we're happy with yesterday's win. You don't look that happy with Uruguay's victory but, well, now comes the hardest part which is facing what I believe is the best team so far in the tournament. Colombia has scored a lot of goals and won easily."