World Cup 2014: Mario Balotelli responds after Italy exit criticism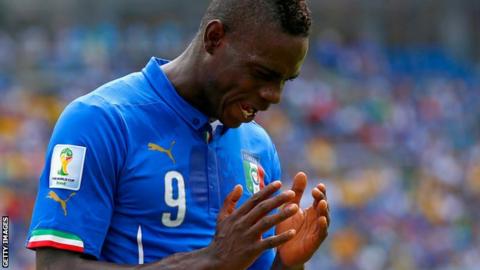 Striker Mario Balotelli has refused to be a scapegoat for Italy's World Cup exit after being deemed "not really Italian" by some fans.
The 23-year-old has been the subject of racist chants during AC Milan games.
Balotelli, who was adopted after being born to Ghanaian immigrant parents, responded angrily to those who have questioned his nationality.
The former Manchester City player wrote on Instagram: "I am proud to have given everything for my country."
Balotelli, who is seen as a controversial figure both on and off the pitch, scored the winning goal for Italy in their 2-1 opening victory over England.
But he was substituted at half-time during the 1-0 defeat by Uruguay on Tuesday.
"Mario Balotelli has given everything to the national team and has not made a mistake," he said.
"Perhaps, as some of you say, I'm not really Italian. The Africans wouldn't have blamed one of their brothers. Never. In this, we black, as you call us, we are light years ahead of you.
"Disgrace is not one that misses a goal or runs less or more. Disgraceful are these things [unfair criticism]."
For the best of BBC Sport's in-depth content and analysis, go to our features and video page.