Shearer: Wayne Rooney my choice as England's next captain
Last updated on .From the section 2014 Fifa World Cup

If Steven Gerrard decides now is the time for him to end his international career then Wayne Rooney would be my choice to succeed him as England captain.
There are not a lot of other outstanding candidates for the job, but that does not matter because Rooney is ready and would be perfect.
He is not only England's best player but he has the experience. He was also mature enough to deal with the scrutiny that he was under at the start of this tournament.
I know myself that being England captain brings added pressure, but Rooney will be used to that because of who he is and what he has achieved so far in his career.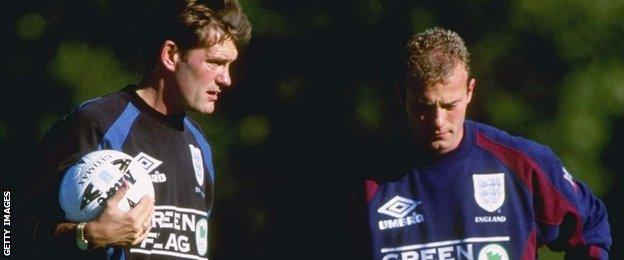 Strikers can be skippers
When Glenn Hoddle made me England captain after the 1996 European Championship, he gave it to me on a trial basis at first.
Hoddle told me he did not want my game changing just because I was the captain, so he said he was giving me the armband for only three games, which was hard to take. I always thought of the team anyway.
Luckily, in my first game as captain - against Moldova in a qualifier for the 1998 World Cup - I scored in a 3-0 win. That got me it on a full-time basis.
The most important thing to remember with Rooney is that the captaincy would not affect him either. He has got 40 England goals now and has 95 international caps. Being made captain would not change his way of playing, or his way of thinking. He is ready for that role.
You are definitely under more pressure when you are captain, but I loved it. I'm sure Gerrard does, too. Top players love that kind of intensity.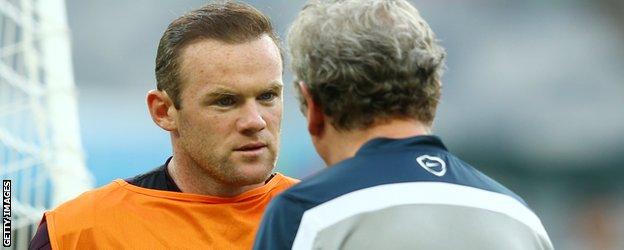 Rooney ready for responsibility
In my career, nothing topped captaining my country. Wearing that armband and being the first to walk out at Wembley in front of 80,000 people is an amazing feeling.
My job involved everything from managing the morale of my team-mates and being their mouthpiece when dealing with the manager, to being an ambassador for the Football Association.
Wayne Rooney England facts
Rooney became the youngest player to play for England when he appeared in a friendly against Australia on 12 February, 2003. He was 17 years and 111 days old, a record which Theo Walcott has since lowered by 36 days.
On 6 September, 2003, Rooney became England's youngest goalscorer when he netted in a 2-1 European Championship qualification win over Macedonia.
On 11 October 2013, Rooney became England's highest scorer in competitive games, breaking Michael Owen's record of 26 goals when he opened the scoring in a 4-1 World Cup qualification win over Montenegro.
Rooney's goal in the 2-1 World Cup loss against Uruguay was his 40th in internationals, making him England's fourth-highest scorer alongside Owen.
I had to represent England in the right way at all times, but, more importantly, I had to deliver on the pitch, too, because the captain is the one that everybody looks to.
If things aren't going well, you are the man who has to change something and you feel you have to be the stand-out player in every game.
In that respect, Rooney is already ready. He has to put up with that kind of pressure pretty much every time he plays for England anyway.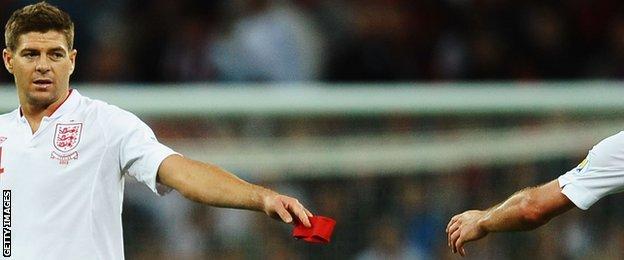 When is it time to hand over the armband?
Gerrard is right to take his time and think about his England future because deciding it is all over is a hugely difficult decision to make.
It ripped my heart out having to give up the England captaincy and end my international career after the 2000 European Championship.
But I felt I could not play at the level people expected and - more importantly - that I demanded from myself.
It would have affected my performances for club or country if I had kept on playing for both - and that is what Gerrard, 34, must consider now.
He will have to look at Liverpool's schedule next season, when he will be playing on Tuesday or Wednesday virtually every week without getting a rest because of the club's Champions League commitments.
Steven Gerrard England facts
Gerrard made his England debut in May 2000 and has won 114 caps
He played at Euro 2000, 2004 and 2012 and the 2006, 2010 and 2014 World Cups
The Liverpool skipper has scored 21 goals for his country
He was named permanent England captain by Roy Hodgson in May 2012
Only he can say how much he thinks that will affect him and his ability to impact on matches.
By not playing for England, I got another six years out of my career, playing at a level everyone was happy with, including myself.
I had seriously injured both my knees, one of my ankles and had lost half a yard of pace, so, for me, it was the right decision, but it was not an easy one. It hurt like hell.
It would have been great if I had gone on playing another four or five years for my country and played in more major tournaments, but I knew my body better than anybody.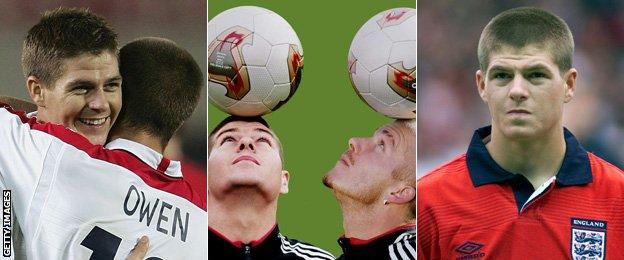 Should Gerrard say goodbye to England?
It would not surprise me if Gerrard made the same decision I did.
The Gerrard I saw in Brazil was not the brilliant player I saw performing for Liverpool last season, bossing the midfield. At this World Cup, he has looked short of pace.
If he does decide now is the time to end his international career after 114 caps, then it would have been great for him to bow out on the back of some great performances and great results, with the country on a high. That was the ideal script, but sometimes life is not ideal.
Euro 2000 in Belgium and the Netherlands was my final major tournament and, sadly, I did not go out in a blaze of glory either. Just like at this World Cup, England failed to get out of their group and my last game was a 3-2 defeat by Romania.
Those were Gerrard's first finals, when he had just turned 20. Over the past 14 years, I don't think he could have given any more for his country's cause.
Whatever happens next, he will be remembered as a phenomenal player, a warrior who played through injuries and someone who gave absolutely everything he had. He should not have any regrets.
Things might not have worked out for England as well as he wanted, but nobody can complain that he has not given his all.
Alan Shearer was talking to BBC Sport's Chris Bevan in Rio.