World Cup 2014: Paul Scholes fears for England future
Last updated on .From the section 2014 Fifa World Cup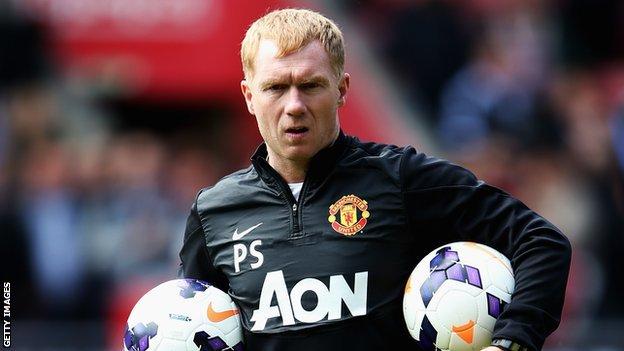 Paul Scholes fears England may struggle to qualify for a future World Cup after their early exit in Brazil.
And the former Manchester United and England star worries the national team's future prospects could diminish.
"From what I've seen we'll be lucky to qualify. I fear England are going the way of the Republic of Ireland, Wales and Scotland," he said.
The 39-year-old believes Football Association chairman Greg Dyke's proposed changes to the league system has little hope of achieving its stated intent of helping England win the World Cup in 2022.
The FA commission recommended the creation of a new tier within the Football League to accommodate Premier League B teams, a ban on non-European Union players outside of the top flight and a reduction in non-home-grown players in Premier League squads.
But Scholes says England will continue to struggle unless Premier League clubs promote home-grown talent over "average" foreign imports.
A State of the Game study for BBC Sport in October 2013 found English footballers account for less than a third of all the minutes played in the Premier League.
"English players are not getting enough first-team time in the Premier League," Scholes added on his Paddy Power blog.
"We're going backwards from 1990 and the era of Paul Gascoigne and that 'conveyor belt of talent'.
"Simply, the Premier League is riddled with average foreign players. This is having such a detrimental effect on the first-team opportunities for young English talent, and our international results."
Proportion of total minutes played by home-grown footballers in European leagues

Nationality

Percentage of total minutes played

England

32.26%

Spain

59%

Scotland

57.19%

Germany

50%
After England's solitary point in the 2014 Fifa World Cup Scholes is surprised at how little criticism has been directed at manager Roy Hodgson compared to his predecessor after the 2010 tournament.
"Roy Hodgson is a likeable man who's very good with the press," he added.
"But if this was Fabio Capello he'd be getting pelters."
Scholes announced his retirement from football for a second time in May 2013 at the age of 38.
He first ended his career at the end of the 2010-11 season but returned to the side in January 2012 after admitting he missed playing.
He retired from international football in 2004 and later blamed "selfish" players who put "personal glory above England" for his decision.