World Cup 2014: Brazil players cover mouths to block lip-reading
By Hugo Bachega
BBC Brasil
Last updated on .From the section 2014 Fifa World Cup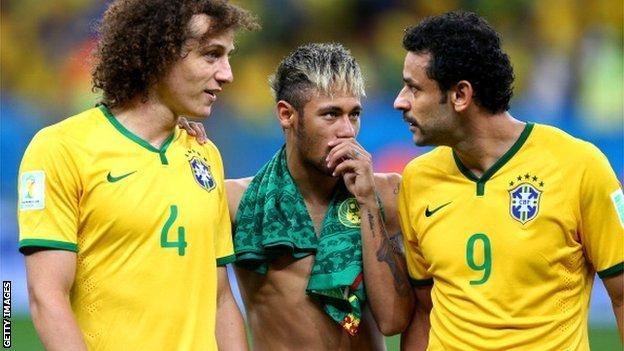 If you failed to notice it in their last group match against Cameroon, keep an eye out for an unusual habit from the Brazil players in their last-16 game against Chile on Saturday.
Luiz Felipe Scolari's squad have taken to covering their mouths on the pitch to stop intrusive Brazilian television stations from gaining an unwelcome insight into their thoughts and strategy.
With the squad under increased scrutiny during the 2014 Fifa World Cup, some media outlets had started to use lip-reading experts, a gimmick that was proving popular with viewers.
One programme, TV Globo's Fantastico, revealed some of Scolari's advice to his players during the World Cup opener between Brazil and Croatia, which the hosts won 3-1 thanks to a double by Neymar and a late Oscar effort.
He was also revealed to have said about his side's performance: "We are playing at home. What is this?"
Scolari openly criticised the coverage - which has also been used on other stations - after being seen protecting his mouth with his hands and a cap and turning his back to the cameras, particularly in the game against Cameroon and during training sessions.
The 65-year-old told a press conference on Monday that the TV stations concerned were creating "a big clown show".
"We are not free to work on the pitch anymore," he said after Monday's 4-1 victory over Cameroon, a result which enabled his side to progress to the knockout stages as Group A winners.
The players were also not pleased with the intrusion.
"It is not an order from the coach but we are aware of this situation, so we cover our mouths," Brazil's reserve goalkeeper Jefferson told Brazilian website UOL.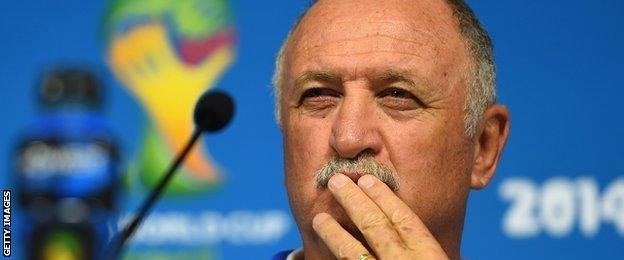 "Sometimes there are tough, ugly words and this is normal. But some TV shows make a big fuss about it."
Midfielder Bernard added that it was an extra distraction for the five-time World Cup winners, who are already under a huge amount of pressure to go all the way in their home tournament.
"We are talking about it amongst ourselves, so no one will be caught. It is complicated. We have to pay attention," he said. "There is always a camera recording the players."
Lip reading is not a new feature on Brazilian television and has been criticised by players and coaches before.
For years, Fantastico - Brazil's most-watched Sunday night programme - has used deaf teenagers to reveal conversations during football matches.
But rarely has it prompted Brazilian players and officials to take such measures to avoid being caught on camera.
With no sign of a truce between the players and TV programmes desperate for an insight into the Brazilian team, the players and Scolari look set to continue covering up.
Additional reporting by Stephen Fottrell.