Glasgow City learn Champions League group opponents
Last updated on .From the section Football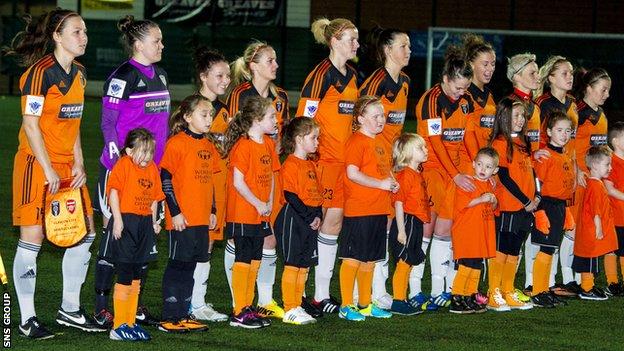 Glasgow City have been drawn with Slovakians Nove Zamky and Kharkiv of Ukraine in the group stages of the women's Champions League.
Northern Ireland's Glentoran make up the pool, with City the host side and number one seeds.
The home side's matches will be played on 9, 11 and 14 of August and only the group winner is guaranteed to qualify for the knock-out phase.
City have progressed beyond the group stages for the past three seasons.
"This is the first time we have hosted the tournament," said manager Eddie Wolecki Black.
"In the past I have been against hosting as I believed there were too many distractions. When you are out the country the players have that isolation and focus.
"I believe we are at the stage where the players know what is expected and are very aware of their responsibilities. The draw has us as favourites and whilst it brings a pressure it is a tag we carry on a weekly basis.
"We know nothing about the teams we are to face. Of course we will endeavour to find out as much as possible before we play them. What I can tell you is that they are all champions of their country.
"They have won their respective leagues by winning more games than the rest. Therefore it means we will need to be very wary of each opponent.
"It should be an interesting group with contrasting styles of play."
Glasgow City's Champions League fixtures:
Saturday 9 August - Glasgow City v FC Union Nove Zamky
Monday 11 August - Glasgow City v Glentoran
Thursday 14 August - Glasgow City v WFC Kharkiv