Eastleigh can make Conference Premier impact says club chairman
Last updated on .From the section Football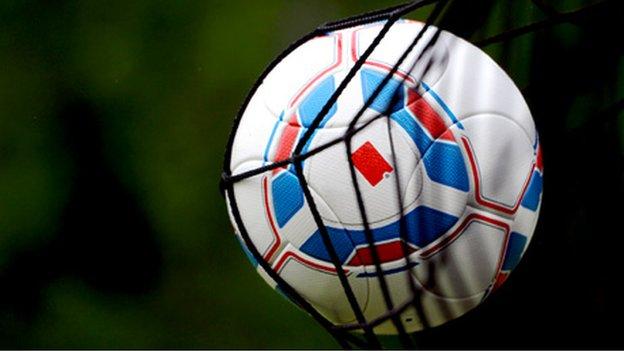 Eastleigh chairman Stewart Donald has said he will continue to invest in the club to ensure they are competitive in the Conference Premier next season.
"People want to watch a football team that is trying to achieve things," Donald told BBC Radio Solent.
"We're investing in the team again to try and make ourselves competitive."
Former Oxford United striker James Constable is another arrival, and Donald added: "It's no good saying 'we got promoted let's have two years of consolidation'. We will be going for it again.
"It will be tougher but we're pretty confident with the players signed that we can be in and around the right area of the league."
Donald took control of Eastleigh in February 2012 and has put further investment into the club's facilities to bring them up to league requirements.
Donald says the Conference Premier newcomers have the capability to expand their already growing fan-base.
"At the end of the season it dawned on us just how much work the ground needed - it wasn't geared up for Conference Premier football at all," he said.
"By the start of the season, we'll have done the work we need to meet all the criteria.
"When we came in there were about 36 season-ticket holders. At the moment, we've got close to 600."
However, the Spitfires chairman admits that the hard work in attracting fans to the club is far from over.
"We have got to publicise ourselves better and try and capture the imagination of the town," Donald explained. "We have got to keep banging the drum that we're not just in it to make the numbers up.
"If you wondered into Eastleigh when we were trying to promote the games, the number of people that didn't even know that Eastleigh had a football club was frightening.
"I think there are enough people in the area that can get behind the team - this is just the tip of the iceberg."