World Cup 2014: Might Brazil be the next victims of Chile?

By David Ornstein
BBC Sport in Belo Horizonte
Last updated on .From the section 2014 Fifa World Cup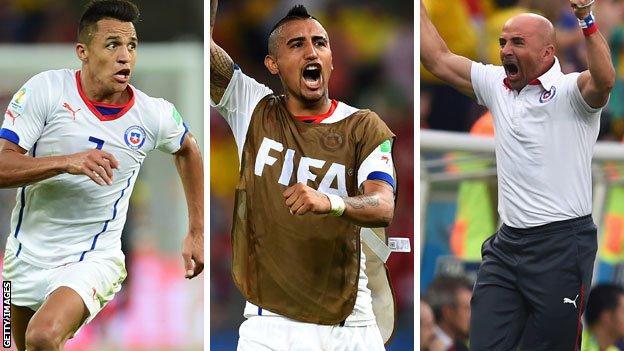 Shortly after the World Cup draw was made in December, Brazil coach Luiz Felipe Scolari named the opposition he wished to avoid should his men reach the last 16.
"I hope Chile don't qualify," said Scolari. "I'd rather play any of the others. They're a pain to play against. They're well organised and intelligent. It's better to face a European team."
The 65-year-old was tempting fate and it came to pass when Chile finished second in Group B and Brazil won Group A, setting up a mouthwatering contest in Belo Horizonte on Saturday.
It is the coming together of two attacking powerhouses and, while Brazil cannot contemplate defeat as they pursue a title viewed by the host nation as a birthright, Chile intend to spoil the party.
| Team | Chance conversion rate % | Possession % | Passes | Passing accuracy % | Goals per game % | Tackles won % |
| --- | --- | --- | --- | --- | --- | --- |
| Brazil | 21.21 | 56.3 | 1,222 | 84.2 | 2.33 | 85.71 |
| Chile | 22.73 | 55.7 | 1,483 | 81.5 | 1.67 | 80.49 |
Jorge Sampaoli's side have already caught the eye with their entertaining style and stunned the competition by eliminating holders Spain. Now their sights are set on the biggest scalp of the summer.
"To be champions we must face them all," said midfielder Arturo Vidal, an integral part of the Serie A-winning Juventus side. "This is the best generation in the history of Chilean football. Beating Brazil? That's our dream. Chile can create a surprise.
"We've beaten the champions, so we can beat Brazil. We're good enough to win the World Cup."
Easier said than done
Chile will have to hope the past counts for nothing, as each of their three previous World Cup encounters with Brazil have ended in heavy defeats.
In both 1998 and 2010, they lost by three-goal margins at this stage of the tournament after second-place finishes in their group. The other reverse was a 4-2 semi-final loss on home soil in 1962.
There may be a desire for revenge, then, but Chile have only managed two draws from 12 meetings since they last overcame the Brazilians in 2000.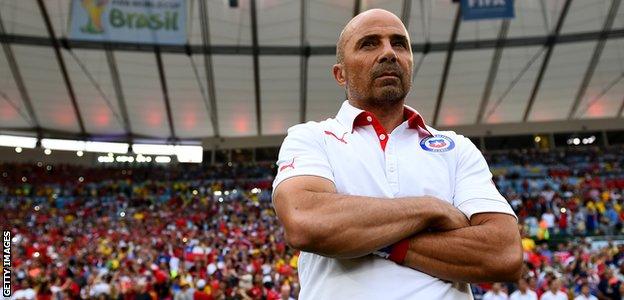 Ominously, La Roja have never got the better of the Selecao on Brazilian turf. In fact, Brazil are unbeaten in 40 home matches stretching back to August 2002 and have won their last five World Cup second-round matches, scoring 13 goals and keeping four clean sheets in the process.
"Brazil have been Chile's nemesis but football changes, new generations come and new players appear," argued Vidal, whose team also beat Australia in the group stages but lost to the Netherlands.
Why the optimism?
Having showcased their talent under coach Marcelo Bielsa in South Africa four years ago, Chile are not exactly a surprise package. Yet few expected them to dispatch Spain quite so emphatically.
There are 11 survivors from the 2010 squad in Brazil, with the likes of Vidal, Alexis Sanchez, Gary Medel, Gonzalo Jara, Jean Beausejour, Mauricio Isla, Jorge Valdivia and captain Claudio Bravo all making prominent contributions in both that tournament and this.
Vidal, Sanchez and Medel were earlier among six members of the current set-up who helped their country to a third-place finish at the 2007 Under-20 World Cup in Canada, which is viewed in Chile as the starting point for a golden generation now packed with quality and experience.
Despite having an average age of 27.60 - a mark which drops to 27 when only the 16 players who featured in the group stage are counted - the squad share 863 caps, with Sanchez, Medel, Beausejour, Jara and Bravo each above 60.
Furthermore, Sampaoli selected his players from leagues in eight different countries - Chile (6), Italy (5), Spain (4), Brazil (2), England (2), Netherlands (1), Switzerland (1), Sweden (1), unattached (1) - and such global exposure appears to have significantly aided their development.
Sanchez believes his time at Barcelona has made him "feel important, like a beautiful Ferrari", while Vidal explains that moving to Juventus has enabled him to "learn a lot from everyone, especially people such as Andrea Pirlo and Gianluigi Buffon, who have won everything in their careers".
Sampaoli lost his first match in December 2012 but then collected 16 points from a possible 18, his side playing with a dynamic, high-tempo philosophy as they qualified for these finals. Further encouragement was taken from a draw with Brazil, a win against England at Wembley and a dominant performance despite defeat in Germany.
Once in Brazil, the Chileans hit the ground against Australia, outclassed Spain and, despite losing to the Netherlands, enjoyed 64% possession and completed 282 more passes than the Dutch.
"It was an unfair result because we made a huge effort to attack," said Sampaoli. "We wanted to play and the Netherlands didn't. They had nine or 10 players behind the ball all the time.
"The intensity of my players was outstanding and we go to the next round with our heads held high. Hopefully if we will play like that we will achieve the result we want."
Humbling the hosts
Chile's hopes of usurping Brazil in 1998 were undermined by the suspensions of Moises Villarroel, Nelson Parraguez and Francisco Rojas. In 2010, Medel, Waldo Ponce and Marco Estrada missed out for the same reason. But this time they are at full strength and determined to succeed.
"As in every game, we will attack from the start," insisted Jara. "You don't negotiate your style."
Sampaoli added: "We will not keep anything back. Our idea brought us to here and we are not going to modify it."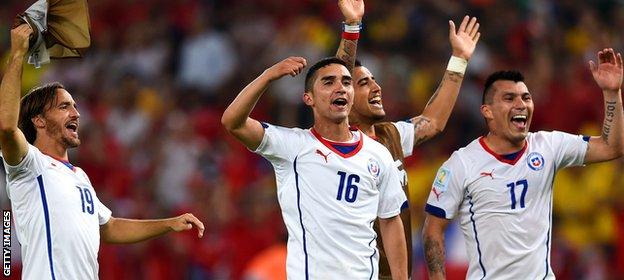 Chile are so fluid and offensively-minded that formations are almost irrelevant.
When faced with tougher opposition, Sampaoli tends to deploy three centre-backs; Medel, Jara and Francisco Silva played against Spain and the Netherlands, with the latter left out against Australia. Isla and Eugenio Mena work the flanks, with Diaz and Charles Aranguiz notionally holding midfielders.
If that group can contain Neymar, Oscar, Fred and Hulk as capably as they did Andres Iniesta, David Silva, Pedro and Diego Costa, they will stand a fine chance.
In attack, Vidal, Sanchez, Eduardo Vargas and possibly Valdivia will press high up the pitch, breaking at pace, switching positions and attempting to wreak the sort of havoc that has yielded four first-half goals thus far.
They may be particularly keen to get at Brazil full-backs Dani Alves and Marcelo, neither of whom have looked convincing in a sporadically shaky back four.
"Chile only have one way of playing," explained the BBC's South American football correspondent Tim Vickery. "They know no fear and will try to get into space behind Brazil's attacking full-backs. Both of Chile's full-backs will attack at the same time."
Defending the indefensible
The problem with Chile's style is the difficulty maintaining it for a substantial length of time, particularly with temperatures in the high 20s and the possibility of extra time and penalties.
It can be also be stifled by a stubborn rearguard action and is prone to leaving them exposed to the counter-attack, which was a Neymar-inspired Brazil's greatest strength in the group stages.
Height of starting outfield players in the last group game

Chile defence
Height
Brazil defence
Height

Francisco Silva

5ft 10in

Alves

5ft 9in

Jara

5ft 10in

Marcelo

5ft 9in

Medel

5ft 7in

Thiago Silva

6ft

Luiz

6ft 2in

Chile midfield

Isla

5ft 10in

Brazil midfield

Aranguiz

5ft 7in

Gustavo

6ft 2in

Diaz

5ft 6in

Paulinho

5ft 11in

Gutierrez

5ft 9in

Oscar

5ft 11in

Mena

5ft 9in

Brazil attack
Chile attack

Hulk

5ft 10in

Sanchez

5ft 7in

Fred

6ft 1in

Vargas

5ft 9in

Neymar

5ft 9in
Chile struggled for rhythm in warm-up games against Egypt and Northern Ireland; the Australia blitz lasted no more than 30 minutes; and Spain recorded just one shot on target against the Dutch.
They were the second-top scorers in South American qualifying but, of the five teams who reached the finals, not one conceded more.
The high pressing worked effectively against Spain. If Chile won the ball they were away, and if they failed they often got a second chance because the Spanish approach play was slow. But the Dutch hounded them into mistakes and then broke at pace.
"Some say we take a suicidal approach," Vidal conceded. "We press very high up the pitch."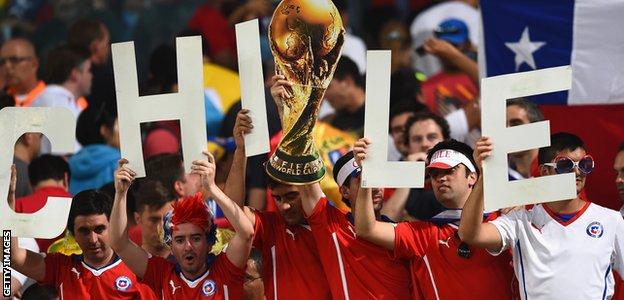 Another area of concern for Chile is a lack of height. Indeed, two of the three goals they have conceded in this tournament could be attributed to the absence of an outfield player over 6ft tall.
Chilean journalist Antonio Loma-Osorio acknowledged: "That is a worry but Sampaoli always trusts his teams to score more goals than their opponents and they have it in them to do that, which is why Scolari is worried about us. Chile truly believe they are ready to make history."