Franz Beckenbauer: Fifa lifts German legend's 90-day ban
Last updated on .From the section Football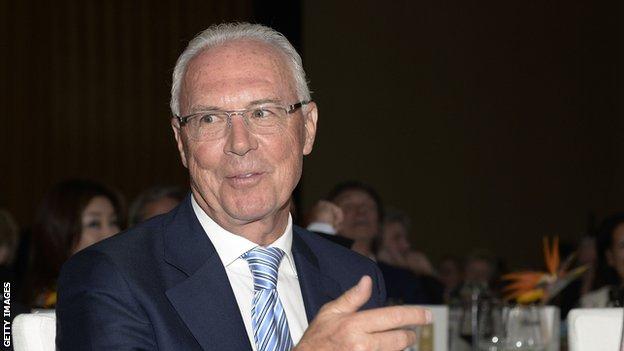 Fifa has lifted the 90-day suspension on football activity imposed on German legend Franz Beckenbauer.
Beckenbauer, a World Cup winner as coach and captain, was told on Friday the ban had been lifted with immediate effect, his manager Marcus Hoefl said.
The 68-year-old was banned for failing to help an inquiry into alleged corruption in the 2018 (Russia) and 2022 (Qatar) World Cup bids.
He was part of the Fifa executive committee that made the awards.
Beckenbauer lifted the World Cup as both a player (1974) and a manager (1990).
"I under-estimated the matter,'' Beckenbauer said in the statement released by Hoefl, blaming the fact that "such voluminous administrative things'' are usually dealt with by his management team.
He added that, despite the lifting of the ban, Beckenbauer will not be travelling to the World Cup taking place in Brazil.
Beckenbauer had been asked to co-operate with a Fifa ethics investigation led by American lawyer Michael Garcia.
Fifa said Beckenbauer ignored "repeated requests" to assist the inquiry.
Beckenbauer, who is now honorary president at Bayern Munich, had maintained that he was sent questions only in complex English and was refused the opportunity to discuss the matter in his native German.
Garcia's remit includes looking into allegations that Qatari football official Mohamed bin Hammam made payments totalling £3m to football officials in return for their support for the Qatar bid - as set out in a Sunday Times investigation.
He is due to submit his report in late July.