Luis Suarez bite: 'I lost my balance and fell on Chiellini'
Last updated on .From the section 2014 Fifa World Cup
Uruguay's Luis Suarez insists he lost his balance and did not bite Italy's Giorgio Chiellini at the World Cup.
Uruguay have told Fifa they intend to appeal against the decision.
"I lost my balance, making my body unstable and falling on top of my opponent," wrote Suarez in his defence to Fifa.
"At that moment, I hit my face against the player, leaving a small bruise on my cheek and a strong pain in my teeth."
In a Fifa disciplinary committee document, the Liverpool striker added: "In no way did it happen the way you have described, as a bite or intent to bite."
However, a seven-man Fifa panel concluded that the bite was "deliberate, intentional and without provocation".
In its reasoning, Fifa added: "At no time did the player show any kind of remorse or admit to any violation of Fifa rules and therefore showed no awareness of having committed any infraction."
Uruguay lodged their intention to appeal on Friday and have until next Sunday to submit a full written appeal.
Suarez has now returned to his homeland and missed Uruguay's last-16 defeat to Colombia on Saturday.
Fans gathered outside Suarez's home to show their support and the player has thanked them for their backing.
The Liverpool forward tweeted: "I'm writing this message to say thank you to everybody for the support and affection I've been receiving.
"My family and I are very grateful for it. Many thanks for being by my side and I want everyone to support my team-mates in the game against Colombia."
Uruguay Football Association president Wilmar Valdez has called Fifa's punishment of Suarez as "excessive".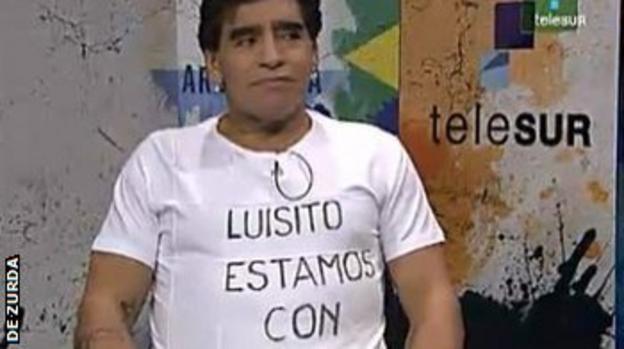 Uruguay coach Oscar Tabarez has also said he will resign from two Fifa posts in protest at Suarez's treatment.
Suarez has also lost his role as a worldwide ambassador of online gambling firm 888poker, which said it had "decided to terminate its relationship" with "immediate effect".
There is also a question mark over the player's future at Liverpool.
Yet, despite his suspension, Barcelona are still believed to be interested in signing him.
Fifa general secretary Jerome Valcke says Suarez should seek help during his suspension.
Argentine football legend Diego Maradona has also declared his support for Suarez, while Chiellini says the ban is "excessive".
For the best of BBC Sport's in-depth content and analysis, go to our features and video page.